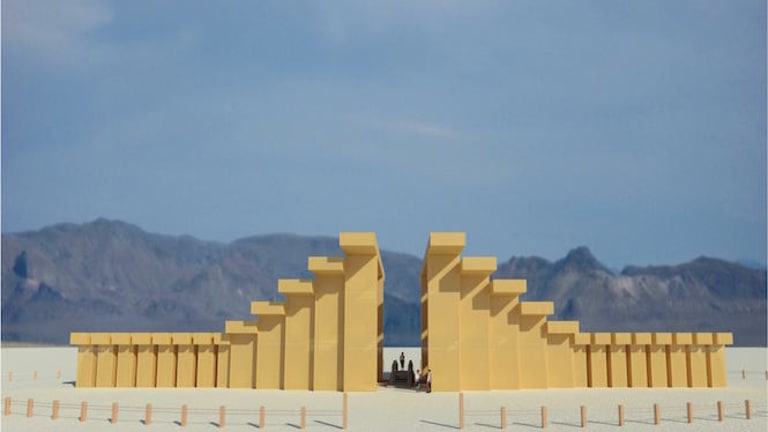 Burning Man Announces The Temple of Direction for 2019 Edition
The Temple of Direction design has been selected for next year by Burning Man Arts.
Each edition of Burning Man includes a ceremonial Temple burn that takes place the evening after the man burn itself. The transformational gathering's organizers have revealed the design they selected for the 2019 edition: The Temple of Direction.
Burning Man Arts chose the concept out of numerous design submissions - as they do every year. The brainchild of San Francisco architect Geordie Van Der Bosch, it derives inspiration from the Fushimi Inari shrine in Kyoto, Japan. 
"The linear lines form a passage that expands into a large hall, eliciting both a physical experience and a metaphorical journey," reads an article on the Burning Man website. "It's a space that responds to the openness of the playa by creating a framework that encourages you to travel from end to end."
Burning Man has taken place annually since 1986, and relocated from Baker Beach in San Francisco to the Black Rock Desert outside Gerlach, Nevada in 1991. Burning Man co-founder Larry Harvey passed away in April of this year.
Although influence from the North American festival boom has given Burning Man a lot to attract electronic music fans, the Black Rock City, Nevada event offers far more than a music festival. The Temple tradition is perhaps the best example. Beginning in 2000 with David Best and Jack Haye's Temple of Mind - which became a memorial to their late collaborator Michael Hefflin - it has provided attendees with a place for solemn reflection.
The theme for next year's edition of Burning Man is Metamorphoses, inspired by an 8th century AD narrative poem of the same name by Ovid. It will take place from August 25th to September 2nd of 2019.
Follow Burning Man:
Facebook: facebook.com/burningman
Twitter: twitter.com/burningman
Instagram: instagram.com/burningman