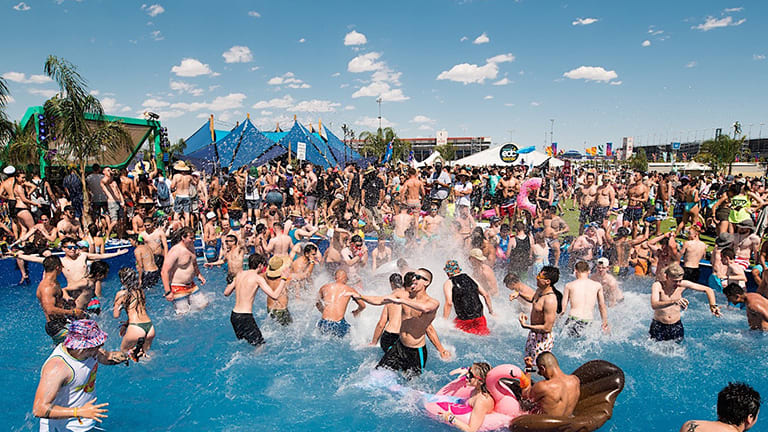 Camp EDC Introduces Much-Needed Improvements for 2019
Lines, pod power, and amenities will be upgraded.
Last year was the debut of Camp EDC at the EDC Las Vegas. As is often the case with new additions, though things didn't run as smoothly as they would have liked. Insomniac CEO, Pasquale Rotella, is looking to change all that with some new and improved revisions for the campsites. The festival is set to return to the Las Vegas Motor Speedway May 17th-19th. 
The new, improved and redesigned amenities are set to make your weekend the best it can be. When arriving you will be greeted with food, music, and much-needed shade to get you all checked in for the fun that is to come. Stronger wi-fi will be provided as well to make finding your friends an easier experience. There will be onsite luggage wagons to help you get to your campsite. Make sure you check out the new EDC Supermarket which will feature headliner-friendly pricing. 
If you do end up getting lost (which let's be honest, happens to everyone) there will be way-finding staff to guide you back on the right path. Restrooms have been upgraded with 24-hour showers available. A power grid has been installed to make charging your devices as simple as possible. To top it off, the Oasis pool will be bigger and better than ever. 
If you are one of the lucky campers at this year's EDC Las Vegas you will also experience the Camp EDC Kick-off Party. Featured artists include FISHER, Latmun, Little Fritter, Mason Maynard, and Melé. The party will start on Thursday night, May 16th. 
FOLLOW EDC LAS VEGAS:
Facebook: facebook.com/electricdaisycarnival
Twitter: twitter.com/EDC_LasVegas
Instagram: instagram.com/edc_lasvegas