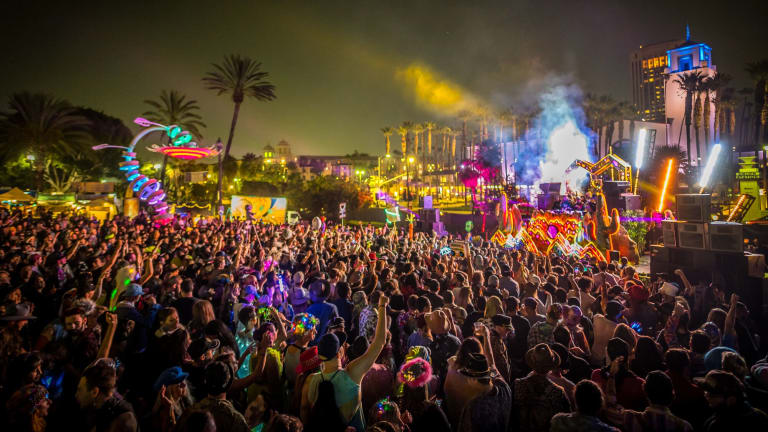 City Hearts' L.A. Festival Featured the Best of Desert Hearts [Review]
The spinoff festival expanded to two days on the historic streets of L.A.
On any given weekend, the cobblestone alleys of Los Angeles' Olvera Street are brimming with tourists meandering the historic thoroughfare. The marketplace is situated on the city's original settlement alongside some of the oldest buildings in the region. The bustling passageway houses authentic Mexican garments, and the sounds of Mariachi music are known to fill the air.
However, the romanticized guitars and trumpets went missing this past weekend, replaced instead by the thumping bass lines of house music. For two days, house and techno took over the historic plaza as part of Desert Hearts' urban offshoot, City Hearts.
The spinoff of the multi-day spring camping festival, City Hearts provides access to urbanites in need of a more attainable Desert Hearts experience. Having already established themselves as a rural escape enveloped by house and techno, the two-day event transported its quirky character from the desolate mountainside to the city of angels.
City Hearts picks up where Desert Hearts left off, with its cavalcade of artists, painters, dancers, art installations, and of course, the impeccable fashionistas. The bartering table known as Frick Frack Black Jack made an appearance as well, alongside the infamous resting place, the Pile Palace. 
The addition of a second day to the event gave allowance to extended musical experiences, including some special back-to-back sets. Notable acts that surrounded the City Hearts landscape with their sounds included Patrick Topping, Tiga, and Wyatt Marshall. 
Of course, no Desert Hearts-curated event would be complete without the founding members taking over the turntables. Mikey Lion, Lee Reynolds, Porkchop and Marbs all displayed their talents behind the decks. The latter also joined Evan Casey and Rinzen in a special Desert Hearts Black showcase.
Desert Hearts advances their mantra of inclusivity with every passing gathering. Whether it be in the remote outskirts of suburban Southern California or deep in the ancient core of the tinsel town, Desert Hearts continues to be a sanctuary for those yearning for self-expression.
City Hearts is more than a branch of its flagship festival, its a congregation of like-minded revelers spreading their message onto the streets. The collective's ideology resonated with Angelenos, as it closed out a  successful weekend in the historic heart of Los Angeles.
FOLLOW DESERT HEARTS
Facebook: facebook.com/WeAreDesertHearts
Twitter: twitter.com/DesertHearts
Instagram: instagram.com/deserthearts
Soundcloud: soundcloud.com/desert-hearts-records