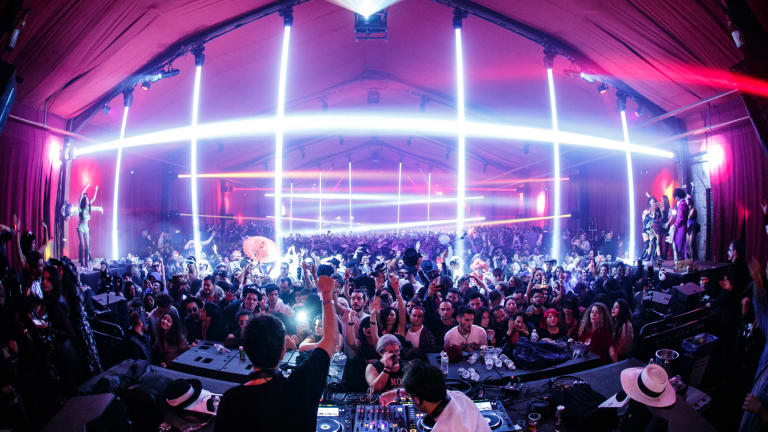 Lee Burridge, Bedouin, Monolink and Stimming Lead Scary Good Lineup for NYC's Cityfox Halloween Festival
Over 15 underground dance music DJs are flocking to Brooklyn for a 12-hour Halloween celebration.
One of New York's leading dance music organizers, The Cityfox Experience, is hosting a twelve-hour celebration on October 26th called The Cityfox Halloween Festival.
The event is set to take over the prolific Avant Gardner complex, spanning five stages and a couple of chill-out lounges across two city blocks. Leading the lineup are underground dance music acts Lee Burridge, Bedouin, Monolink and Stimming. Not only that, but the Halloween extravaganza will feature Avant Gardner's custom KVT sound system, 3D projection mapping, and of course, lasers and pyrotechnics.
The lineup is evenly split between DJ sets and live performances, both largely encompassing melodic house and techno.
All Day I Dream label head Lee Burridge leads the DJ pack. The English artist with decades of DJing under his belt is best known for his blissful style of melodic house music and revered for his ethereal sets at the infamous Burning Man gathering. Brooklyn duo Bedouin, founders of Ibiza's epic SAGA events, are also on the bill. No.19 co-founder Art Department, deep house producer Behrouz, Germany's DJ Hell, Atish, and a special back-to-back performance by Mathis Kaden and Santé round out the rest of the DJ roster.
Last week, in anticipation of the Cityfox Halloween festival, DJ Hell put out a special, nearly three-hour mix.
Hamburg's Stimming leads the live performance lineup, alongside guitarist/singer/songwriter Monolink. Also included are WHOMADEWHO - connoisseurs of a special blend of jazz, rock, classical and dance - in addition to Italian multi-instrumentalist composer Giorgia Angiuli as well as Gui Boratto, Dance Spirit, and Rodriguez Jr.
Last year's inaugural Cityfox Halloween Festival sold out, and current ticket sales indicate this year's edition is heading the same way, making for another epic Halloween dance music celebration.
Get tickets and further information about the Cityfox Halloween Festival here.
Follow the Cityfox Experience
Facebook: Facebook.com/TheCityfoxExperience
Instagram: Instagram.com/TheCityfoxExperience
Twitter: Twitter.com/TheCityfoxExperience
Follow Avant Gardner
Facebook: Facebook.com/AvantGardnerBK
Instagram: Instagram.com/AvantGardnerBK
Twitter: Twitter.com/AvantGBK