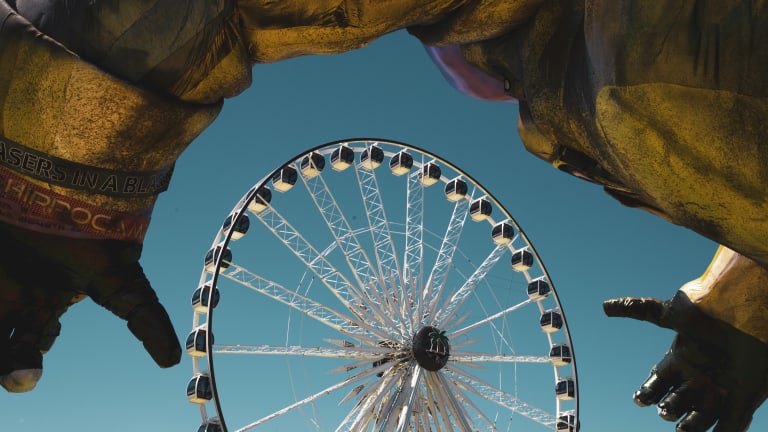 The Good, The Bad and The Legendary of Coachella Weekend One [Review]
Audio malfunctions, surprise guests, but (most importantly) GREAT MUSIC.
Coachella Music & Arts Festival's first weekend is in the rearview mirror, and that means it's time to break down all the beautiful chaos that ensued over the three-day festival. As is tradition, the Empire Polo Fields were filled to the brim with flocks of music fanatics, influencers, and celebs all coming to take on one of the world's most iconic festivals. 
Here are some the good, the bad, and the legendary of this past weekend. 
Jauz Drops Epic "Baby Shark Remix"
On the first day of Coachella, fans were treated to a remix of Pinkfong's "Baby Shark" by the "Daddy Shark" himself, Jauz (real name Sam Vogel). It's been a long time coming since the founder of Bite This! received over 20,000 retweets and he did not disappoint with his delivery. The Sahara stage went absolutely bonkers when the producer cut into a future house version of the children's song-turned meme of the year. This track will be stuck in your head for the rest of the day. 
Surprise Guests Galore
Coachella has always been known for delivering killer surprise guests. This past weekend, the appearances included Cardi B, Ozuna, Selena Gomez, Vince Staples, Halsey, Benny Blanco, Normani, Marshemllo, Chili from TLC, NYSNC, Nicki Minaj, and P-Diddy. 
It was the Do LaB, however, who threw down our favorite surprises of the weekend. Friday night's guest appearance started with a set from the French house producer Agoria. It led into a legendary B2B from CamelPhat and Gorgon City that blew fans away. If you missed the set, they will be playing at the Kinetic Field at EDC Las Vegas so hope is not lost!
Major Lazer ended up closing out the stage on Saturday night after Diplo tweeted out:
Walshy Fire and Jillionare joined him onstage with more surprise appearances from Pabllo Vittar and Moonchild Sanelly. If you are ever lost at Coachella, you'll always find the best place to be is the Do LaB.
Sunday night ended with a beautiful, melodic bang as Bob Moses and RÜFÜS DU SOL closed out the weekend. The soothing tempos of both artists were the perfect way to close out such an action-packed lineup. 
Audio Mishaps
With live performances come unexpected problems. Previous years had there own issues, e.g. Radiohead going dead for part of the performance. This year, the sound issues were drawn out on multiple stages. Billie Eilish was a full 40 minutes late to her set on the Outdoor stage because of technical issues. When she did finally arrive, her performance with Vince Staples left fans struggling to hear anything he was saying. 
Lizzio, who played the Mojave tent, also had issues starting almost immediately into her set. She triumphantly powered through with the help of her dancers and tried to make the best out of a horrifying situation. 
Ariana Grande, one of the main headliners, had her own issues this weekend. Her performance with one of her guests, Nicki Minaj, ended up sounding like a trainwreck.  She proclaimed, "We can't hear anything!" between lyrics. No matter how big of an artist you are, no one is immune to technical issues. 
Friday night at 2:00 AM, an explosion in the campgrounds lit up the sky. It looks as if something happened with one of the water boilers. Luckily no one was injured. Let's hope this doesn't happen at Weekend Two. 
Childish Gambino Airdropped Free Shoes
Childish Gambino proved himself to be the king of experimental marketing this past weekend. On April 12th, festival goers with iPhones or Apple Watches were greeted with an Airdrop from Donald Glover (A.K.A. Childish Gambino). If you were one of the bold ones to accept the request from a random person, you received a photo of his unreleased shoes in collaboration with Adidas. You had 60 minutes to run to pick them up on site. Now that's genius promo. 
Gessafelstein's Comeback of the Century
This was Gessafelstein's first live performance since Coachella 2015, in which he announced his retirement from live shows. In the most poetic way possible, he returned to the festival where it all ended to deliver one of the most impressive sets of the entire weekend. He made history being the only artist to ever use a substance called Vantablack VBx2 as his stage design. It's an ultra-black coating that's primarily used in space applications and holds the world record as the darkest substance made by man.
This could not be more fitting for such an out of this world performance. He adorned himself in a silver suit and metal mask, transforming into an otherworldly figure. The stage seemed to virtually absorb all the light and created this insane optical effect. He created his own black hole. The energy reflected that vibe perfectly. The crowd was sucked in almost uncontrollably as the seasoned French producer threw down his new Hyperion album. If you can't make it to Weekend two, we highly recommend you watch the live stream. 
Tame Impala Delivers Psychedelic Glory
The weekend would not have been complete without Tame Impala's legendary performance Saturday night. They closed out the evening with some of the best light shows over the three days. Kevin Parker's soothing, iconic voice boomed over the crowd like a psychedelic blanket. Visually and sonically, there are few who compare. One of the major highlights had to be when Parker dropped "Elephant" and lasers shot from his eyeballs. The crowd went wild. It was an acid-like dream from which it will take quite some time to recover. 
Apex Twin's Returns With A Vengeance 
Mojave was gifted with one of the most talked about sets of the weekend. Electronic fans flocked over to catch Apex Twin throw down an epic 90-min set. This was his first set since 2008. He partnered up with the anonymous artist Weirdcore to provide a magnificent sensory overload. One fan caught the entire set on film, so if you can't catch the live streaming, no need to fear. 
Weekend Two begins tonight, taking place April 19th-21st. If you can't attend the festival, make sure you watch the live-streams via Coachella's YouTube account. 
FOLLOW COACHELLA:
Facebook: facebook.com/coachella
Twitter: twitter.com/coachella
Instagram: instagram.com/coachella