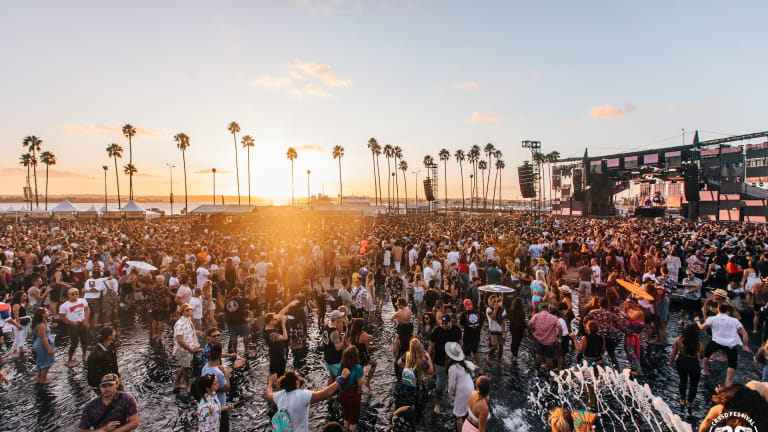 CRSSD Festival Fall 2019 is a Wrap [Review]
The vibes were strong down in San Diego this past weekend
Just like that, another CRSSD Festival  has come and gone. That means it's time to reflect on the beauty that is this bi-annual festival. Once again crowds flocked to the Waterfront Park in Downtown San Diego, California on September 28th and 29th to get down with some amazing music, great crowds, and stunning views. 
The allure this festival has over some others is how it's billed. It's marketed as a more mature EDM festival, offering less of a rave atmosphere while still keeping the party energy at an all-time high. 
The 21-and-up festival is situated on a 12-acre venue alongside the bay with just one easy access entrance and exit point. The music is nestled between a line of historic ships, the picturesque San Diego County Administration Building, and a fun, shallow fountain to frolic through. With an accessible vibe and simplistic layout, this is the perfect event to introduce to any festival virgin.  
CRSSD predominantly sticks to a house and techno lineup while sprinkling in a few wild cards throughout. It boasts some of the top acts in the industry in addition to offering slots to some up-and-coming artists. The performers are divided between three stages, each of which hosts a certain vibe.
THE PALMS
The Palms is the first stage attendees are greeted to, decked out in an elaborate jungle theme. The sets are as vibey as the stage is green. This year the oasis was home to amazing performances by Yung Bae, Kyle Watson, Anna Lunoe, Shiba San B@B Walker & Royce, Yaeji, FISHER, and more. If you are looking to get down to some house music, this is the stage for you. 
CITY STEPS
City Steps is just a quick walk down the line and is known for housing the top techno acts of the weekend. It sits across from the County Building which lights up at night, canvased with the festivals logo. The stage design follows the vibe of techno music - dark and ominous. Highlights from the stage this weekend included Green Velvet, Amelie Lens, Michael Bibi, Dr. Rubinstein, Richie Hawtin, and more. 
OCEAN VIEW
Ocean View is the largest of the three stages. It boasts the best views of the city and waterfront and has the most room to dance and lounge around on. Traditionally, the higher billed artists are located here along with those artists who don't fit in the traditional electronic category. This year attendees were treated to a wide variety of performances like Kaytranada, Polo & Pan, Touch Sensitive, Crooked Colours, Portugal the Man, and of course Kaskade who performed his Redux set for the first time on the main stage. 
If you missed the fun this past weekend, do not fret. CRSSD will be returning in the Spring of 2020. 
FOLLOW CRSSD FESTIVAL:
Facebook: facebook.com/CRSSDfest
Twitter: twitter.com/crssdfest
Instagram: instagram.com/fngrscrssd