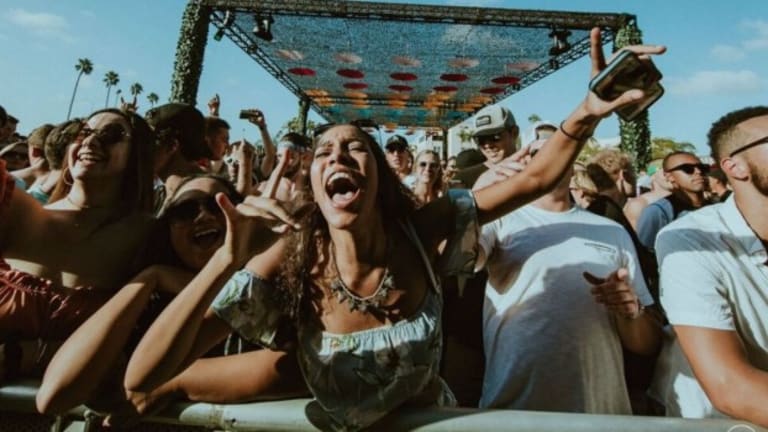 CRSSD Curated the Coolest Vibe Last Weekend in San Diego [EVENT REVIEW]
In its 6th edition, San Diego's CRSSD festival left nothing but smiles from ear to ear for music fans.
Last weekend, tens of thousands of music fans descended on San Diego's Waterfront Park for the 6th edition of CRSSD Festival. From humble beginnings, CRSSD grew out of the casual daydreams of local production company, FNGRS CRSSD. Known for their parties in the popular SoCal city, FNGRS CRSSD decided to expand their horizons in 2015 beyond the local venue scene.
Speaking with San Diego native and featured DJ, Lee K, who has close ties to the festival as a former marketing coordinator, spoke about the festivals fast growth:
"We didn't know if San Diego could sustain a festival, but now it has become a destination."
And what a destination it is. The bi-annual festival has certainly become a pilgrimage for music fans hunting for the casual California vibes. Overlooking the bay with the city skyline in view, CRSSD's beautiful backdrop is only the icing on the cake of this carefully curated festival.
The fall's two day edition took place September 30th - October 1st, bringing in droves of weekend warriors from LA and beyond to sway to the rhythm of four by four beats and soaring synth lines. Long after the Ultras, Coachellas and EDCs, CRSSD Festival excels by playing host to the country's tastemakers and trendsetters outside of peak festival season. With music programming selected with as much precision as revelers fashion choices, CRSSD effortlessly represents the best that electronic music has to offer without the shallow feeling of money-driven pandering. Each stage provides its own unique element, creating a perfect harmony between diverse and high quality musical stylings.
The Palms, decorated in deliciously emerald foliage, consumed the DJ booth in a jungle delight that played host to daytime groovers. With amped-up energy, The Palms featured electric sets from festival favorites like Whethan, Chris Lake, Destructo, and Hotel Garuda. While the highly floral Jimmy Buffett-inspired party garb of The Palms contrasted with the dance floor's decorative parasol motif, mere yards away the City Steps took a much darker shade.
Fans of "HOUSE X TECHNO" crowded the dance floor for monster sets from elite DJs like Richie Hawtin, Marcel Dettmann, and Dixon. Here, the sound drifted between acid, to melodic techno, to the hot desert sounds of the Playa and beyond, for musical programming that can only be considered "deep." Despite the baking rays of the daytime sun, the crowd committed to black and more black, showing up early and staying late throughout the festival so that there was ne'er a moment where the dance floor wasn't bustling with bodies.
Expanding into the largest stage of CRSSD, Ocean View covered the green with its expansive stage which played host to the weekend's live musical performances. With a beautiful vista of the large naval ships of the Maritime Museum of San Diego, Ocean Views commanded the largest audiences for some of the evening's highlights. Offering an emotional and melodic escape from the 2-stepping beats of The Palms and City Steps, Big Wild, Sohn, MØ, and more dazzled fans with musical magic. But it was RUFÜS DU SOL who proved to be Saturday night's crowning glory, as fans flocked to catch the Aussie band perform hits from their sophomore record, Bloom.
As the crowds exited late Sunday night, whether to return to their Monday morning routine or seek out the late-night afterparties, there was one thing that was certain. CRSSD delivered a musical smorgasbord to hungry music fans and did so in a way that was cool, tasteful, and above all, well-executed.
There's no need to consider CRSSD's sustainability a daydream these days, this is one festival that's here to stay.