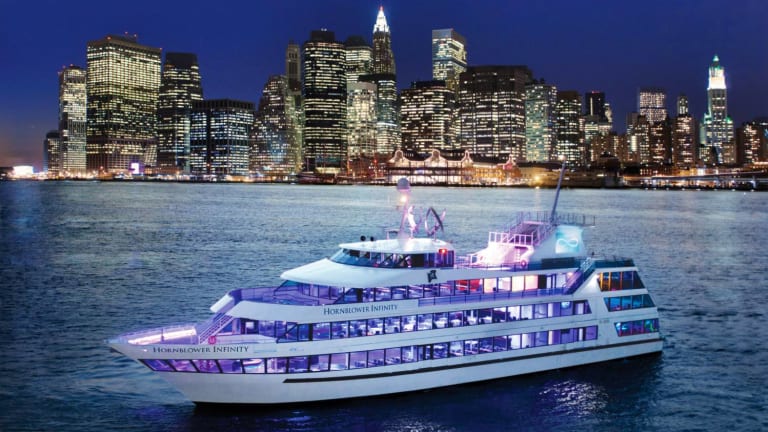 Don't Miss Out on the One-of-a-Kind iBoatNYC Summer Concert Cruise Series
Crust Nation presents iBoatNYC Summer Concert Series featuring events by Space Yacht, Groove Cruise, EDX, Firebeatz, Robbie Rivera, Sharam, Bassjackers and more
A brand-new concert series is surfacing at the Piers of New York City, with over 50 boat parties held in one city. Crust Nation presents the iBoatNYC Summer Concert Series hosted by Hornblower Cruises & Events. 
Teaming up with some of the best artists, labels, and brands in the dance music scene, the summer concert series has a killer event schedule built out, and each party promises to be a unique and exciting experience. The boat party festivities begin on May 3rd and will be sailing through September 15th with over 50 different incredible experiences to choose from.
The season's kick off event, Croatia Squad presents Squad Goals, will be drifting through the Hudson River with his deeper house sounds and nu-disco style. Continuing the premier weekend are the underground sounds of the Rawthentic boat party, taking place on Saturday, May 4th. The label represents a contemporary take on the old-school house and techno sound. The Rawthentic boat party offers an array of talented artists such as Proudly People, AJ Christou, and techno titan Carl Lio. The month of May will also bring dark techno sounds by Noir, Ramiro Lopez, and Juliet Fox as well as more groovy electro house by Henry Fong and Disco Fries.
This Memorial Day Weekend will be a celebration like no other, with Breathe Carolina, Apashe and Kryder curating sonic vibes on the boat's open deck.
The nonstop lineup continues with Incorrect Music Boat Party with longtime house music hero Anthony Attalla. The Incorrect label party will cruise down New York's Hudson River for the boat party summer concert series on the first day of June. The iBoatNYC experience continues with the Sharam Yoshitoshi boat party on June 14th and deep house vibes from EDX presents No Xcuses boat party on June 15th kicking off the first weekend of summer with SLIINK & BRENMAR Present "All White All Night". Other highlight events include Juicy America Independence Day Boat Party with Robbie Rivera on July 3rd as well as the FIGHT CLVB & Friends Independence Day boat party cruise. The iconic Groove Cruise is coming to New York City!
Rounding out the month of July is the talented progressive house act Fehrplay, who will embark on yet another iconic boat party as he presents MOOD OF MIND with Attlast and Oliver Winters on the 26th. More events include Kristina Sky presents United We Groove with Andy Moor, Darude on August 2nd and BASS BOAT Presents QUIX on August 3rd. The summer boat party series will have MOGUAI on September 1st and Space Yacht on September 15th with more events will be announced soon. 
Hosted by Hornblower Cruises & Events, each iBoatNYC concert will be produced as a mini-festival experience with exterior sun decks, multiple cocktail bars, and dance floors along with state-of-the-art lighting and sound-systems - making it the perfect place to party on the harbor with some of the best artists in the world. iBoatNYC presented by Crust Nation will without a doubt be the biggest concert series ever to rock the Hudson River. 
The Complete iBoatNYC Schedule:
May 3rd – Croatia Squad presents SQUAD GOALS

May 4th – Rawthentic Label Party w/ Carlo Lio, Proudly People and AJ Christou

May 10th – Noir Music Showcase w/ with Noir, Ramiro Lopez, Juliet Fox

May 11th – Super8 & Tab: Past Present & Future Tour

May 17th – Henry Fong & Friends

May 18th – Disco Fries present GET FRIED

May 24th – Breathe Carolina presents OH YES

May 25th – Apashe & Friends

May 26th – Kryder presents KRYTERIA Label Boat Party

May 31st – Bassjackers & Friends

June 1st – Incorrect After-Hours Boat Party w/ Anthony Attalla & Harry Romero

June 7th – Euphonic Label Boat Party w/ Kyau & Albert x Ronski Speed

June 14th – Yoshitoshi Label Boat Party Party w/ Sharam

June 15th – EDX presents NO XCUSES

June 21st – Good Looks presents Goldfish Summer Solstice Cruise

June 22nd – SLIINK x BRENMAR presents ALL WHITE ALL NIGHT

June 27th - XERMANE presents PYROTECHNICS

June 28th – Firebeatz & Friends

June 29th – Throttle presents FULL THROTTLE AHEAD

June 30th – World Pride 2019: Loud & Proud Tour w/ KANDY & Friends

July 3rd – Robbie Rivera presents JUICY AMERICA Independence Day Boat Party

July 3rd – FIGHT CLVB & Friends Independence Day Boat Party

July 5th – MAKJ presents OPEN FORMAT

July 6h – Groove Cruise presents CRUISE CONTROL Tour w/ Scotty Boy
July 12th – BROHUG presents BROHOUSE
July 14th - YAYO presents La Fete Nationale - Bastille Day w/ Clyde P

July 19th – Quality Goods Label Party w/ UZ x Craze x Montell2099

July 20th – We LOVE Colombia Independence Day Boat Party

July 20th – Saeed Younan presents JOIN THE TRIBE July 20th - Yeras Colombian Independence Day Boat Party

July 26th – FEHRPLAY presents MOOD OF MIND

July 27th – RAWPHONICS

August 2nd – #UNITEDWEGROOVE w/ Kristina Sky, Andy Moor and Darude

August 3rd – BASS BOAT presents QUIX

August 10th – Cocodrills & Friends

August 30th - D$J presents SO FAR GONE: Drake Tribute Boat Party
August 31th – AMINE EDGE & DANCE presents CUFF - Brazilian Independence Day

September 1st – MOGUAI & Friends

September 15th – SPACE YACHT 
FOLLOW CRUST NATION:
Website: crustnation.com/events
Facebook: facebook.com/crustnation
Instagram: instagram.com/crustnation
Twitter: twitter.com/crustnation
FOLLOW HORNBLOWER CRUISES:
Website: https://hornblowernewyork.com/
Facebook: facebook.com/HornblowerNY
Instagram: instagram.com/hornblowerny
Twitter: twitter.com/HornblowerNY