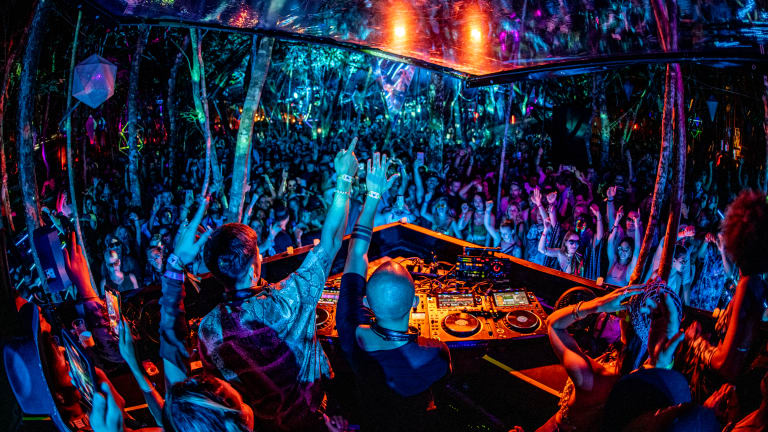 Day Zero Lights Up Tulum's Jungle for Stunning 2023 Festival
Once again, Damian Lazarus' beloved destination festival won the hearts of Tulum's electronic music community.
One of the world's most acclaimed dance music parties, the transformative and mesmerizing Day Zero, recently landed in Tulum.
Founded by veteran DJ and house music producer Damian Lazarus, Day Zero made its debut back in 2012, celebrating the end of the Mayan calendar. The event has been enchanting Tulum's electronic music enthusiasts with its hypnotic live production for a little over a decade now, blitzing the jungle's lush canopies with polychromatic lasers and sultry dance music.
Day Zero 2023 took place deep inside Tulum's jungle on January 9th. The fest featured three stages and over 18 hours of techno and house music while celebrating Lazarus' renowned Crosstown Rebels imprint.
The impressive mainstage ran from 4PM to the wee hours of the morning and boasted captivating performances from AMÉMÉ, Jan Blomqvist, Bedouin, Jamie Jones and Lazarus. A special B2B performance from the two acclaimed DJs extended to noon the next day, which left fans aching for more.
The Club stage featured an equally impressive lineup. Major Lazer Soundsystem teamed up with amapiano superstars Major League Djz for a two-hour B2B, while Michael Bibi and Dennis Cruz also shared the decks for another two hours early in the morning.
Famed Italian DJ and producer Joseph Capriati took the decks afterward, while Danny Tenaglia, Layla Benitez and Red Axes closed out the stage with impressive sets of their own.
Hosting some of the most extraordinary live acts and DJs from Mexico, the El Teatro stage made for an undisputed highlight, curated by Lazarus and Metrika, who also offered a mesmeric live performance. Additional artists who took the stage included Robbie Akbal, Dramian, Ińigo Vontier and Theus Mago, among others.
There are many reasons why Tulum has cemented itself as one of North America's electronic music hotspots over the course of the past few years. With over a decade of events, however, Day Zero stands out amongst the city's many events, driven by a hunger for innovation and a nurturing community that only becomes stronger each year.
FOLLOW DAY ZERO:
Facebook: facebook.com/dayzerofestival
Twitter: twitter.com/dayzerofestival
Instagram: instagram.com/dayzerofestival
Website: dayzerofestival.com