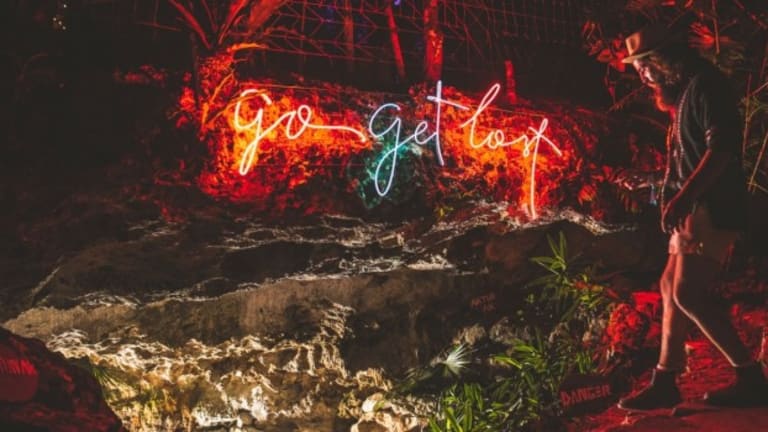 Day Zero Ups the Ante With Immersive Musical Jungle Experience
Day Zero set the gold standard for cool parties, at a time when dance events are a dime a dozen.
One does not usually head to the jungle to find a world class rave, but each year thousands gather for Crosstown Rebels annual Day Zero event to celebrate the rebirth of the Mayan calendar.
Day Zero teased fans with an unmatched location at the nature reserve of Cenote Dos Ojos, a beautiful pocket of natural geological formations in Tulum, Mexico located the lush Yucutan Peninsula, mere minutes from the coastline of the Caribbean.

A long walk into thickly covered foliage covering the bright light of the full moon, with only a vague throbbing bass line providing a clue as to what was to come at Day Zero. In a secret location that wasn't announced until mere hours before the event began, there was a air of mystery about Day Zero. Damian Lazarus' well established Crosstown Rebels has a strong reputation for throwing around-the-clock musical escapes like his 24-hour Get Lost party during Miami Music Week. But Day Zero offered a different allure. An opportunity to lose oneself in a jungle that was once ruled by ancient Mayans, an opportunity to celebrate the deep spirituality of house music outside of the darkly lit nightclubs that usually play host to our sanctuary.
Walking into the venue, one quickly realizes that this event is not one that can be easily replicated. Focusing on the fan experience as much as music programming, Day Zero featured top notch event production that made the location as important to fans participation in Day Zero as the music itself. With trails snaking through the jungle trees, fans could find themselves in fresh water grottos, or lose themselves through winding paths leading to a restful oasis underneath the twinkling starlight. All of this experience and more thumping along to deep and sensual sounds of acts like Âme, Satori, Bedouin, Mathew Johnson, as well as kingpins Damian Lazarus and Dixon.
As Day Zero's 4th installation, the immersive mystic experience had sold out months before, showcasing fans from Ibiza to LA. Burners in the bohemian tribal threads intermixed with darkly clad techno elites as driving rhythms created a soundscape in the thick fog of the crowd, turning fans inward for truly psychedelic musical experience. From sunset to midday the music pulsated through the jungle trees providing a soundtrack that won't soon be reproduced.
With Dixon powering through the final hours of darkness, leading into a climactic sunrise set from Damian Lazarus, Day Zero has proven itself to be an event that cannot easily be repeated or easily duplicated, making it a stand out in a scene saturated by the similar lineups and boring club sets.
Day Zero leaves us with the promise that there are still events pushing the boundaries of sight, sound, and spiritual experience.