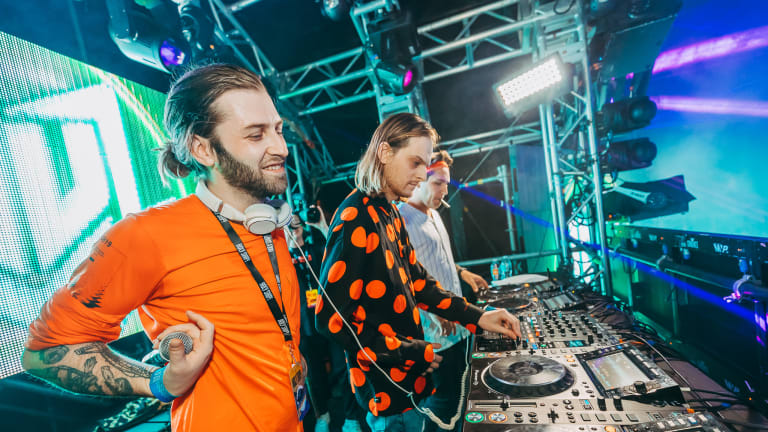 Zeds Dead's Deadbeats is Prepared to Embark on their 3rd Annual Tour
The 3rd annual Deadbeats tour featuring Zeds Dead and the Deadbeats roster is set to be the biggest year yet, with stops at Escapade Festival, Sunset Music Festival, Paradiso, Red Rocks and more.
The year is 2019, and Zeds Dead's Deadbeats label is set to launch their biggest tour yet. Stopping at a wide range of venues and festivals (including several stage takeovers) throughout the summer, the highlights include Paradiso, Escapade, Sunset Music Festival, as well as two nights at the legendary Red Rocks Ampitheatre for Zeds Dead's now-iconic 'Deadrocks' event.
Now in its third year, the Deadbeats Tour has matured and evolved into one of the electronic music industry's leading label event series. Since the launch of their beloved Deadrocks events in Colorado, the bass capital of the world, Deadbeats has become a hallmark of the Red Rocks season, always serving as a top-tier platform for showcasing some of the most exciting new talent, as well as genuine legends of bass music. 
This year, each show on the Deadbeats Tour will be even more engaging for fans both old and new, as it will be accompanied by a variety of interactive installations such as the Deadbeats Arcade, Dead Art featuring live graffiti painting from Hooks of Zeds Dead, pop-up merchandise stores, Deadbeats after parties, and an array of other special surprises.
The brainchild of Zeds Dead, Deadbeats boasts music from many fan-favorites in the world of bass music. Acts like 1788-L, Rusko, Shades, DNMO, Peekaboo, Blanke, Whipped Cream, GG Magree, Wax Motif, and Space Jesus set them apart as one of the most groundbreaking and innovative labels. With a roster like that, how could the Deadbeats tour be anything other than a party unlike anything you've ever seen before!?
The full show lineups and ticket information will be made available soon – stay up to date on the latest information by visiting the official Deadbeats website. 
FOLLOW ZEDS DEAD:
Facebook: facebook.com/zedsdead
Instagram: instagram.com/zedsdead
Twitter: twitter.com/zedsdead
SoundCloud: soundcloud.com/zedsdead
FOLLOW DEADBEATS:
Website: deadbeatsofficial.com
Facebook: facebook.com/deadbeats
Twitter: twitter.com/deadbeats
Instagram: instagram.com/deadbeats
Soundcloud: soundcloud.com/deadbeatsrecords