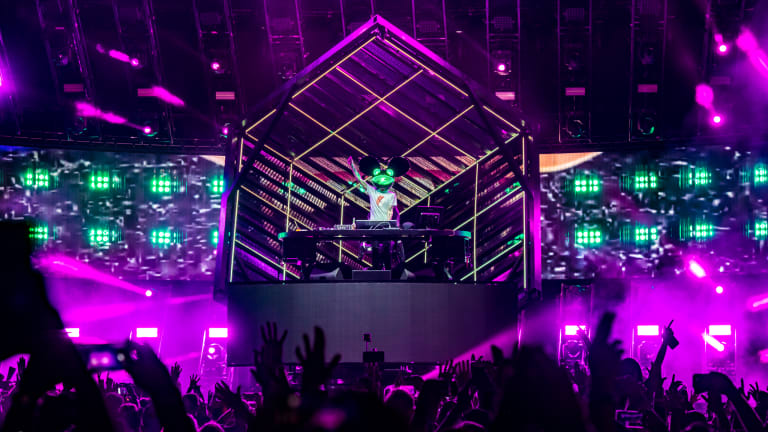 deadmau5 Announces New Dates for the Cube V3 Tour
deadmau5 has announced more shows added throughout North America.
Live Nation and the legendary deadmau5 (real name Joel Zimmerman) are taking the Cube 3.0 on a tour across North America. The response has been so in-demand that Zimmerman has added new dates to his list. 
The original tour announcement came after Zimmerman adopted the new Ticketmaster Fan Verified system. The first debut of the new production was seen at Ultra Music Miami this past March. Safe to say, it looks incredible. 
| Date | City | Venue |
| --- | --- | --- |
| Sat Sep 28 | Los Angeles, Ca | Hollywood Palladium |
| Sun Sep 29 | Los Angeles, Ca | Hollywood Palladium |
| Fri Oct 18 | Detroit, MI | The Fillmore |
| Fri Jan 17 | Boston, MA | House of Blues - Boston |
| Sat Jan 18 | Boston, MA | House of Blues - Boston |
| Fri Jan 24 | Philadelphia, PA | Metropolitan Opera House |
| Sun Feb 09 | Brooklyn, NY | Avant Gardner - Great Hall** |
The cube made its debut to the world back in 2010 at deadmau5' legendary Coachella Music and Arts Festival performance. Soon after that, Zimmerman became one of the biggest acts in electronic music. 2017 saw the debut of Cub 2.1. Now, he is back to blow us away yet again with his out of this world production and created in conjunction with Chris Schroeder of Chris Schroeder Productions, and technical design by Collyns Stenzel. 
Cube 3.0 is the most insane production yet. The booth is structured to change positions from 90 degrees into 45 degrees and rotate a full 360. It's not something you are going to want to miss. 
deadmau5' Cube V3 North American tour runs from September 12th, 2019 through February 9th, 2020. Tickets are on sale now at ww.cubev3.com. 
FOLLOW DEADMAU5:
Facebook: facebook.com/deadmau5
Instagram: instagram.com/deadmau5
Twitter: twitter.com/deadmau5
SoundCloud: soundcloud.com/deadmau5