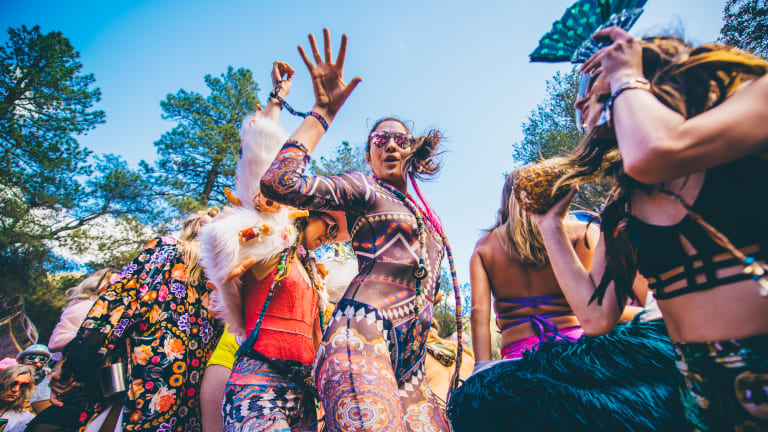 Desert Hearts is Primed to Party For a Sold Out Festival Weekend
This weekend, Desert Hearts crew is returning to Los Coyotes Indian Reservation for 80 hours of non-stop music.
From the depths of Los Coyotes Indian Reservation, a drumbeat sounds. The beat washes through the high desert forest, echoing off the supple valley peaks, knobcone pines and cactus blooms that adorn the native land. 
It's the heartbeat of the growing nation that is Desert Hearts, a tribe unto itself, swelling in preparation for the ceremonious annual festival. The stoke is palpable. It's a pulse on the Funktion-One heartstrings that draws the tribe together, once a year, to its home in the desert hills. On Friday, April 27, we return to Desert Hearts to celebrate house, techno, and love.
It's been a really exciting year for the Desert Hearts record label. The DH squad- Mikey Lion, Lee Reynolds, Porkchop, and Marbs- have been crushing international tours and label showcases at tons of festivals including Oregon Eclipse, Lightning In a Bottle, Coachella, and countless others. Fans who have been following the label for some time will note the marked success and development that this year has brought, but some (including myself) would agree that to really tap into the essence of the collective, one must experience the festival.
Characterized by one stage of nonstop music (80 hours), an outlaw mentality, and a stunningly beautiful desert location, the Desert Hearts festival has the recipe to keep the party people dancing, exploring, laughing, and vibing until their hearts and minds are full. There's immersive art structures, healers, vendors, nooks and crannies of all varieties to get lost in. The tribe Desert Hearts attracts (and retains) is an element worth mentioning on its own, a tribe whose collective creativity and positivity are actually inspiring and a spectacle to watch.
I suppose up to this point I haven't mentioned the music lineup, but fret not: just like previous years, it is huuuge and full of bangers. This weekend we'll be graced by sets from legends like Damian Lazarus, Nathan Barato, Kenny Glasgow, Matt Tolfrey, Serge Devant, Acid Mondays, Andreas Henneberg, and Egyptian Lover, as well as a slew of returning resident artists, and of course the core DH squad and newer rising stars. The set times are already out, curated for a magical weekend-long foray into house and techno.
If you haven't gotten a ticket yet, it might be too late, as festival passes sold out some weeks ago. Next year, watch for that release date. If you have gotten your ticket, pretty soon you'll be packing your headies and sequined scarves and fur coats and parasols, and it is highly recommended that you bump the Road to Desert Hearts 2018 Spotify playlist while you do so.
See y'all soon, front right speaker. 
Follow Desert Hearts:
Website: deserthearts.us
Facebook: facebook.com/WeAreDesertHearts
Twitter: twitter.com/deserthearts
Instagram: instagram.com/deserthearts