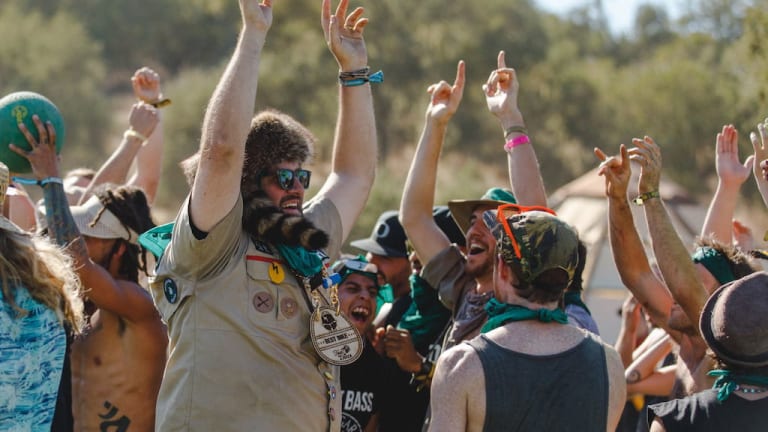 DIRTYBIRD Campout 2018 West Coast is Going to be Off the Charts!
Featuring a retro hip-hop set by A-Trak along with drum n' bass legends Ivy Lab, South African house legend Kyle Watson, and German tech-house maestro Sacha Robotti.
Head Counselor of campout Claude VonStroke is filled with joy as he reveals a grip of announcements and ways to get involved in Dirtybird Campout West 2018. The lineup has been officially topped off with a run of phase two additions, plus Claude is giving all the Birds the chance to compete for Campout tickets and other goodies through the Merit Patch Contest, the Dirtybird Campout West Coast DJ Contest, and a Meet & Greet Giveaway with Counselor Shiba San around his new 'Don't Talk' EP.
The second phase additions will feature a one-of-a-kind retro hip-hop set by A-Trak along with drum n' bass legends Ivy Lab, South African house legend Kyle Watson, and German tech-house maestro Sacha Robotti. These artists will be joining an already impressive collection of world-class selectors like Roman Flügel, Big Daddy Kane, Patrick Topping, Green Velvet, Gorgon City, FISHER, Salva, DJ Assault, Shiba San, Barclay Crenshaw, EPROM, Justin Jay, Catz 'N Dogz, and of course the core of the DIRTYBIRD family including Claude VonStroke, Justin Martin, J.Phlip, Christian Martin, Worthy, and Ardalan plus the much anticipated Jungle Set for the ages with The Martin Brothers.
Birds ready to show their artistic skills will have the chance to design a Camper merit badge in the annual Patch Contest. The winner will receive two VIB (Very Important Bird) backstage passes to Dirtybird Campout West, one vehicle pass, a meet & greet with head counselor Claude VonStroke, one Dirtybird Campout West Coast 2018 Camper Shirt, and of course a batch of the winner's design to pass out to other Campers. The runner-up will receive one Dirtybird Campout West 2018 Official Tee & two patches of their design. More info here.
For all those aspiring songbirds out there, Dirtybird is giving aspiring DJs the opportunity to show their skills and get a taste of what life's like on the other side of the turntables with their annual DJ Contest. To enter, all fans need to do is create a NEW 30-minute mini-mix inspired by any and all things Dirtybird Campout. One winner will be chosen on the basis of popularity by community votes and on originality, vibe, and flow by Head Counselor Claude himself. More info here.
Counselor Shiba San is also joining forces with Head Counselor Claude VonStroke for the Ultimate Campout Giveaway. Just enter to win here for the chance to receive a grand prize of two passes to Dirtybird Campout West, a meet & greet with Shiba San, one Signed 'Don't Talk' Vinyl, and one Shiba San Limited Edition T-Shirt.
Dirtybird Campout West Coast 2018 is thrilled to announce the move north to Modesto Reservoir Campgrounds in Central California. This venue offers a lush lakeside camping experience convenient to both Northern and Southern campers alike, as well as convenient access to major airports for the out of town Birds around the world. Just miles away from the breathtaking Yosemite National Park, Campers will be treated to a beautiful lake ripe for swimming and fishing, beachfront camping and stages so close to the water you can booty shake while you dip those toes, grassy areas for your favorite games and all the amenities you'd expect from the perfect Campout venue, plus a variety of nature-focused activities for anyone looking to escape the big city bustle for the weekend.
Be sure to check out the Persian Empire mix for Campout below!
Tickets On Sale Now