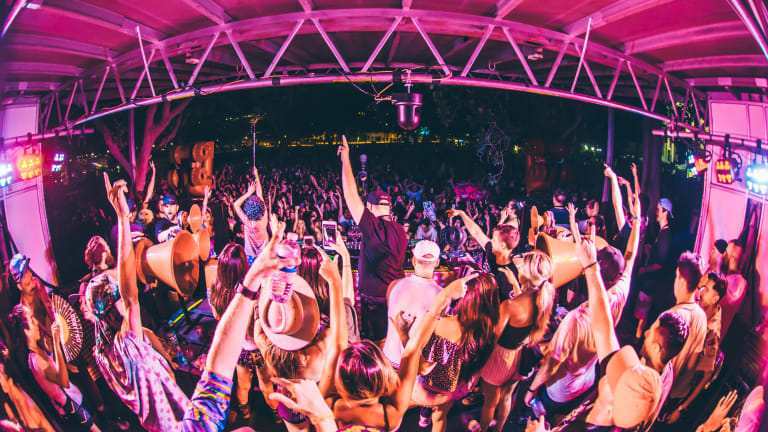 Dirtybird BBQ LA [RECAP]
This was one for the books!
We arrived at the Coliseum parking lot in our Uber shortly after the gates opened for the first Dirtybird BBQ LA. The lines were not too hectic, being able to make it inside of the venue within minutes of arriving. The heat was the one thing that every Dirtybird fan seemed to notice, many fanning themselves down with personal fans, or standing by the industrial fans that were strategically placed around the venue.
Costumes were in full force and the weird just kept flowing. Cowboy hats, bandanas, glitter, and festival scarves were not a rare occurrence. Umbrellas and totems alike were seen all around the crowd. The event was like being in your family's backyard enjoying the first barbecue of the summer.
The BBQ kicked off with Dateless and Lucati going b2b dropping heavy tech house tunes that got the crowd moving. Christian Martin dropped a lot of groovy techno that the crowd loved. Justin Jay hopped on after Christian and played out some of his classic tracks for the crowd. Following Justin was a surprise set by WAJATTA, a duo made up of Reggie Watts and John Tejada. All of the sets fit together so perfectly, each with a unique vibe that the crowd resonated with. As it began to get later in the night, the legendary Justin Martin took to the stage and as always, had an exciting and unique set which takes the crowd on a journey.
As the sun began to set, Claude stepped up at the end of Justin Martin's set to give respects and a moment of silence for the late Chris Wilson, better known as Grill$on who unfortunately passed away earlier this year. He was an attendee at every single Dirtybird BBQ event for the past 15 years, and it surely was not the same without his presence there. After lighting the torch on top of the Coliseum, Claude brought the kick drum back in and the crowd roared, dancing united under the flame.
As night fell over the Coliseum, label boss Claude VonStroke took the stage. He played tons of new tracks that will likely be released on the label as well as the Dirtybird classics that we all know and love. The energy around the venue was electric.
This was my first Dirtybird BBQ event that I have had the pleasure of attending and will surely not be my last. Big thanks to the whole Dirtybird crew for all the effort they put in their amazing events!