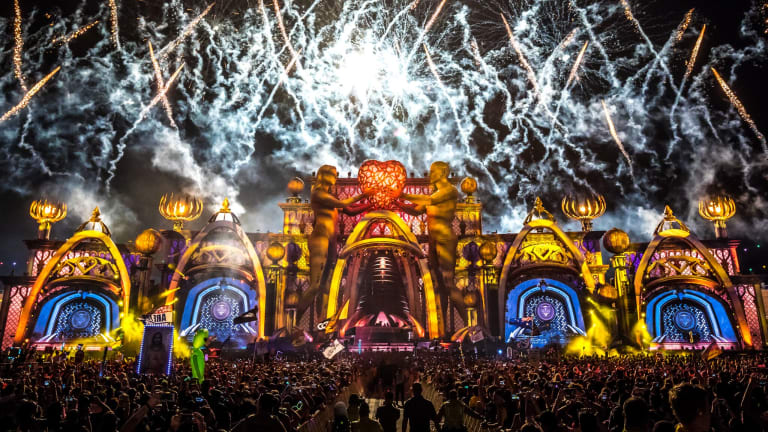 EDC 2018: The Ridiculous and Incredible Moments That Electrified Our Hearts
From dusk till dawn, we've got you covered.
Last weekend, I spent 3 days dancing under the electric sky. Beaming lights, spectacular stages, grandiose fireworks, legendary sets, and beautiful people were all highlights at the festival mecca. The 22nd annual EDC Las Vegas was held for the first time in May, a month earlier, making the weather cooler and everyone happier. EDC was an infinite spectacle, having something extraordinary to see every day. With attractions at every corner, it was never a dull moment. Each night, the bass was heavy, the colors were vibrant, and the energy was high, making it quite easy to pull the all-nighters. Let's take a quick trip down memory lane with the most outrageous and unforgettable moments at EDC 2018. 
The Performances
With EDC's stacked lineup, it is no surprise there were legendary performances. On Friday, Kaskade stole the show with a beautiful Avicii tribute, playing a Fade Into Darkness/Teenage Wasteland edit. Dipole shook us up with major bangers and a surprise performance by Lil Pump. At the circuitGROUNDS, Virtual Self made his EDC debut blowing the crowd away with a mesmerizing light show and head-banging tracks. Day 2, Anna Lunoe gave us a surprise at the Corona Electric Beach stage hosted by Brownies and Lemonade. Around that time the fireworks would be on the schedule, promptly beginning at 1 AM and lasting for 15 min. They were definitely a performance as well. At cosmicMeadow, hosted by HARD events, Illenium brought in the biggest crowd, entertaining the crowd with new live edits, fireworks, and insane visuals. On the final day, one stand out performances came from Tiesto, giving a 12-minute tribute to the late Avicii. Post Malone filled up cosmicMeadow with his melodic tracks followed by Chris Lake B2B with Fisher closing out EDC at the Kinetic Field. At 5:30 AM, Fisher sent us off by doing a shoey on stage, meaning he drank from a shoe… classic Aussie debauchery!
The Stages
One thing that separates EDC from any other festival is the larger than life stages. These stages are the best productions I have ever witnessed, making stages at festivals like Coachella seem small. The main stage, kineticField, is my favorite one. The magnificent stage featured water fountains, moving lights, flames, lasers and confetti blowers. If that doesn't blow you away, I don't know what will. Another head turner, circuitGrounds, staged artists Virtual Self, Rezz, Robtaki and many more. The setup had a hypnotic appeal and we could not look away. HARD's stage cosmicMeadow, bringing the most eclectic artists of EDC and being the perfect sunrise view. The art cars were the life of the party as well, with cars like Kalliope and Parliament bringing in a contagious energy. The mobilized Parliament owl is truly an unforgettable sight. The LA boys of Brownies and Lemonade hosted artists at the Corona Electric Beach stage, a tropical oasis within the festivals filled with sand and palm trees. 
The People
EDC doesn't call them headliners for nothing. Anyone who goes to this festival has a deep-rooted passion for music and people. All around me were music enthusiasts feeling every moment and and loving one another. That energy was contagious, giving the festival a feeling that couldn't be replicated anywhere else. People from around the world travel to this insane festival, dressing up with kandi jewelry, tutus, furry boots, and flower bras. As ridiculous as these may sound, once you're in the festival, these abstract outfits become the beauty and essence of the event. And I appreciate all of it.