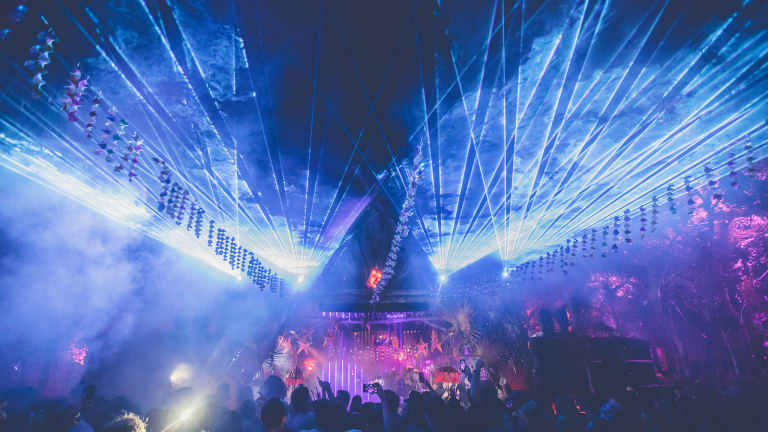 EDM.com's Guide to Tulum's Hottest Winter Events
Head to the jungles of Mexico this winter to experience all of the music that Tulum has to offer.
As some people recover from their eggnog-induced hangovers, few winter warriors will dare to venture to Mexico for an extended holiday at dance music's hottest winter destination. We're talking about none other than Tulum, of course.
The picturesque beach town made up of white sandy beaches, sparkling, sapphire-blue water, and the ruins of ancient Mayan culture is well known for being a laid-back getaway. Although the area is a popular destination for beach-bumming tourists year-round, for the past decade Tulum has grown in notoriety as the January destination for dance music fans. Boasting Ibiza-style headliners during the White Isle's off season, Tulum trades in millionaire clubs for natural outdoor venues. 
Here, you can step into the jungle for all-night parties hosted at some of the area's cenotes, or naturally occurring freshwater lagoons. Or, head to one of the many beach parties for a night of music under the moon and stars of the Riviera Maya. 
Kicking off December 27th, 2019, with parties throughout the month of January, Tulum invites dancers, dreamers, and travelers from around the world to experience the magic of the Yucatán. 
Read on for EDM.com's top picks for Tulum's most sizzling winter parties.
EET presents SPACE
Date: Friday, December 27th, 2019
Location: Cenote Casa Tortuga
TICKETS
EET is bringing the legacy of Ibiza's infamous (and now defunct) nightclub Space for one night only in Tulum on December 27th. The spirit of Space will continue with performances from Deep Dish co-founder Sharam, genre-bending wizard Tiga, Get Physical label head M.A.N.D.Y, and GRAMMY-award winning artist Roger Sanchez. Spanish veterans Javier Gonzalez and Kintar will keep the decks warm for a late-night special at Cenote Casa Tortuga.
Bob Moses presents Innercity Odyssey 
Date: Saturday, December 28th, 2019
Location: Zamna Tulum
TICKETS
Popular crossover darlings Bob Moses are returning to the DJ booth for a special Tulum performance with Inner City Odyssey. Trading in their popular live band for the group's traditional club set, Inner City Odyssey will feature tracks from the duo's hit 2018 album, Battle Lines. Bringing Eagles & Butterflies, HVOB, and Zombies in Miami in tow, Bob Moses will help you push through the end-of-the-year blues with a cathartic performance at Zamna.
EET presents MDRNTY
Date: Sunday, December 29th, 2019
Location: Cenote Casa Tortuga
TICKETS
Known for exploring new destinations and pushing the envelope with its inventive event concepts, MDRNTY is teaming up with Esto Es Tulum for a pre-NYE bash. Loading up with lineup with the likes of Guti, Matthias Tanzmann, Martin Buttrich, Serge Devant, and more, MDRNTY is heating up and heading to the jungle of Cenote Casa Tortuga.
Sonorous Tulum presents Jan Blomqvist
Date: Sunday, December 29th, 2019
Location: Taboo Tulum
TICKETS
Jan Blomqvist has had a powerhouse 2019 with the help of his breakout 2019 single "In Between." The solo artist's emotional brand of dance floor-driven electronic music is known for its melody and melancholy, making it the perfect soundtrack for a daytime party at Taboo Restaurant & Beach Club. Supported by Iluminat, Enzo GD, Eli Light, and Vander, Sonorous Tulum is shaping up to be the perfect final daydream of 2019.
Project Sound presents DJ Tennis 
Date: Tuesday, December 31st, 2019
Location: The Radhoô Hotel
TICKETS
As the founder and A&R of Life and Death, DJ Tennis has built a reputation for his diverse, genre-defying sets that demonstrate the Italian DJ's ability to fluidly transverse from melodic techno to Italo-disco, and perhaps even a throw in a hint of Afro-house. On December 31st, DJ Tennis will be heading to The Radhoô Hotel in Tulum for a 20-hour party that will stretch well into the new year. Visionaries Öona Dahl, Brina Knauss, Neo Human and Holder will keep the dance floor warm on support.
XXWinterbeach Tulum featuring Paul Kalkbrenner & Agents of Time
Date: Tuesday, December 31st, 2019
Location: Zamna Tulum
TICKETS
For fans looking to end 2019 by riding a melodic techno high, artists Paul Kalkbrenner and live performance trio Agents of Time are guaranteed to deliver. Kalkbrenner, the mastermind behind "Sky and Sand," the breakout single from the soundtrack of cult film Berlin Calling, will close out the decade by performing a final techno sermon at night one of XXWinterbeach Tulum.
EET presents The Martinez Brothers
Date: Tuesday, December 31st, 2019
Location: Cenote Casa Tortuga
TICKETS
The Martinez Brothers have had a strong performance in 2019. The Bronx-based brothers can boast the release of their EP Space Jams, Vol. 1, several collaborations with high fashion designers, and the release of their latest single with New York house music legend Louie Vega and R&B vocalist Marc E. Bassey on "Let it Go." Now, they're capping off 2019 with a special New Year's Eve performance at Cenote Casa Tortuga. As a duo that is known for pushing marathon sets that span 24+ hours, you can anticipate that this is a party that will just keep going.
XXWinterbeach Tulum featuring Damian Lazarus, Diplo, & Guy Gerber
Date: Thursday, January 2nd, 2020
Location: Zamna Tulum
TICKETS
Diplo might not be the name you'd expect to see paired with Crosstown Rebels boss man Damien Lazarus and Rumors' Guy Gerber, but the Grammy-winning American DJ/producer has built a reputation for constantly reinventing himself and exploring new musical territory. On January 2nd, all three will unite for the second edition of XXWinterbeach Tulum at the picturesque Zamna complex.
BLOND:ISH presents ABRACADABRA
Date: Friday, January 3rd, 2020
Location: Ahau Tulum
TICKETS

Billed as 'a carnival for your spirit,' Abracadabra returns to Tulum for a creative and experiential night of music that will feature 'a creation of curiosities and cabaret of oddities.' As a single use plastic-free event in collaboration with BLOND:ISH's Bye Bye Plastic campaign, Abracadabra is an event that's both good for the soul and the environment.
This is a private event. For access to tickets, request join the Abracadabra Facebook group.
EET presents CVΛ
Date: Friday, January 3rd, 2020
Location: Cenote Casa Tortuga
TICKETS
Event curators CVΛ have teamed up with Esto Es Tulum for a night of Mayan jungle fueled magic at Cenote Casa Tortuga. CVΛ quickly caught our attention by featuring a rare performance from experimental (and mysterious) U.K. artist Actress. Rounded out with a lineup that includes Hot Natured label founder Lee Foss, ghostly mastermind Matthew Dear, and Detroit veteran Seth Troxler, this is one party to keep on your radar.
Project Sound presents Solomun +1 Maceo Plex
Date: Saturday, January 4th, 2020
Location: Templo Xunanha
TICKETS
As he's one of the most sought-after DJs in the world, there are few places in the world that are better to experience Solomun live and in the flesh than Tulum. As a regular Riviera Maya fixture, Solomun has previously donated his time by performing free public block parties in Playa del Carmen, and raised money for local schools with B2B sets with Dixon. On January 4th, the revered DJ will bring his Solomun + 1 experience to Templo Xunanha featuring special guest DJ, Maceo Plex.
Zamna Tulum presents Renaissance 
Date: Saturday, January 4th, 2020
Location: Zamna Tulum
TICKETS
On Saturday, January 4th, iconic British nightclub Renaissance is making the journey to Mexico with a lineup of heavy hitter DJs. Featuring some of the finest purveyors of business techno, including Adam Beyer B2B Ida Engberg, Charlotte De Witte, and a sunrise set from Dubfire, Renaissance is bringing banging four-on-the-floor techno for a nighttime journey that will stretch long into early sunrise hours.
EET presents ANTS
Date: Sunday, January 5th, 2020
Location: Casa Cenote Tortuga
TICKETS
Born out of the Ibiza underground, ANTS has built a reputation for curating lineups that double down on talent and mass appeal. As its first party of 2020, ANTS is bringing a heater lineup featuring the likes of Mindshake founder Paco Osuna, Chilean DJ Francisco Allendes, VIVa MUSiC label boss Steve Lawler, and popular party boy DJ FISHER.
Project Sounds presents Innervisions: Âme b2b Dixon
Date: Monday, January 6th, 2020
Location: Templo Xunanha
TICKETS
Getting together the likes of Innervisions co-captains Dixon and Âme is usually a good selling point on its own. But pair that with an all-night B2B performance in the jungles of Tulum at Templo Xunanha and what you get is one of the most highly anticipated performances of the year. This is the party that you don't. Want. To. Miss.
Zamna Tulum presents Black Coffee
Date: Monday, January 6th, 2020
Location: Zamna Tulum
TICKETS
South African selector Black Coffee has built a name for himself as one of Africa's brightest stars. The house DJ has held down impressive residencies at Ibiza's Hï nightclub, forged close bonds with rapper Drake and business mogul P. Diddy, and he's now heading to Tulum to continue his global conquest. With a lineup that features compatriots Themba, BLOND:ISH, DJ Angelo, and Salomé, Black Coffee will bring an evening of groovy Afro-house to Zamna.
Bedouin presents SAGA
Date: Tuesday, January 7th, 2020
Location: Papaya Playa Project
TICKETS
Bedouin, Brooklyn's premier purveyors of playa-tech, are returning to Tulum with their distinguished SAGA event. However, this year the Ibiza party series will head to a new venue at Tulum's infamous Papaya Playa Project, giving fans an opportunity to sway to the hypnotizing rhythms of Bedouin's multicultural influences with a beach side view of the Caribbean Sea. With more artists yet to be announced, SAGA is already shaping up to be one of Tulum's most enchanting parties.

Project Sound presents SHADOWS
Date: Wednesday, January 8th, 2020
Location: Taboo Tulum
TICKETS
Although nighttime parties often receive the most hype, there are few things that can rival the experience of a well-curated day party. Mexico City's Project Sound is teaming up with Spain-based SHADOWS for a daytime event that will feature all of the rhythm and fire of some of South America's most prolific DJs. Featuring performances from Colombian-based DJ Magdalena and special guest, Argentine marvilloso Hernan Cattaneo, SHADOWS is the daytime beach escape after a week of jungle darkness.
Zamna Tulum presents Afterlife
Date: Wednesday, January 8th, 2020
Location: Zamna Tulum
TICKETS
A winter season in Tulum wouldn't be complete without an Afterlife appearance. The distinguished label and event series from Berlin-based duo Tale of Us conjures up melodic techno that can only be fully appreciated in a natural venue embodying the irresistible bliss of its selectors. Accompanied by the likes of Stephan Bodzin, Âme, Mind Against, Adriatique, Recondite and more, Afterlife offers fans a near out-of-body techno experience.
Follow Abracadabra
Instagram: instagram.com/welcometoabracadabra
Facebook: facebook.com/welcometoabracadabra
Follow Esto Es Tulum
Instagram: instagram.com/estoestulum
Facebook: facebook.com/estoestulummx
Website: www.estoestulum.com
Follow Project Sound
Instagram: instagram.com/projectsound_mx
Facebook: facebook.com/projectsoundmx
Follow SAGA
Instagram: instagram.com/saga_ibizaofficial
Facebook: facebook.com/sagaibizaofficial
Follow Zamna Tulum
Instagram: instagram.com/zamna.music
Facebook: facebook.com/zamna.music
Website: zamnafestival.com