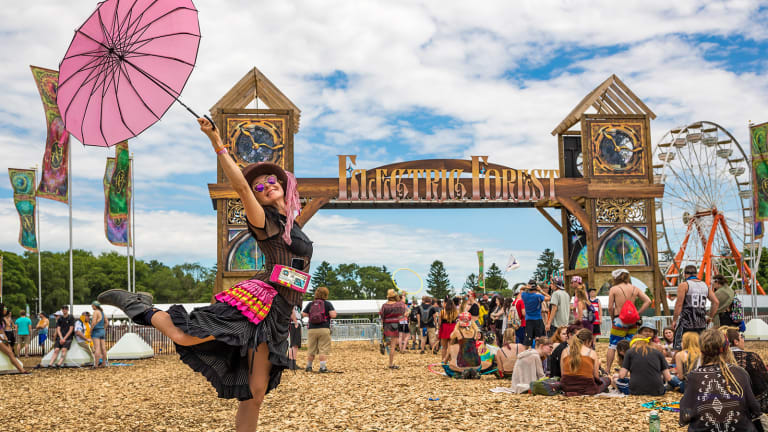 A Review of the Most Magical Event: Electric Forest 2018
Accompany us on our trip to Sherwood Forest to experience this year's Electric Forest festival.
As a first time attendee of Electric Forest (first weekend), I had no idea what to expect when walking through the gates for the first time.  I had always heard stories of out of this world adventure, music, and experience, but I could have never imagined the extent of this festival.  As a new member of the #ForestFam, I am here to tell you my experiences at the most magical festival I have ever attended: Electric Forest 2018.
To begin, Electric Forest is one of the cleanest festivals I have ever encountered.  This festival had staff working 24/7 to pick up trash, keep the restrooms clean and stocked, and make sure to keep the aura of the venue alive.  This may not seem like the biggest deal, but when spending over 4 days camping at an event, this detail makes all of the difference.
Electric Forest also made sure to provide all kinds of different food options for guests.  Vegan and vegetarian options were made available as well as typical festival foods like pizza, burgers, etc.  At every stage and at every corner of the venue there was food available within a few steps.  If the main Electric Forest festival gates were closed, there was a smaller outside marketplace open with food available throughout the closing hours.
The layout of Electric Forest is incomparable to any festival I have ever attended.  While most festivals feature a "main stage" with all of the largest acts performing there, Electric Forest makes sure to spread out the different acts across all of their stages so that attendees can have a different experience at each one.  Though the walking distance was a little intense at times from show to show, it was definitely worth it once you reached the destination.
Entering the gates of Forest is nothing short of magical.  The line wraps back and forth, prompting guests to high five, cheer, and welcome their new found "line friends" into the Forest with them.  The Tripolee entrance stage is overlooked by a bright Ferris wheel and surrounded by vendors and open space.  This year, the Tripolee stage hosted some of my favorite moments of Electric Forest, including performances from San Holo, Malaa, Green Velvet, Eprom, Charlesthefirst, and Jauz.  This stage has a ton of open room and is meant for a crowd that likes to move.  To my pleasant surprise, no matter how big the crowd was I always found myself with plenty of personal space to enjoy the show as I pleased.  Throughout the weekend, I constantly found myself heading back to the entrance to catch a show at Tripolee.
Walking past the Tripolee stage brings guests up a hill and right into the Ranch Arena.  With grass spanning for what seemed like miles, this arena was home to some of the biggest crowds of the weekend.  The Ranch Arena hosts one of the most massive and professionally equipped stages I have ever seen at an event.  This stage looked as if it was designed to be reminiscent of a time machine, taking the lighting, design, production, and sound to a whole new level.  Some of my favorite acts I caught in the Ranch Arena included Bassnectar, Rufus Du Sol, Griz Live Band, Zhu, and Galantis.  Whether you chose to battle for a spot at the rail, or hang in the back and sit on a blanket with your friends, this stage was the ultimate meeting spot of Forest.
Through Sherwood Forest we go to make it to some of the most interesting stages at this festival, The Observatory, The Forest Stage, and The Silent Disco.  Though I had looked at pictures of Sherwood Forest for years, absolutely nothing can compare to actually seeing it for yourself.  While walking under the arches reading "Sherwood Forest" I was overwhelmed with the attention to detail put in by the creators of this festival.  With multiple free activities, areas to relax, and areas to explore, Sherwood Forest was by far my favorite area of the venue.  Multiple times throughout the weekend I caught myself sitting at The Observatory to catch a more relaxed show from the side.  The Forest Stage hosted Mija, Mr. Carmack, Medasin, and Shallou, and was the perfect place to catch a vibe.  Both stages were surrounded by tall trees and lights all around, making it impossible to not be immersed in the experiences that were provided.
Past Sherwood Forest lied Sherwood Court for another large venue experience fully equipped for live music.  Here I had the pleasure of catching The Glitch Mob, Gryffin, Clozee, Boogie T, Louis The Child, and G Jones.  This stage seemed to bring attendees together the most, as everyone, old friends and new, joined together to experience the music as a family.  This stage featured more of a bohemian vibe, defined by the gold decor and decorated with elephants and jewels.  Surrounded by great music and even greater vibes, Sherwood Court is the home of many memories made inside the gates of Electric Forest.
Just to the left of Sherwood Court is where you can find the Jubilee stage and The Hangar, which hosted the Carousel Club stage.  The Jubilee stage felt just like a retro disco, but you know, without the disco music of course.  Here, I was able to catch an ample of bass with Space Jesus and Buku.  Though I loved the style of this stage, it did get a little bit crowded and hot at times because of its enclosed location inside of a tent.  Unlike all of the other stages, there was no place to sit back and relax, but all of the space to get lost in the sauce.
Last but definitely not least comes The Hangar, the hub for a different kind of adventure.  The Hangar is themed as a "time machine" back into the 1940s.  Standing as the most immersive and interactive part of the forest, guests could get a tattoo (temporary, of course), get their hair styled in the salon, play some bowling, or even get a haircut at the barbershop. The Hangar was full of mystery, with games, treasure hunts, and things to discover hidden all around.  The back of the Hangar hosted the Carousel Club, which was one of my favorite Forest surprises of the entire weekend.  As a complete coincidence, I walked upon one of my favorite sets of the weekend, an old school house party vibe put on by Stickybuds.  The Carousel Club was small and immersive, themed as an old-school classic disco party.  With plenty of room to swing around and a great place to catch some AC I found myself revisiting this hidden treasure every day of the festival.
To wrap up this review, the folks over at Electric Forest have created something much bigger than a music festival.  They have created an immersive experience that turns all kinds of people, friends, and strangers alike, into a family.  I never understood the depth behind the term #ForestFam until experiencing it for myself.  Everyone at this festival is looking out for each other and experiencing this event to spread positivity.  There is an overwhelming amount of love, acceptance, and just pure bliss in the air that I have never seen compared at any other event.  Electric Forest pushes guests to "work on yourself, not your selfie", to experience for yourself and not for a post on social media.  Every guest brings a different background to Electric Forest, and every story is appreciated and welcomed into the gates with open arms.
I highly encourage each and every one of you to head to Sherwood Forest and create your own adventure at least once in your lifetime.  I assure you that whoever you are and wherever you come from, the Forrest Family will welcome you with open arms.
For more information on this event and to find out details for next year, head over to their website here.