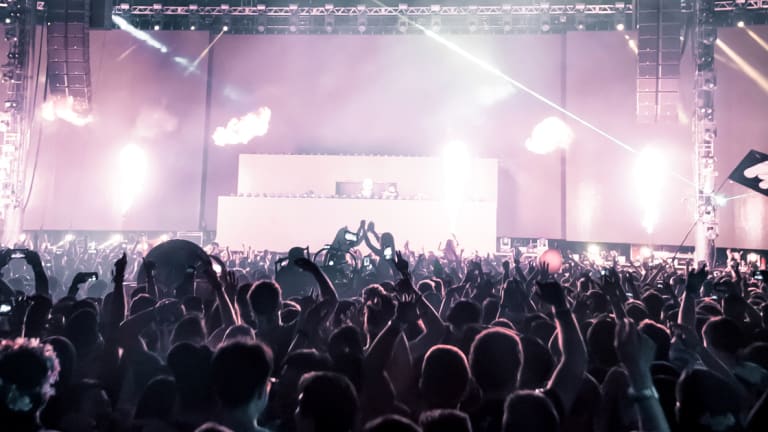 Electric Zoo's 10th Anniversary Starts off with a Bang - Day 1 Recap
Couldn't make it to the first day of EZoo? Catch up on what you missed!
For electronic dance music fans local to New York, Labor Day weekend started off with a bang on Friday afternoon as one of New York City's most major music festivals started. Electric Zoo, now celebrating its tenth anniversary, enlisted quite the talent for the birthday bash. And if Friday has anything to say about what the rest of the festival will be like, it'd be epic. 
With five stages located throughout the grounds there were plenty of artists to see throughout the day/night and luckily there weren't any torrential downpours hampering all the fun. 
At Treehouse, the smallest stage located near the east gate entrance, people got to enjoy performances from fresh talent like Nekrø, XCRPT, Mike Chach and Nelvis Tolentino. All the way over by the west gate entrance was another fairly small stage. The Riverside stage saw performances from widely known artists like Kuuro, Kill The Noise, Kayzo and Zomboy, who drew in quite the crowd.
Under the smaller tent right next to Riverside, was the Sunday School stage which featured Anna Lunoe's HYPERHOUSE and some DJs from Night Bass Records like Chris Lorenzo, Petey Clicks and Redlight. Towards the end of the night AC Slater threw down some awesome bass music and people passing by couldn't help but to stop and listen. 
The larger tent a little ways away housed the Hilltop stage and with featuring artists like G Jones, Boogie T and Herobust, it was no surprise that throughout the day/night it was always packed to the brim. Gramatik closed out the night at Hilltop and he put on quite the performance. His catchy funky music was accompanied by a live electric guitar which really enhanced the whole set. Of course the crazy yellow and red lights and projections also added to the whole funky mood too. 
Although the rest of the stages had some great talent, the Main Stage was where all the epicness went down. San Holo played an amazing future bass set and he was having a great time shredding on his electric guitar to some songs. At the end he played his most popular track "Light" accompanied by some crazy cloud graphics. 
Next up was Jauz and right when he started off with Flosstradamus' edit of Alice Deejay's "Better Off Alone" versus Crankdat's remix of graves' and Coolights' "Say Things," you just knew you were in for one hell of a trap/dubstep/bass ride. Throughout the set Jauz had some killer graphics that went perfectly with each track and added to all the bassy vibes. He also played a little bit of Linkin Park's "Papercut" and Daft Punk's "One More Time" which both really hyped up the crowd even more than before.
The last two acts on the Main Stage brought in way more people than before and, well, that's because it was Virtual Self and Marshmello. Every second of Virtual Self's set felt like you were in this futuristic digital world with technic-Angel commenting on the music that was playing and graphics that indicated a program was loading. It was a very cool and immersive performance. And if you were more of a fan of Porter Robinson, Virtual Self still included some anime-like tracks, though that didn't last for long. He transitioned into some hardcore bassy tracks and it only got more intense from there. 
Marshmello put on an equally stunning show. With colorful lights, lazers, fireworks and graphics and, of course, a set filled with remixes of popular songs like Drake's "Look Alive" and fan favorites like "Fly" and "Silence," he got the crowd instantly going nuts. All we have to say is that Marshmello's performance was the perfect ending to the first day of EZoo's birthday bash and a great teaser for what the rest of the festival would be like.