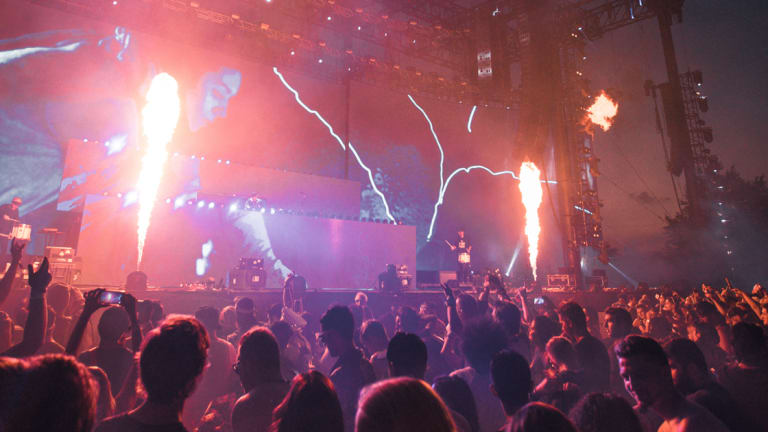 Electric Zoo's Last Day Blew Us Away - Day 3 Recap
If you thought Day 2 was going to be the best day, you were so wrong.
Although Day 2 saw a lot of spectacular performances from Rezz, Martin Garrix, Kaskade and Alan Walker, nothing could've prepared you for the legendary awesomeness that Day 3 brought. 
Even though it was a Sunday there was quite the turnout and for good reason. The Main Stage was especially on fire the whole day with having popular DJs like 3LAU, Illenium, Alesso and, of course, the legendary Tiësto in the lineup. 
Alesso gave an awesome performance with playing fan favorites like "Heroes," "Years," "Under Control," "I Wanna Know" and "Cool" -all of which got the crowd singing along and just going bonkers. But going down memory lane with some old Alesso songs wasn't the only thing that made his performance spectacular. For one he gave tribute to Avicii with mashups of "Wake Me Up" and Avicii's remix of Armin van Buuren's "Drowning." He also played a lot of remixes and mashups of today's popular artists like Post Malone and OneRepublic. But if you were to ask one person what they'd remember the most, it'd have to be all of the lasers. From green to blue and purple, there were just so many and it was extremely mesmerizing and such an amazing sight. 
By the end of the night everyone, and I mean everyone, gathered to watch Tiësto. He started off with his latest release "WOW" and from there mixed one song right into the next flawlessly. And sometimes you didn't even have much of a break because he transitioned right into another drop. He really knows what to play to get a crowd going from some of his own tracks like "Chemicals," "Carry You Home," "Secrets" and "Jackie Chan" to remixes of Drake, Martin Solveig, Icona Pop and Rune RK. It was SO perfect and if you didn't believe it before, you completely understand now why he's the master of the club life -and definitely the best EZoo performance. 
Not to say the other stages weren't partying it up either. Hilltop had a ton of great artists like Gryffin, Manila Killa, graves and Krane. Ekali even heated things up with all the fire he used on stage in tandem with his badass bassy trap music. 
At Sunday School, all the HYTE DJs like Matthias Tanzmann, Chris Liebing and Gregor Treshor were getting everyone grooving out too. Pete Tong mixed a fantastic house set that people on their way to see Alesso couldn't help but stop and listen to for a bit.
Anjunabeats was partying it up at the Riverside stage with Ian Bluestone, Jason Ross and Andrew Bayer to name a few. And it wasn't until Audien came onto stage that the crowd doubled and kind of overflowed. And that's not really a surprise because he did tease on Twitter that he'd be playing a progressive set only. So everyone was pretty pumped up to begin with and it got even better as he played his songs like "Something Better" and remixes of Axwell Λ Ingrosso and Zedd. The energy that radiated off of his fans was so contagious and you couldn't help but jump up and down and belt out lyrics too. Midway he even invited 3LAU up onto the stage for a track. 
For those of you who weren't really fans of massive crowds, the Treehouse stage was probably the place to be. It was the perfect combination of small crowds and great performances from DJs like The Golden Pony, Crazy Larry, Charles Meyer and Rally Chopper. It was definitely a great place to discover some DJs you may have never heard of. 
All in all, Electric Zoo's Big 10 was indeed big and the best part is that even if you could only go for one day, every single one turned out to be a pretty amazing and epic one.