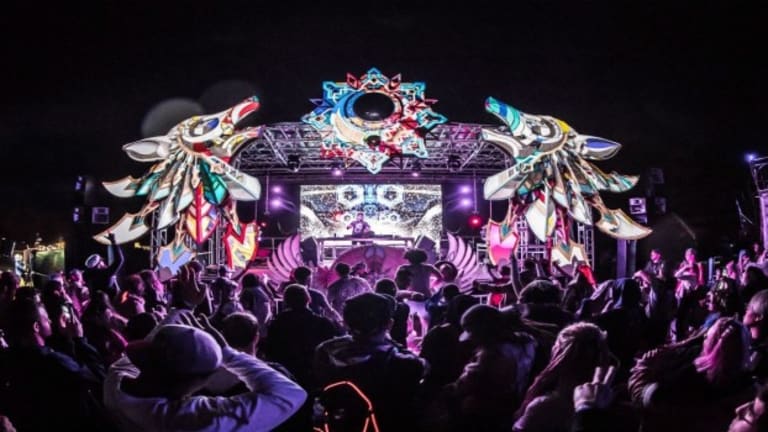 7 EXCITING ACTS YOU DON'T WANT TO MISS AT NYC'S ELEMENTS FESTIVAL THIS WEEKEND
If you're in NYC, Elements is the place to be this weekend.
NYC's Elements Music & Arts Festival is coming up this weekend, and it's looking good!
Organizer BangOn!NYC has switched to a new location in the Bronx; an industrial venue with abandoned silos, former factories, grassy fields and the city skyline along a quarter mile of waterfront.
As always, the lineup is diverse, exciting and unique. The festival features headliners like Zeds Dead, Griz, Flying Lotus and Kerri Chandler. And, stage curators include Dancing Astronaut, Webster Hall and Zero. The stages themselves follow the theme of elements, each of them representing earth, air, water, fire and a "fifth element".
Also, the festival has a lot to offer beyond the musical acts. With large interactive art installations, a pirate ship, 3D projection mapping, art cars, and a "Healing Garden" - focused on immersive experiences such as meditation, bass yoga and a flow arts workshop - Elements is looking to give attendees a unique all-encompassing festival experience.
Considering the lineup is stacked, there are decisions to make with sets clashing. But, there are a few acts you should definitely make time for. Of course, everyone has their own personal tastes and preferences, and this is not intended to be an objectively presented list. However, many of these artists are well recognized in their respective ways, garnering attention and acclaim in their individual styles. So, if time permits, try and check them out this weekend.
Barclay Crenshaw
Dirtybird head honcho Claude VonStroke's hip-hop and experimental bass focused moniker, Barclay Crenshaw - which is actually his real name - is one of the most exciting names on this lineup. Deviating from his emphatic house music style, this alias encompasses broken beats, acid-trip bass and jungle influences.
Flying Lotus
FlyLo is one of the featured headliners of the festival, and he's bringing a special live setup along with him. With a distinct focus on music rooted in storytelling, live instrumentation, lyrical messages and influences from a myriad of genres - like old school hip-hop, bass, techno, soul and jazz - he's on a wave of his own.

Ekali
Ekali is on the come up, and he's really starting to break into the electronic music scene. He just signed onto the renowned OWSLA record label, and opened up for Skrillex himself for Webster Hall's final club show last weekend. The Canadian producer takes on trap and future bass for a spin, adding originality to genres that can easily result in generic and oversaturated sounds, if not executed well.

Zeds Dead
Closing out the festival on Sunday, Zeds Dead are no strangers to headlining festivals. The bass heavy duo have been in the game for a long time, and have built up a reputation as one of the leaders in bass music. With the success of their diverse debut album and introduction of their record label Deadbeats last year, Zeds Dead aren't looking to slow down. They are consistently featured on massive festival lineups, managing a busy touring schedule while carefully developing their label, and still putting out hard-hitting original music.
Nora En Pure
South African-Swiss artist Nora En Pure is one of the finest purveyors of deep house in the electronic music scene. She takes on a sound that's uplifting and emotional, with a sort of sunshine feel to it. Deviating from a traditional approach to deep house, she incorporates a lot of instrumentation into her music, focusing on natural elements - like the sound of water flowing or stones rattling - that add serenity and life to her tracks.
Chris Lake
Chris Lake is one of the most exciting acts in house music. Earlier this year, he worked with Skrillex to release HOWSLA, a house music compilation bringing forth some of the freshest tracks the genre has to offer. His own production was featured on it, with 2 tracks that have been staple features in a lot of notable artists' sets, like Tchami, this festival season.
Chet Porter
As indicated by his playful Soundcloud bio, "not chet faker & porter robinson's side project", Chet Porter has a warm light-hearted style. HIs music takes influences from indie-pop, with a focus on relaxed sample-driven tracks. In his own words, he "makes music to pet dogs to". If you're looking to have a dreamy Sunday afternoon, full of good vibes and feel good music, make it early to the festival for his set.
If we left out your favourite artist, or you think there's someone that deserves to be on this list, leave your thoughts in the comments! 
And, in case you haven't bought tickets for the festival, you can do so here.