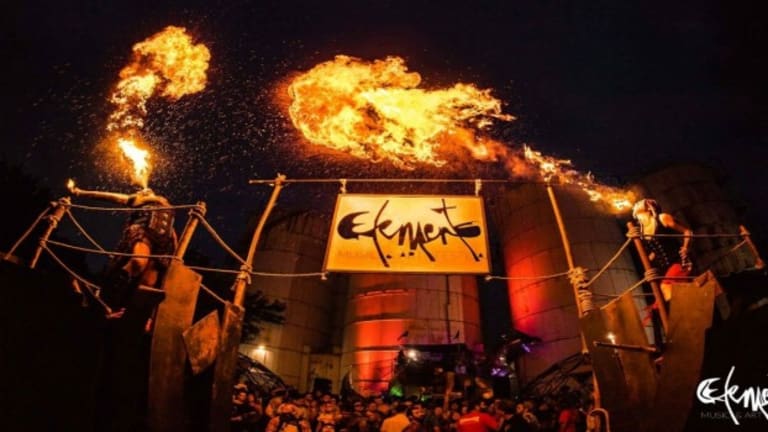 NYC'S ELEMENTS FESTIVAL DITCHED THE GENERIC FOR THE UNDERGROUND EXPERIENCE
The lineup was pretty stellar too.
It isn't easy to stand out in today's electronic music world.
Not just for artists, but for festivals too. With the rapid commercialization of dance music, particularly in the US, art and substance tends to give way to glamor and thrills at large-scale events. Festivals, more often than not, usually have similar overall styles. At any given festival, you're bound to be in an open space that's probably either a park, stadium or an event center of some sort. The stages are likely sprawling metallic structures, crammed with LED screens, countless bright flashing lights and arrays of lasers. The lineup, albeit with a few changes here and there, consists of the same genres and artists seen on dozens of other festival lineups.
It makes sense. After all, it's easier to attract attendees with popular headliners, glamorous setups and gorgeous venues.
Of course, there are a few festivals that break the mould, and go beyond the generic festival experience to provide something fresh and exciting.
New York City's Elements Music & Arts Festival is one of them.
Organizer BangOn!NYC hosted the 4th annual edition of Elements last weekend, switching from Brooklyn to a brand new location in the Bronx. While the location was different, the overall theme of the festival was kept well alive.
As always, the festival had an eclectic lineup, spanning across many genres, including artists both dominant and rising. It opted for lesser known acts; artists extremely talented but not in the mainstream spotlight. Naturally, there were a few acts that make their way to a lot of festival lineups. But, largely, the focus was on providing attendees with performances they wouldn't normally see at any other festival. A wonderful weird mix-and-match of house, techno and bass; of underground and established.
Headliners included Flying Lotus, Zeds Dead, Kerri Chandler, Griz and The Knocks. Barclay Crenshaw, Brodinski, Chet Porter, Damian Lazarus, Shiba San and DJ Jazzy Jeff, among many others, were also in the mix. To note, Flying Lotus and The Knocks also brought their own live production with them, adding to the special flair of festival.
With DJ sets, live performances and a host of artists, each bringing something unique to the stage, there was a ton of diversity in the music.

Beyond the diverse lineup, the new location in the Bronx was perfect; an industrial venue with abandoned silos, former factories, grassy fields and a city skyline along a quarter mile of waterfront. Gritty and urban, just like New York City.
The stages themselves were a far cry from what you'd expect to see at any other festival. Each of the 5 stages represented an element - earth, fire, water, air and a fifth element stage.
Only one of the stages had a typical giant LED screen set against it - the main "earth" stage. And, that too was artistically done, with dazzling 3D projection mapping encapsulating the sides and top of the stage. Both sides of the stage were made up of stunning sculpted wolves, while the top was an intricate geometrically designed symbol.
The fire stage featured a 20' high, 30' long fire-breathing steel dragon - named Heavy Meta - set against rustic silos. Of course, the water stage was set against the waterfront, under a beautifully designed canopy.

The air stage was very minimal, with a simple table for CDJ's and an arch - covered with leaves and a propellor at the top - over it. In a dark room with black panels across the ceiling was the obscure fifth element stage.
Overall, the stages fit perfectly with the industrial theme, and created an old school rave vibe around the festival. Some of the stages were literally set up inside former factories!
Apart from the unique stages and setup, Elements stood out in providing attendees with experiences beyond just the music.
There was a strong focus on art installations, with 13 stunning displays, such as "UV Portal" - trippy illuminated live-painted pieces - and "Little Spaces" - strange dystopian pockets of space based off various themes. From the installations to the hand-drawn festival map, there was depth and intimacy to every aspect of the festival's art.
Elements also had exciting activities, like a bounce house, a rollerskating rink, a "Thunderdome" - a metallic dome to duel your friends in! - and a particularly refreshing "Healing Garden". The Healing Garden consisted of various community-based, self-developing activities, such as meditation, bass yoga, a flow arts workshop, a comedy improv class, a sound bath and a tea & cuddle lounge. It was a warm welcoming space, which provided a break from the music and a chance to reconnect with one's self and others around them.
Much like the city it's home to, the festival stands out as a tenacious urban phenomenon.
Tossing aside a generic experience, for something weird and different, Elements shows it can pay off to diverge from the norm and focus on setting a unique identity. It doesn't need superstar DJ's or massive stages to attract attendees. Banking on creating a theme and an atmosphere that would attract like-minded people was the key here, and it worked.
Beyond festivals, artists, and electronic music, that's something the world needs more of. Individuality and personal expression should trump falling into cookie-cutter ideas, and creating substance should reign over attaining broad acceptance.