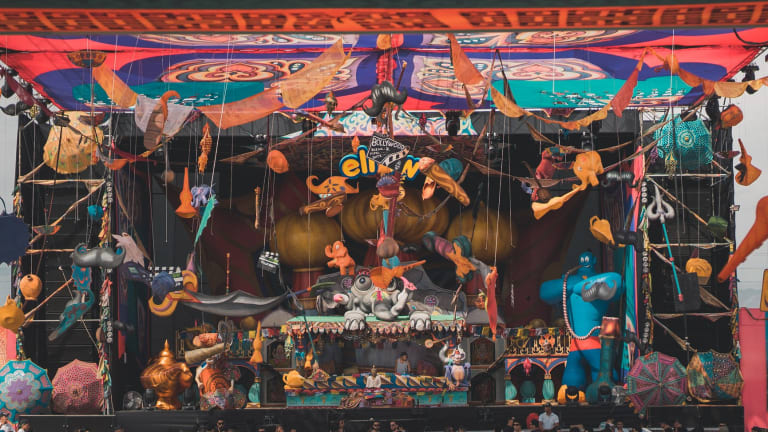 elrow Drops Lineup For 10-Hour, Bollywood-Themed Throwdown in NYC
elrow's last summer hurrah in North America just revealed its phase 2 lineup.
elrow's NYC residency continues as the Barcelona-based nightlife brand dropped the phase 2 lineup for their upcoming 10-hour show at the Brooklyn Mirage on July 27th.
Rounding the roster are two of New York house music's most time-tested DJs, platinum-selling Erick Morillo and Grammy-winning Roger Sanchez. The upcoming elrow show marks the first time Morillo joins elrow in the U.S., and the first ever elrow fiesta for Sanchez.
Additionally, the lineup features special B2B performances by tech house talent Dennis Cruz with Technasia, elrow resident Toni Varga with Cuartero, and psychedelic synth enthusiasts Rybo and Lubelski. Special guest Bontan, German house & disco artist Gerd Janson, Isreal's Shalev, waFF, and Miss Jennifer, set to perform on her birthday, are also on the bill.
Not only that, but the Desert Hearts collective with Mikey Lion, Lee Reynolds, and Marbs will take over the Kings Hall, a separate stage in the sprawling Brooklyn venue. According to elrow's Special Advisor to the CEO Michael Julian:
"We added a second stage so that we can welcome more New Yorkers and countless elrow fans flying to Brooklyn from all over the world for this festival, which will feature 10+ hours of music on both stages by undoubtedly the biggest lineup to ever perform at any elrow in North America. This show will be as epic as our global outdoor fiestas in Ushuaia Ibiza, the newly launched residency at Encore Beach Club in Vegas and many other legendary venues."
Known for their wild, vibrant, and immersive themes, elrow transforms venues into exuberantly decorated spaces, a world of their own chock-full of color, costumes, bright lights, and creative art installations. The upcoming New York show, dubbed Rowllywood, will welcome attendees into a Bollywood film production, with embroidery, incense, statues of deities, charms, fakirs, and street traders adding to the atmosphere.
Themes play a driving role in the elrow experience, as you truly feel like you're in a different world once you enter the doors of an elrow show. The organizers place great importance on carefully curating in-depth, hilariously over-the-top environments at their shows, a huge factor in elrow's meteoric growth from a small Spanish party to a global entertainment powerhouse.
Get tickets for elrow's show at Brooklyn Mirage on July 27th here.
Follow Elrow:
Facebook: facebook.com/elrowofficial
Instagram: @elrowofficial
Twitter: @elrow_
SoundCloud: soundcloud.com/elrowmusic