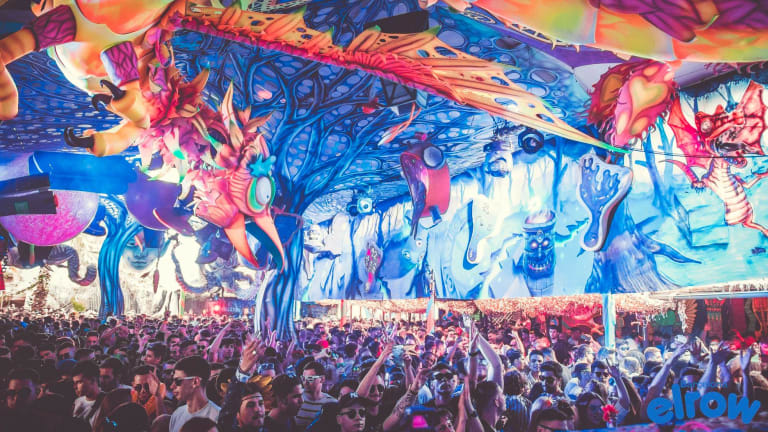 Elrow Drops Lineup for 10-hour NYC Throwdown "The Enchanted Forest"
Two rooms, 13 DJs, and 10 hours of house and techno in Brooklyn's Avant Gardner space.
Next month, Elrow returns to Brooklyn's Avant Gardner for its biggest North American show to date. The time-tested Spanish clubbing brand has grown from a small Barcelona party to a global dance music phenomenon. The lineup for the upcoming NYC show reflects its global reach with DJs from Spain, Germany, Greece, the U.K., and the US.
Announced today, the lineup boasts Paco Osuna, Victor Calderone, Audiojack, Bastian Bux, Charles Meyer, Detlef, Joeski, Mathias Kaden, special guest Matthias Tanzmann, Miss Jennifer, Sante, Toni Varga, and Westend. The DJs will provide 10 hours of house and techno between two rooms from 7:30 PM till dawn on February 23rd.
Of course, it wouldn't be an Elrow event without a larger-than-life theme. Dubbed "El Bowsque Encantado," Avant Gardner will be transformed into The Enchanted Forest with wild theatrical and aerial performances, dazzling decor, and bizarre costumes. According to the event organizers:
"In this otherworldly dimension, the wildest parts of your subconscious are brought to life, rendering you giddy and delirious. Attendees will interact with magical exotic creatures and mysterious beasts that roam the mystical surroundings where a myriad of pixies, fairies and elves will be riding sunbeams through the dense foliage of the trees and giant toadstools. Unicorns fleetingly emerge from the dappled shade as butterflies float from one brightly colored blossom to another in a parallel universe."
Get tickets for Elrow's NYC show on February 23rd here.
FOLLOW ELROW
Facebook: facebook.com/elrowofficial
Twitter: twitter.com/elrow_
Instagram: instagram.com/elrowofficial
SoundCloud: soundcloud.com/elrowmusic