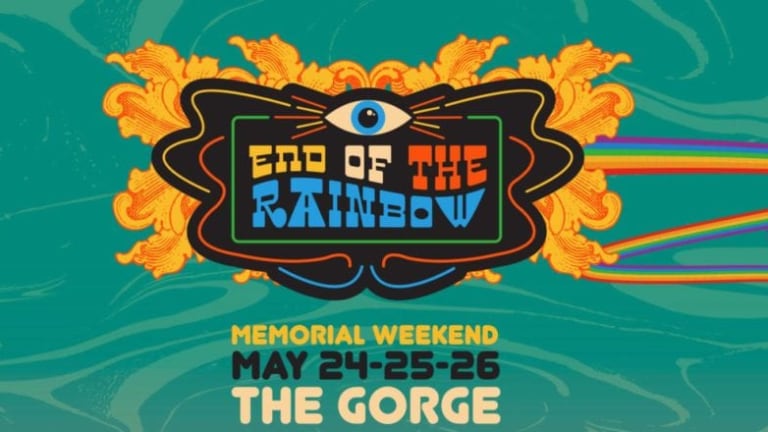 Bass Music and Hip-Hop Extravaganza Takes Over The Gorge for Memorial Weekend
End of The Rainbow brings Bassnectar, Young Thug, Griz, Flosstradamus, Whipped Cream and many more to the iconic outdoor venue.
For the first time ever, Live Nation's newly announced End of The Rainbow event will take fans on a unique and immersive multi-genre musical experience. Taking place over Memorial Day Weekend (May 24th-26th), the gathering will bring a lineup of world-class talent topped off by two sets from the legendary Bassnectar himself.
Doing a fantastic job of blending top-tier talent from the worlds of hip-hop and bass music, End of The Rainbow strives to embrace contemporary musical trends, which have become increasingly intermingled and hybridized over the last several years. The fusion makes perfect sense given the ease of access to an endless supply of music, and the ever-increasing focus on a specific attitude and mindset rather than a particular genre or style.
With hip-hop heavy hitters like Young Thug and Trippie Redd, End Of The Rainbow has an excellent offering for hip-hop fans across the country, while the mix of GRiZ, Flosstradamus, Eprom and Whipped Cream is sure to satisfy even the most hardcore bass music lovers' cravings.
Top it all off with two massive sets from Bassnectar himself (closing out both Saturday and Sunday) and you have yourself a weekend to remember. That's without even mentioning the world-renowned beauty of the venue itself, as well as the uniquely organic and at times psychedelic aesthetic one can expect from the End of The Rainbow debut.

Tickets for the full weekend are $199, and as with any event at the Gorge, there will be camping available.
FOLLOW END OF THE RAINBOW:
Website: endoftherainbow-gorge.com
Facebook: facebook.com/eotrgorge
Twitter: twitter.com/eotrgorge
Instagram: instagram.com/eotrgorge