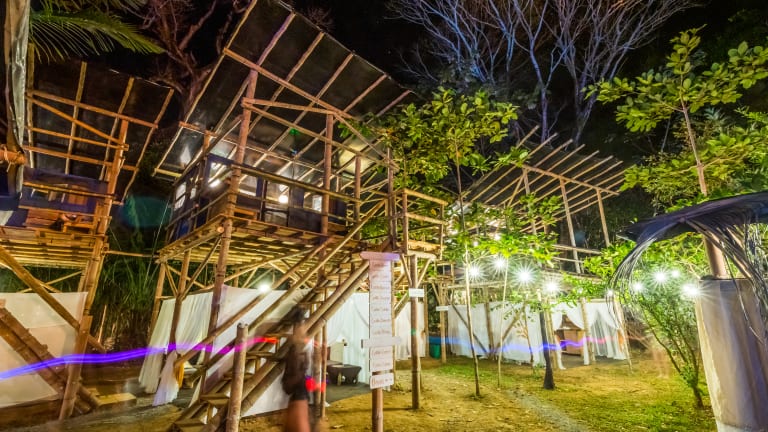 The Envision Festival VIP Experience is the Fyre Festival That ACTUALLY Happened
From Beachside Cabanas and a VIP spa to a full-service concierge and even a waterfall adventure tour, the Envision Festival VIP Experience pulled off what Fyre Festival only promised.
By now, everyone has heard of the massive failure of an event called Fyre Festival. Designed to be the ultimate VIP luxury musical festival experience, ticket prices ranged from $4,000 to over $250,000, with headliners such as Blink 182, Major Lazer and Migos. 
Guests, who arrived at the 'privately owned island' prepared to enjoy what was promised to be a weekend of lavish luxury, gourmet catering and a once-in-a-lifetime music experience were shocked to find that the festival was actually a chaotic mess. It failed to deliver on even the most basic living needs, let alone the luxury getaway they were promised. 
On the other hand, although Envision Festival in Costa Rica didn't implement a strategy of all-out media hype and an outrageously glamorous (and ultimately misleading) influencer blitz like Fyre Festival, they made many equally bold and exciting promises and managed to deliver on every single one of them. Like Fyre Festival, Envision's VIP Experience offered attendees a once-in-a-lifetime luxury experience in a pristine tropical location. Unlike Fyre Festival, however, Envision Festival delivered everything they promised and more.
To further illustrate the point, let's take a look at some of the things Fyre Festival promised, and then look at how each event delivered on those expectations. Although we all know the end to this story, it's pretty incredible to see the staggering difference between expectation and reality when comparing the two events.
Expectation 1: Luxurious Beachside Cabanas
Fyre Festival - Offered VIP Accommodations Ranging from $15,000 to $250,000.... only showed attendees 'blueprints' and sketches of the accommodations and ultimately provided soaking wet disaster relief tents instead.
Envision Festival - Offered VIP Cabanas for $10,000 to $20,000... provided luxury accommodations that matched the images available on the website and met or exceeded all of the listed specifications.
Expectation 2: Hanging out with all your friends
Fyre Festival - Locked attendees in an airport, trapped people on an island, and subjected them to an every-man-for-themselves experience likened to The Hunger Games.
Envision Festival - Provided extensive community-building opportunities, not to mention gorgeous beachside get togethers, yoga gatherings, and team activities with all your friends (both new and old).
Expectation 3: Delicious Dining Experience
Fyre Festival - Promised authentic island cuisine with "local seafood, Bahamian-style sushi, and even a pig roast" catered by the massively successful restauranteur, Stephen Starr... delivered cheese and lettuce sandwiches and an abandoned concierge tent.
Envision Festival - Promised family-owned, fairly traded and ethically sourced local food, as well as an array of onsite and offsite dining options... delivered a wide array of organic local produce, an extensive on-site marketplace, as well as a wide variety of offsite local dining options.
Expectation 4: Beautiful Beachside Location
Fyre Festival - Promised a location on Pablo Escobar's private island with "blissful white sand beaches and crystal-clear seas..." Provided an unfinished parking lot "campsite" surrounded by rocks, and covered in disaster relief tents.
Envision Festival - Delivered jaw-dropping sunsets on a stunning tropical beach located directly next to the Costa-Rican rainforest.
Expectation 5: Picturesque Photo-Ops
Fyre Festival - Promised a beautiful private island with unrivaled photo-ops and unforgettable views... delivered a spectacular view of tipped-over Porta-Potties, abandoned shacks, and some scenic trash-strewn beaches.
Fyre Festival - Promised a "truly magical place where the rainforested mountains meet the warm Pacific ocean"... delivered a tropical paradise perfectly perched where the rainforest connects with a pristine tropical beach.
So what is the moral of this story? It's by no means impossible to pull off a truly magical, once-in-a-lifetime music festival experience in a picturesque tropical paradise. The trick? Only promise what you can deliver, plan everything well in advance, pay everyone what they are due, and don't try to put together a massive multi-million dollar event in a few short months.
Envision Festival pulled off what Fyre Festival couldn't even begin to imagine, and they've done it consistently, year after year - and the experience has only gotten better.
FOLLOW ENVISION FESTIVAL:

Website: envisionfestival.com
Facebook: facebook.com/EnvisionFestival
Twitter: twitter.com/envisionfestcr
Instagram: instagram.com/envisionfestival
SoundCloud: soundcloud.com/envisionfestival