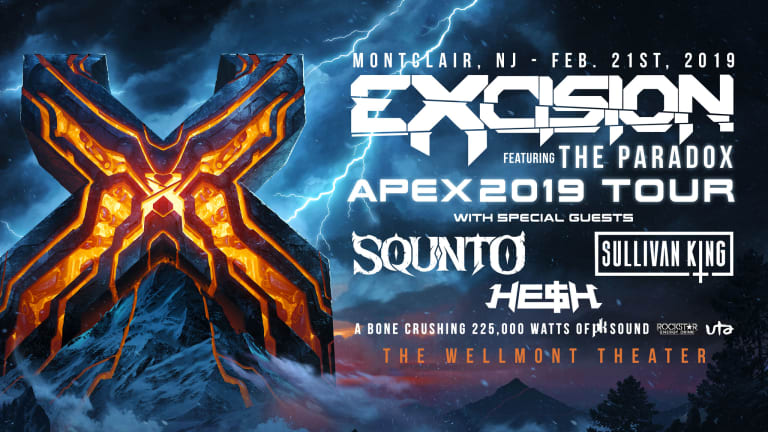 Excision's APEX Tour ft. The Paradox Comes To The Wellmont Theatre
Excision, SQUNTO, Sullivan King, and HE$H invade The Wellmont with 225k Watts of CRUSHING PK Sound BASS.
Since he launched the debut edition of Lost Lands Music Festival in 2017, Excision has been on a no-holds-barred mission to lift heavy dubstep to the peak of its neck-breaking glory. In 2018, he followed up stronger than ever with his debut at the first-ever Bass Canyon, as well as the release of his monstrous 14-track album, Apex.
Now, to celebrate the brutal masterwork of an album that is Apex, Excision has once again embarked on a ruthless, earth-shattering tour, complete with his famous The Paradox visual setup and 225,000 watts of PK Sound.
For his New Jersey stop on February 21, Excision will take to the stage at The Wellmont Theater in Montclair, New Jersey with HE$H, Sullivan King, and SQUNTO - an all-out bass music lineup aptly fitting the Apex Tour moniker.
As with any Excision show, fans can expect a hefty dose of hybridized prehistoric and robotic visuals mercilessly synchronized to Excision's signature furious and frenetic style. The Paradox, Excision's state-of-the-art, one-of-a-kind modular, LED-based stage setup, is the culmination of his iterative and forward-thinking approach to his live experience - and it will be present in all its glory throughout the APEX tour!
"It is easily the coolest production you're ever going to see," said Marcel Correa of RVLTN Events. "We're talking hundreds of thousands of dollars of equipment on that stage. It's just insane."
If bass music is your thing, you simply can't beat Excision at his own game - come prepared with a neck brace and expect a mix of music ranging from vicious dubstep and riddim to bass house, with even the rare melodic gem sprinkled in.
FOLLOW THE WELLMONT:
Website: wellmonttheater.com/
Facebook: facebook.com/TheWellmontTheater
Instagram: instagram.com/thewellmonttheater
Twitter: twitter.com/WellmontTheater
FOLLOW EXCISION:
Website: excision.ca/
Facebook: facebook.com/Excision/
Instagram: instagram.com/excisionofficial/
SoundCloud: soundcloud.com/excision
Twitter: twitter.com/Excision