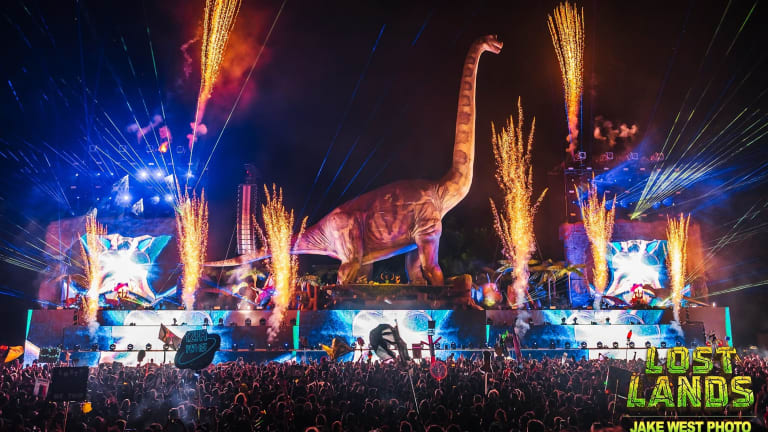 Excision Shares What's New for Lost Lands Festival 2019
We spoke with Excision, the mind behind Lost Lands Festival, about what will make the third year of his prehistoric bass music gathering unique.
With the recent release of Breaking Through, his collaborative EP with Dion Timmer, all eyes are now locked in on Excision's Lost Lands Festival. This September, the prolific producer will return to Central Ohio for the third iteration in the world's premier gathering of bass music.
What's New?
With many attendees gearing up for their third Lost Lands, a valid question arises: What separates this year's event from the previous two?
We were lucky enough to go straight to the source and learn more about what's new and improved from Excision (real name Jeff Abel) himself.
All of the attractions and amenities in the world mean nothing if a festival's lineup isn't pristine. Thankfully, fans have made it loud and clear that this year's lineup might be Abel and company's best yet. Many would imagine it being difficult to select a cast that's both fresh and fits the theme of the festival, but they've successfully delighted the fans over the years with no signs of stopping.
When asked what goes into his lineup selection process Abel had this to say:
"We actually keep it pretty simple. The team and I are constantly keeping tabs on who's killing it in bass music, big and small, and then we book the artists who we think people are most excited to see that year. There's always a ton of new up and coming talent out there making never-before-heard stuff that I want to showcase, and I think people will be really stoked to hear the wild variations in styles that the next generation of producers are dropping." 
It's worth emphasizing his aforementioned "wild variations." The Lost Lands team have been credited for highlighting many of the bass subgenres and creating a lineup that an eclectic range of listeners can enjoy. Lost Lands allows attendees to release some rage at riddim sets from artists like Subtronics, jam out to some live electronic with Boogie T's Boogie T.Rio side project and then experience some heavy feels as Illenium joins Excision for a special back-to-back set. In addition to the previously mentioned genres, fans of bass house, future bass, space bass, and even trap will have something to get down to all weekend long.
Logistical Upgrades
The minds behind the prehistoric party overhauled the festival logistics and promise improvements across the board. Notably, the Lost Lands team brought on many changes to the logistical staffing in the campgrounds in order to help this year's entry go smoother than ever. A common criticism many festival organizers hear, including those of both prevous editions of Lost Lands, is of wait times entering the campgrounds. Festival organizers stated that they heard fans loud and clear and have put together ways to help ease entry this September.
"The biggest change that will affect the campgrounds is that we've added Wednesday Early Entry, which spreads out camping entry traffic over three days instead of two," explained Abel. "So now, not only can you spend a total of five days at Lost Lands, you'll have less inbound camping traffic no matter what day you want to arrive."
Sound Camps
One of the more unique aspects of Lost Lands Festival is the inclusion of Sound Camps. Hosted throughout the festival grounds are four stages that will host over 50 additional artists and surprise guests for a festival inside of a festival.
Abel himself stated that the new sound camps are the improvement to 2019 he's looking forward to the most. "I think having the Sound Camps inside the festival grounds this year is a huge one," he said. "We've cleared out some awesome new spaces for them, and some will be in cool new forested parts of the venue that weren't open in previous years."
Although the specific designs for the Sound Camps have not been revealed, we can confirm that the fire-spitting Asteroid Bar from last year will be one of this year's Sound Camps.
In addition to the various improvements for the festival and campgrounds Lost Lands is offering a full schedule of programs that range from producer tips and training, sound baths, yoga, a variety of speakers and workshops, and even a neck treatment clinic if you headbang a little too hard.
The Lost Lands team also let us in on a secret preview of a brand-new, 360-degree visual experience that will give attendees an out-of-body sound and light experience. Details are not yet public, but they promise a "mind-melting" addition to the festival.
It's also been confirmed that the row of vendors from the previous two iterations has been revitalized, relocated, and turned into the brand-new Village Marketplace. This new communal area will be filled with activities, vendors, seating, and places to chill out located near the festival-side entrance into the campgrounds.
Producers' Den
As mentioned before, aspiring artists can learn from some of the best in bass music at the Producers' Den. This extensive, five-hour workshop will feature lessons and collaboration with some of the brightest minds in the scene. Artists like FuntCase, Dion Timmer, Downlink and many more will be helping instruct the future Lost Lands headliners.
Alongside the instruction, a Producers' Den pass gives you access to a Cymatics and a XLNTSOUND Lost Lands 2019 sound pack, Splice credits, a chance to win a grant to Icon Collective, and more.
It's also worth noting that Producers' Den attendees will be given the opportunity to enter the Lost Lands Producers' Den Remix Competition with a grand prize of a performing slot at one of this year's Sound Camps.
Lost Lands 2019 takes place September 27th-29th at Legend Valley in Thornville, Ohio. Tickets are on sale now. You can purchase yours here. 
FOLLOW LOST LANDS:
Website: lostlandsfestival.com
Facebook: facebook.com/LostLandsMusicFestival
Twitter: twitter.com/lost_lands
Instagram: instagram.com/lostlandsfestival
FOLLOW EXCISION:
Facebook: facebook.com/Excision
Instagram: instagram.com/excisionofficial
SoundCloud: soundcloud.com/excision
Twitter: twitter.com/Excision