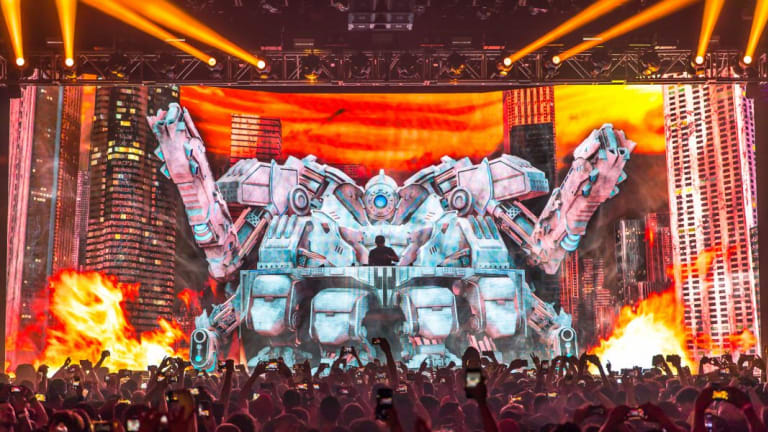 Excision Announces Massive Lineup for The Thunderdome 2020
The 2020 festival includes a slew of top bass back to back sets.
Dubstep king Excision recently announced that a new stage production called The Evolution will replace his previous The Paradox audiovisual experience, and that it he would debut it at The Thunderdome 2020 at the Tacoma Dome in Tacoma, Washington. He has now revealed the massive lineup for that event, and bass heads are already ecstatic. 
Thunderdome 2020 will include a slew of some of the biggest back-to-back sets imaginable within the realm of bass music. 12th Planet will play with Riot Ten on Friday, January 31st, in addition to a Trampa and Marauda set. Those are only a couple of the sets planned for this stacked lineup, which also includes some artists making appearances on both days of the festival. 
PhaseOne's metal-infused sound will fit perfectly with Wooli's heavy style, and a B2B with PhaseOne and Kai Wachi on Saturday, February 1st will likely be just as satisfying for fans. Wooli appears on day two as well, playing a set with Spag Heddy. Even more heavy bass favorites are included in the lineup for the two-day event.
Needless to say, Excision fans are already chomping at the bit to get their hands on tickets for The Thunderdome, and witness The Evolution as well as the gargantuan lineup for each night. 
Tickets for The Thunderdome 2020 are available now and can be found here. 
FOLLOW EXCISION:
Facebook: facebook.com/Excision
Twitter: twitter.com/Excision
Instagram: instagram.com/excisionofficial
SoundCloud: soundcloud.com/excision