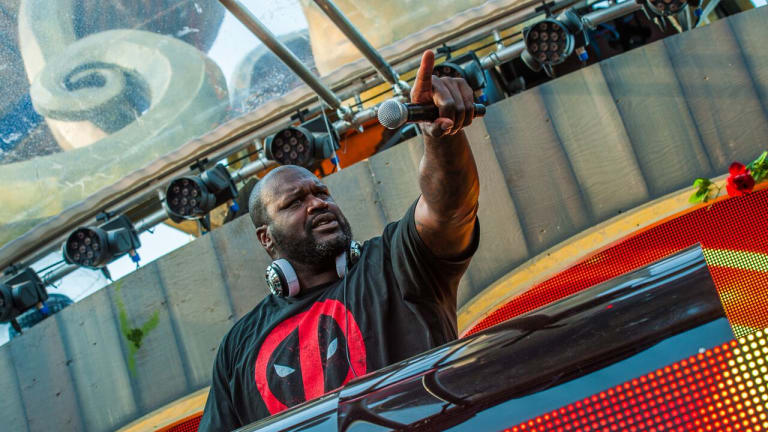 Shaq is Putting the 'Fun' in Fun House With Exclusive Miami Party
Take your Miami Music Week to the next level with the biggest artist in EDM ... literally!
Everyone knows Shaquille O'Neal can dominate a basketball game, but how many of you knew he also dominates the decks? 
DJ Shaq Diesel himself will be hosting the biggest Miami Music Week party of the year on March 23rd, and 1,000 lucky people will be able to attend the exclusive, invite-only event. Appropriately named, Shaq's Fun House, this event promises to feature massive EDM stars taken straight from the main stage. Given Shaq's adoration for trap and hip-hop, you can expect some booty-loving bass peppered in with the star-studded (and super secret) lineup.
This isn't Shaquille O'Neal's first time dabbling in beats, however. Shaq has always had a strong passion for music; he proved he could spit bars when he released Shaq Diesel in 1993 featuring a collab with the late, great Phife Dog on the track "Where Ya At?" Apart from rhymes, Shaq took the decks for his DJ debut at TomorrowWorld in 2015 and later Tomorrowland in 2016.
DJ Diesel is excited to make his return next week in Miami for the Fun House. In the big man's own words: 
"You know I always do it BIG and Shaq's Fun House is all about surprises. I can't give them all away just yet, but expect the biggest dance music stars in the world coming off the Ultra Mainstage to party with us."
Shaq's Fun House event will feature two stages of music, theatrical performers, carnival attractions, and every attendee will get free food courtesy of Shake Shack. (or should we say Shake Shaq?) 
The four-time NBA Champion is promising a party, unlike anything we've ever seen before. With free food, the biggest names in EDM, insane production, and a legendary NBA host, Shaq's Fun House is the place to be during Miami Music Week. And who knows, maybe he'll bench press another DJ this time. 
Head on over to SHAQSFUNHOUSE.com for a chance to be one of the lucky few to party with Shaq, and learn more about the craziest party of the year!