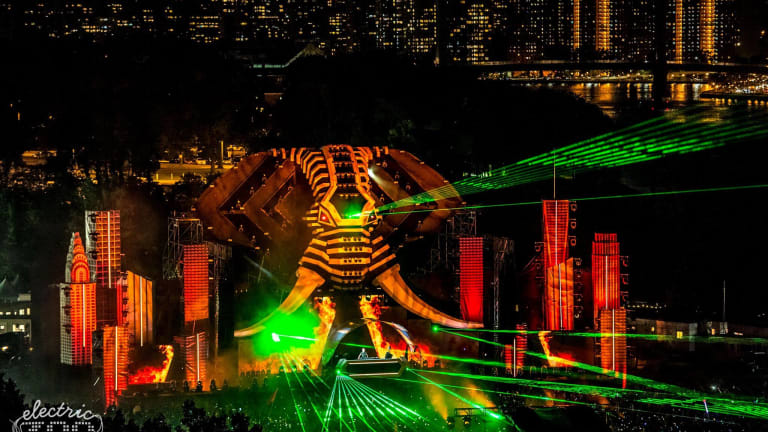 10 Exciting Acts To Check Out At Electric Zoo This Weekend
Labor Day Weekend is an electronic music extravaganza at New York's Electric Zoo Festival.
NYC's Electric Zoo Festival has a stacked lineup. As with any festival, there are conflicting set times. Making choices of who to see and who to forgo can be tough. Friends will argue over which artists to catch this weekend, hopping from one stage to the next to avoid missing out on anticipated performances.
By the way, you can check out the set times in a neat graphic here.
Having choices is fantastic, but also a little frustrating when your favorite artists clash. There are also times when you want to check out a new artist, a new genre, but you wonder whether you should skip seeing your favorite artist in hopes that you come across something possibly fun and refreshing.
With that in mind, here are some acts worth checking out this weekend at Electric Zoo. By no means is this an objective or strictly ordered list, just a way of shining a light on some artists that may be worth your time. 
1. Jauz 
WHO: Jauz embodies the motto "music has no boundaries," and his upcoming album "The Wise and The Wicked" aims to reflect that. The stacked 18 track LP drops the day of his performance at Electric Zoo, moving through sounds energetic and relaxed, melodic and abrasive. He's sure to give the crowd a taste of that diverse flow during his performance.
WHEN: 7:20 - 8:20 PM, Friday, Aug 31
WHERE: Main Stage
2. Chris Liebing B2B Dubfire
WHO: The Sunday School stage on the last day of the festival hosts the majority of techno acts Electric Zoo has to offer. One of the most anticipated sets is the special back to back performance between techno greats Chris Liebing and Dubfire. It's an extended 3-hour set, so you can hop in and out to catch other acts. Or enjoy 3 hours of pure no-nonsense tech beats. The choice is yours.
WHEN: 8:00 - 11:00 PM, Sunday, Sep 2
WHERE: Sunday School 
3. 12th Planet B2B Doctor P
WHO: Another mighty B2B performance, except on the opposite end of the electronic music spectrum. A heavyweight set from two dubstep greats, 12th Planet and Doctor P. Both are tastemakers and genre leaders in their own right, 12th leading the dubstep movement in America, Doctor P in the UK.
WHEN: 5:45 - 7:00 PM, Saturday, Sep 1
WHERE: Riverside
4. Andrew Bayer B2B Ilan Bluestone B2B Jason Ross
WHO: Yet another joint performance, this time a triple threat from trance extraordinaires Andrew Bayer, Ilan Bluestone and Jason Ross. The Anjunabeats stage has a host of other amazing DJ's, including individual sets from all three of the aforementioned artists, but a three-way performance like this doesn't come across often!
WHEN: 8:30 - 9:30 PM, Sunday, Sep 2
WHERE: Riverside - Anjunabeats 
5. Troyboi
WHO: Possibly the most exciting trap producer in the game right now. Bringing a sound out of the UK that's unique, enticing and tinged with a cool, racy energy, Troyboi is going to have you grooving on the dancefloor.
WHEN: 7:00 - 8:15 PM, Saturday, Sep 1
WHERE: Hilltop - Deadbeats
6. Anna Lunoe 
WHO: Anna Lunoe is one of the most badass women in electronic music. A singer-songwriter, producer, DJ and radio host, the Sydney native is revered for her eclectic sonic palette and candid passion for music. With her HYPERHOUSE brand, Lunoe is curating the Sunday School stage on Friday along with with AC Slater's Night Bass. As she closes out the stage, expect a vast, energetic selection of tunes from genres within and beyond electronic music.
WHEN: 9:30 - 11:00 PM, Friday, Aug 31
WHERE: Sunday School - HYPERHOUSE x Night Bass
7. Noizu
WHO: Rising artist Noizu made his debut on last year's HOWSLA compilation with "Lasers". Since then, he's released some of the best g-house tracks on Tchami's Confession label, collaborated with the enigmatic Malaa, and developed a distinct, subtle yet emphatic sound. If you're into bass house, verging on tech house, be the first one in through the gates this Friday to catch his performance.
WHEN: 3:00 - 4:00 PM, Friday, Aug 31
WHERE: Hilltop
8. San Holo
WHO: Whether he's curating melodic music through his label Bitbird, crafting feel-good tunes on his own, or shredding his guitar on stage, one thing's for sure, his heart's in it. The Dutchman has a sense of purity to his style that's simply infectious. Get a dose of light upbeat music as the sun sets when San Holo performs this Friday.
WHEN: 6:20 - 7:20 PM, Friday, Aug 31
WHERE: Main Stage 
9. Illenium
WHO: Another melodic sunset performance, one that diverges into moments of fierce energy and deep bass however. Illenium is a thrill to watch as he goes from MIDI drums to keyboard, soothes the crowd with his beautiful originals and brings them up with monstrous reworks.
WHEN: 7:00 - 8:00 PM, Sunday, Sep 2
WHERE: Main Stage
10. Rezz
WHO: Rezz's mind-bending music and psychedelic visuals will take you on a trip. She has a bit of a cult following, owing largely to her dark, cryptic, bass-heavy sound. Armed with new visuals and fresh music following her recently released sophomore album, Certain Kind Of Magic, her sunset performance is going to be a hair-raiser.
WHEN: 6:45 - 7:45 PM, Saturday, Sep 1
WHERE: Main Stage