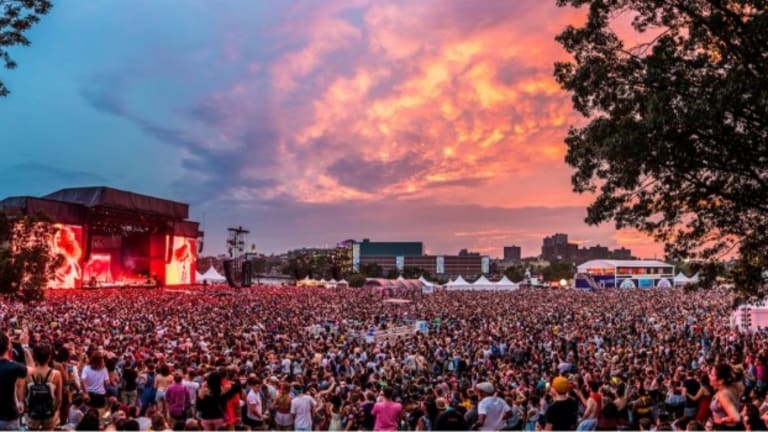 The Many Hits and Not so Many Misses of Panorama 2017
Panorama took over Randall's Island Park in New York City for its second year last weekend and here's a round-up of how it went!
It's no secret that the business of music festivals is a big one, and we mean many millions of dollars big! With the multitude of festivals popping up all around the country, you need to strike the right balance to make things fall in place and work out.
Well, going by the second consecutive year of success that Panorama has seen in New York City and the throngs of crowds who flocked out to Randall's Island this past weekend, they're sure doing something right! Presented by Goldenvoice and touted as being the "Coachella of the East Coast", definitely works to Panorama's advantage. But in all it's glory with the extremely well curated music, tech, art, food and fashion experiences Panorama sure does its predecessor festival proud.
On the music front the 4 stages - Panorama Stage, The Pavilion, The Parlor and The Point (Hell yeah they have that 'P' game going strong) played host to the diverse set of acts over three days. Along with the festival headliners Frank Ocean, Tame Impala and Nine Inch Nails, there were a ton of more notable performers to suit pretty much every music aficionados taste.
For the electronic music lovers, The Point was pretty much a no brainer. The open air nightclub space had the perfect vibe with its checkered dance floor, disco-ball laden console and trippy LED and mirror surroundings. The sound packed a tight punch and hit hard start to end at this space. From Mister Saturday Night to Honey Dijon and Theo Parrish to Motor City Drum Ensemble, they kept the vibe groovy and going non-stop over the entire duration of the festival.
The Parlor stage played host to Sofi Tukker, Matoma, Hot Since 82 and Nicolas Jaar (Oh that smoke laden low light setting and those beats still have us swooning) amongst a heap more. And not to forget Breakbot who got rescheduled to perform on Day 2 after the floor of the enclosed airconditioned space collapsed during Isaiah Rashad's early evening set on Day 1! But they had things under control on day 2 as the flooring was all brought right down to ground level and the Parlor was up and kicking again. Day 3 saw performances by Dhani Harrison, nope he sounds nothing like his famous father George Harrison, but still does him proud in his own way. And Kiiara who in addition to her superhit "Gold" and others paid tribute to Chester Bennington by belting out "Heavy," her Linkin Park collaboration with the video playing in the back to finish off her set with a heavy heart. The only drawback here however was the limited capacity of the enclosed space, which led to long lines and a lot of people missing out on sets in their entirety at times.
The Pavilion played host to a number of sets over 3 days and saw quite a lot of the action. From MØ crowd surfing through undoubtedly her biggest hit, "Lean On," while to not much surprise, flower-boy Tyler The Creator had a massive sing along going with tracks from his week-old new album. Girl Talk headlining the stage on day 1 went on to mix like a boss with a full power party of 25-30 audience members on stage! Day 2 saw S U R V I V E bring them Stranger Things vibe while Alt-J (rightfully so) packed out the space with their headlining set and a stellar stage set-up. Day 3 saw Mura Masa bring out Desiigner and Cashmere Cat just slay a stellar set being himself, while Justice closed out the stage in their signature style with a royal audio visual treat! This wasn't before a supposed technical glitch which forced them to get off stage for a good 10mins plus with no notice and while this lead to a lot of the crowd getting flummoxed and leaving, for those who stuck on the magic restarted for another 30 mins!
Moving on to the main stage, The Panorama Stage which had the 'big names' and then some! Day 1 kicked out with Honne opening up the stage and MGMT coming through with some fire visuals! Leading to one of the most anticipated performances of the festival, Solange matched the crimson skies during an exquisite sundown set with her smooth AF vocals and brilliantly choreographed supporting artists! When Frank Ocean took to the stage, mind you slightly late in his signature style, he had the rapt attention of undoubtedly the festival's largest concentrated audience. Sporting a white t-shirt which read, "Why be racist, sexist, homophobic or transphobic, when you can just be quiet?" he played out a heartfelt set which was intimate, yet massive! Days 2 and 3 saw Vince Staples, Tame Impala killing it with their lights and neon visuals and A Tribe Called Quest paying tribute to Phife Dawg and announcing this was their last ever NYC show as Tribe! Nine Inch Nails, the festival's final headliners paid their own tribute to David Bowie showcasing the band's versatility to deafen with their whispers as much as with those roars!
All in all, the stages were spaced and placed well which led to no sound bleeds during simultaneous sets and the massive screens insured visibility of the artists from even far out back
The well curated food and beverage options were also spaced out and aplenty. From pizza to mac and cheese and fried chicken to mozzarella sticks, there was definitely no dearth of options. There were also multiple beer and wine bars well spaced out, but for hard liquor one had to make their way to the designated 21+ areas such as The Grove. Free water refill stations were well located and encouraged people to stay hydrated in the days heat. Even though rain was heavily forecast throughout the week, the stars aligned well for Panorama and the festival went on without a single day of any rain, leading to pleasant cloudy/sunny weather barring the last day when the sun lashed out!
The much talked about space, The Lab from year one made its way back to the festivals sophomore year as well and it sure didn't disappoint. Designed and curated by META, The Lab by HP was definitely worth the winding queues to make your way in. With the purpose of The Lab wanting one to explore the concept of Synchronicity, a feeling that asks us if there is more to the world then we can see? Blending together art, story, technology and human energy, they aimed to foster this synchronicity to occur. Elaborate usage of 3D projection mapping, optical illusions, virtual reality and LED lighting took participants on a sensory journey all through not just seeing but doing, feeling and experiencing each installation.
The exploration of the space concluded when led into an epcot-ish dome for an immersive 360 degree audio visual treat transporting one straight to a parallel universe with the screening of the Ark.
It was also all about the little things when it came to Panorama! Walking in from RFK bridge to the venue on day 1, a warm guitarist welcomed you right outside the box office to tide the wait through check-in, which was definitely quick and efficient though. The Sephora and American Express spaces definitely provided much more than relief from the heat too. A space to touch up or amp up our hair and makeup through the day at the festival? Yes please! And that's exactly what Sephora and Ouai provided! Also the Macy's faux pool party space was definitely insta-ready with its set up and floats.
All things said and done, without a doubt, the second-annual edition of Panorama was a huge success, bringing together music, innovative technology, immersive art and a top notch culinary experience in the heart of New York City. With a diverse line up targeting varied crowds (and we mean DIVERSE), Panorama presents itself as New York City's alternative music festival go-to rather than competition to any festivals that it shares its venue and the surrounding area with!
Photos Courtesy - Panorama Music Festival.