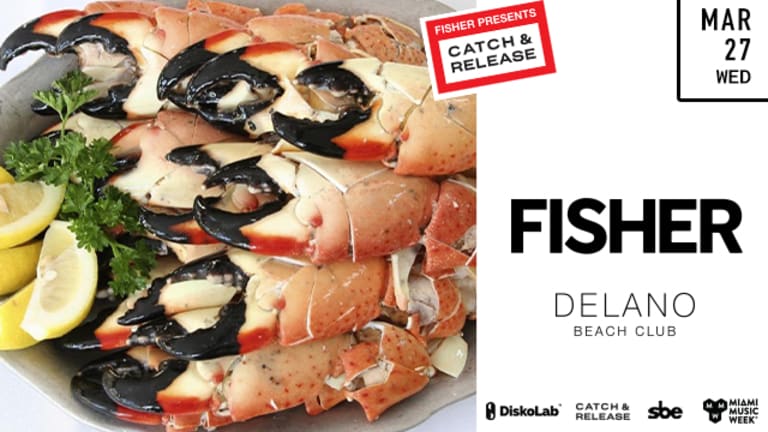 FISHER Presents: Catch & Release Party for Miami Music Week
Don't miss Fisher's Catch & Release MMW pool party at The Delano Beach Club on March 27, 2019.
As Winter draws to a close and Miami Music Week approaches, the time to make plans for the week's events is now upon us. With such an overwhelming array of artists and parties taking place throughout the week, it can be hard to figure out who to see and what parties to go to.
For this reason, EDM.com is dedicated to providing Miami Music Week attendees with as much information about the different events as possible. There is no right way to do MMW, but it's always important to make sure you are getting the most out of your experience.
On that note, one of the most exciting events of the week is FISHER's "Catch & Release" Party, taking place on Wednesday, March 27th at the Delano Beach Club.
If you haven't heard of FISHER, he's the artist responsible for "Losing It," one of 2018's biggest dance hits and a fan favorite at festival and clubs around the world.
A former Pro-Surfer and famous vlogger known as Follow The Fish, Paul Fisher has quickly risen to superstar status in the dance music industry. He was even nominated for a Grammy in the Best Dance Recording category. To hear more of his music, check out his Spotify and take a listen to his Oi Oi EP and his earlier single "Crowd Control."
If you like what you hear, you should definitely check out the official "Catch And Release" Pool Party. Tickets go on sale Wednesday, Feb 20th @ 3 pm ET, and the rest of the lineup will be announced then as well.
FOLLOW FISHER:
Facebook: facebook.com/Followthefishtv.tv
Twitter: twitter.com/followthefishtv
Instagram: instagram.com/followthefishtv
SoundCloud: soundcloud.com/fish-tales