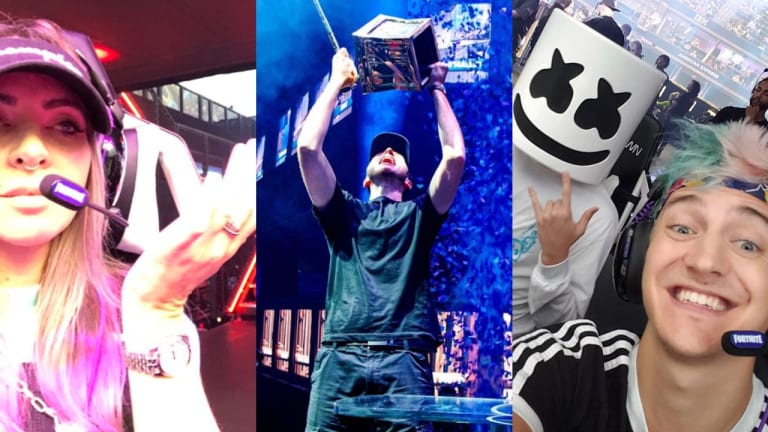 EDM was on Full Display at the $30 Million Fortnite World Cup
Marshmello, Alison Wonderland, RL Grime, and more participated in Fortnite's Massive competition.
This weekend, millions of gamers around the world tuned in for the massive Fortnite World Cup Championship in New York City. Some of the festivities included events like the solo and duo championships, the celebrity Pro-AM, and a performance from Marshmello (who is all but confirmed to be Chris Comstock).
With appearances from some of the biggest names in eSports, pro wrestling, television, and more, one thing was very clear: EDM was on full display. 
A significant portion of players in the celebrity Pro-AM competition were dance music artists. Some of the performers other than Comstock included Alison Wonderland, RL Grime, Wax Motif, Lost Kings and Sigala.
While the newly dubbed professional gamer Alison Wonderland (real name Alexandra Sholler) had an unfortunate outcome during the tournament, she performed far better than expected for someone who literally never played the game prior to competing and beat out ten pairs of competitors.  
Her SUNDARA Music Festival set partner and future collaborator RL Grime, on the other hand, had a near-flawless outing and took home the Pro-AM championship with his pro-gamer partner Airwaks, winning $1,000,000 for the ACLU.
This should be of little surprise to anyone, as last month the duo won the same competition at the Fortnite Summer Block Party proving that RL Grime (real name Henry Alfred Steinway) is both a top-tier trap producer and competitive gamer.
Comstock was paired up with the most recognizable face in video games, Ninja, and despite winning the very first Pro-AM competition, they just missed the top ten with their eleventh-place performance. 
All was not lost for the duo, as Ninja (real name Richard Tyler Blevins) was featured as a guest host for the duo's championship on the second day, while the masked musician responsible for the world's most ambitious gaming and music crossover to date hosted a concert on the outrageous 100-competitor stage.
The dance music and video game worlds continue to strengthen their bond with more and more crossovers occurring regularly. Just this year, Ninja released an EDM compilation album with music from Alesso, Kaskade, Tiësto, and more. The Walking Dead's Chandler Riggs also hosted an in-game Minecraft music festival, and Kygo was featured on the Pokémon: Detective Pikachu soundtrack. 
The Fortnite World Cup took place July 26th-28th at Arthur Ashe Stadium in New York City and featured $30 million worth of prizes.
FOLLOW MARSHMELLO:
Facebook: facebook.com/marshmellomusic
Twitter: twitter.com/marshmellomusic
Instagram: instagram.com/marshmellomusic
SoundCloud: soundcloud.com/marshmellomusic
FOLLOW ALISON WONDERLAND:
Facebook: facebook.com/awonderdj
Twitter: twitter.com/awonderland
Instagram: twitter.com/awonderland
SoundCloud: soundcloud.com/alisonwonderland
FOLLOW RL GRIME:
Facebook: facebook.com/RLGrime
Twitter: twitter.com/RLGRIME
Instagram: instagram.com/rlgrime
SoundCloud: soundcloud.com/rlgrime