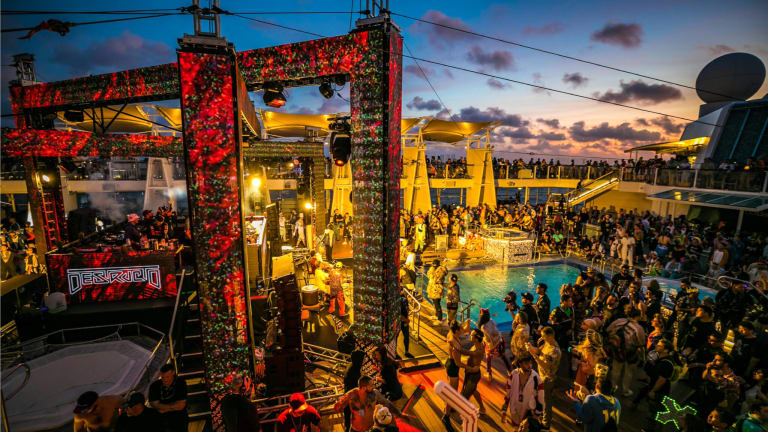 FriendShip 2020 Festival Cruise Sees Massive Ship Upgrade for Return to CocoCay, Bahamas
Back for its second voyage, AMFAMFAMF's FriendShip has a killer lineup including acts like TroyBoi, Ty Dolla $ign, Destructo, Boys Noize and more.
If you haven't yet heard of the FriendShip festival cruise, it's quite possible that you've been sleeping under a rock for the last two years. Taking place aboard the iconic cruise line Royal Caribbean's legendary Navigator of the Seas, FriendShip is curated by DESTRUCTO (real name Gary Richards, formerly of HARD Events) and is the natural successor to the infamous Holy Ship! event series.
While the inaugural 2018 FriendShip cruise was an undeniable success and included exhilarating sets from acts like RÜFÜS DU SOL, Boys Noize, Dixon, 2manydjs and Claptone, the event sold out in less than 24 hours and could only accommodate 3,000 fans. For the 2020 edition of FriendShip, the ship will once again journey from Miami to the Bahamian island of CocoCay. The ship is not only much bigger, but it also recently underwent a $115-million-dollar upgrade, ensuring that fans will be treated to a truly decadent musical experience.
As part of its massive renovations, Navigator of the Sea was upgraded to a best-in-class ship that offers a wide variety of accommodations to both enhance and amplify the festival experience. From the upscale craft cocktail lounge The Bamboo Room, to state-of-the-art production, delicious gourmet dining, and onboard entertainment such as the FlowRider surf simulator and glow-in-the-dark laser tag, Navigator of the Seas is a veritable party at sea, and it offers something exciting and unique for everyone.
Perhaps most exciting of all is the lineup of industry-leading talent booked for this year's edition of FriendShip. A diverse mix of house, techno, trap, hip-hop, and so much more, FriendShip 2020 has a little bit of everything, making it a perfect destination vacation for music lovers of all varieties to kickstart their 2020 in style.
While the Holy Ship! community (or Ship Fam) was in many ways fractured by the Live Nation acquisition coupled with Gary Richards' departure from HARD Events, the longtime event producer and DJ isn't one to back down from his hard-earned reputation as a consummate curator, tastemaker, and industry legend. With the backing of SFX Entertainment successor LiveStyle, AMFAMFAMF's FriendShip is sure to build itself a lasting legacy to rival that of its unforgettable predecessor.
On the topic of FriendShip, Richards has said:
"We've got some special treats in store. Ty Dolla $ign will play his new album live for us, plus he'll do a reggae party with Green Lantern on the beach. That's never happened before. Channel Tres and his 'Compton G' sound is something I'm really feeling from him this year. We'll have Bob Moses live in the theater. Egyptian Lover is going to do an 808 clinic. Also, we've booked two amazing comedians who will each do two shows."
Get primed ready for FriendShip with DESTRUCTO's custom-curated FriendShip 2020 Spotify Playlist, and be sure to grab your tickets today if you haven't already. They wont be available for much longer.
FOLLOW FRIENDSHIP:
Website: thefriendship.com
Facebook: facebook.com/Friendshipamf
Twitter: twitter.com/Friendship
Instagram: instagram.com/thefriendshipofficial