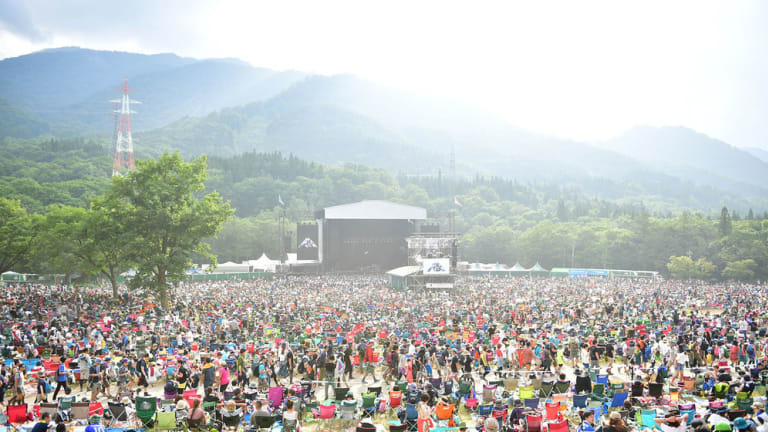 Fuji Rock Festival, Featuring Disclosure, Major Lazer, and More, Postponed Due to COVID-19 Concerns
Japan's multi-genre festival will be taking a year off in order to keep fans, artists, and organizers safe.
For over two decades, Japan has celebrated both regional and international music at the world-renowned Fuji Rock Festival. Like many other large-scale events around the world, the ongoing COVID-19 pandemic has produced difficulties for festival organizers. While many were holding onto hope that the show would proceed after the outbreak became more controlled the timeline is unfortunately not progressing as fast as music lovers would like and organizers are left with no choice but to postpone the event. The musical showcase was set to feature performances from Major Lazer, Disclosure, and Mura Masa, among many others.
In a statement posted to the festival's website, the organizing committee announced that Fuji Rock Festival will not return until the summer of 2021. In an additional statement, Masahiro Hidaka, the president of promoter Smash Japan, cited safety concerns as the primary reason for delaying the event and explained why they will be taking a full year off instead of trying for a fall date.
This is my message to everyone who had looked forward to this year's Fuji Rock. I am really sorry but I have decided not to hold Fuji Rock this year. Considering the health and safety of the band's that would perform, staff, personnel, and most of all, you the festival goers, we determined as the festival organizers that we are unable to hold this year's festival.

We discussed postponing the festival for several months but Naeba gets quite cold in the morning and evenings in September and begins to snow at the beginning of November with the snow remaining until April. It is a ski resort after all. Not to imitate the Olympics but we are postponing the festival until August of next year. The festival will be held on August 20th, 21st, and 22nd. That is 14 months from now. It's frustrating but I want you all to look forward to it.
The next iteration of Fuji Rock Festival will take place August 20th to 22nd, 2021 at Naeba Ski Resort in Japan's Niigata Prefecture. Organizers have announced that ticket transfers and refunds will be made available in the near future. For more information, head over to the festival's website here.