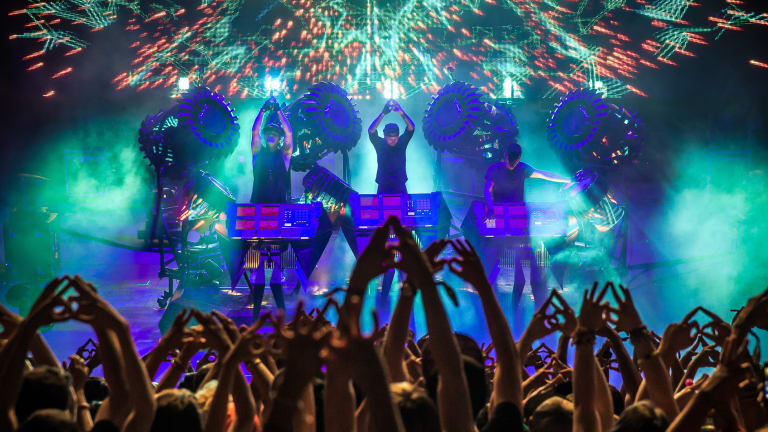 The Glitch Mob Returns to NYC This Saturday at Brooklyn Steele
Featuring their new custom instrument Blade 2.0, a new album, and so much more!
Stemming off the success of their latest album release and a new remix album announcement, The Glitch Mob is playing the second-to-last show of their tour this Saturday, October 20, at Brooklyn Steele in New York City with support from Elohim. This will be the last chance this tour to see their new stage set-up, the Blade 2.0, so don't sleep on it. 
Earlier this fall, The Glitch Mob also released a documentary with DELL titled "Behind the Blade," in which they explain the details behind the custom instrument created for their performances, called Blade 2.0. By teaming up with DELL and Alienware, along with the visual artist Strangeloop, their visual and audio show has reached unseen heights. 
The first version of the Blade debuted in 2014, and this new envisioning uses 22 midi controllers and turns the entire stage into a custom, playable instrument. The set was designed in partnership with Martin Phillips, who has previously worked with Kanye West, Daft Punk, Nine Inch Nails, and more. Their goal is to fully immerse the crowd into a performance, rather than having them simply watch the artists use laptops and controllers.  
You can check out the first release off See Without Eyes Deluxe, a remix of "Come Closer" by Salva below. The full album releases on October 26th, so definitely keep an eye out. 
The show in Brooklyn will be an unforgettable one, especially in a venue like Brooklyn Steele.

You can buy tickets here, and RSVP on Facebook here.
Follow The Glitch Mob: 
Facebook: https://www.facebook.com/theglitchmobmusic
Instagram: https://www.instagram.com/theglitchmob/
Twitter: http://twitter.com/theglitchmob 
Soundcloud: https://soundcloud.com/theglitchmob