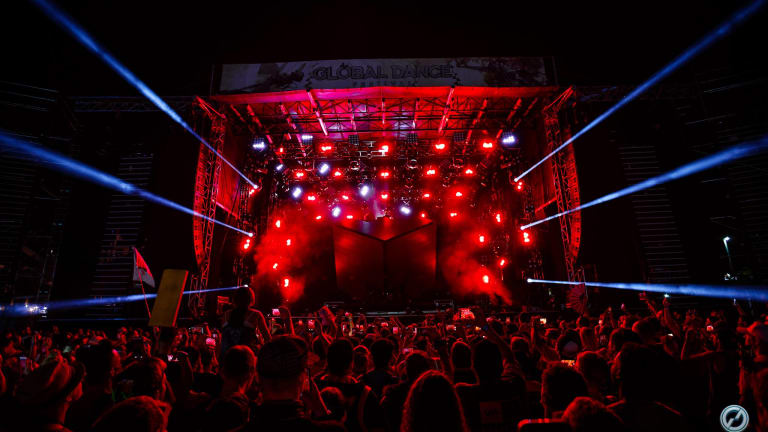 Global Dance Festival 2018 Goes Global [Festival Review]
Global Dance Festival completes its 16th installment with a tremendous diverse lineup, next level production, and overall spectacular service.
Miami Music Week should start to worry a little and make way for Global Dance Week. EDC Week should also be a tad concerned too. Denver, Colorado without a doubt, is about to become the next global dance music capital within the United States. It's pretty rare these days in the rave culture to find a city festival where you grow an instant connection to. Let's face it, we would be lying to ourselves if we said every festival brings us "together." That everyone was friendly and "got along." Well, my friends we also would be lying to ourselves if we said Denver's electronic dance music wasn't one of a kind and super accepting. Global Dance Week 2018 kicked off on July 18 and ended on July 22. This is a week of non-stop pre-parties and after parties leading up to the main event, Global Dance Festival which this year's festival was one for the books.
First off, let me start out by saying if you are a deep hardcore house lover (including all sub-genres) and a trance addict then the Denver scene should be on your radar. This city truly appreciates and respects these genres of dance music and books some artists that don't traditionally play in the U.S. I witnessed some of the best house and trance sets of my entire life while visiting this city and attending GDF. The Denver venues were made for this type of music to be put on display for the world to see and hear. 
The talent that was picked for this year's Global Dance Festival was truly one of the most diverse lineups of the season. Electronic dance music made up most of the music genre. However, hip-hop, rock, and a lot of live artists with instruments also made up some of the lineups for the week. Global Dance Festival offers five stages and takes place over a two day period at the Sports Mile High Authority where the Denver Broncos Play. Let me begin by saying that this venue is the perfect size for the vision they are trying creating for their guests. The reason why this stadium is perfect is that the size is so massive and spacious. 
Global Dance Festival organized the layout of the festival phenomenally. It was not hard at all to navigate around the event and there were never any issues getting from stage to stage. Surprisingly with how close some of the stages were noise bleed never occurred. The expanded festival grounds was noticeable and helped you realized just how big this festival really is. Security and festival workers are scattered throughout the outside and inside to help with any questions. There were several lines to choose from to enter in along with metal detectors. This is something that really won me over as I was making my way to the VIP lines because it shows the safety of their guests is a top concern. Keeping the VIP entrance a good distance from the General Admission entrance also helped with the flow of people and sped up the process of getting attendees into the festival.
Getting to and into the festival was simple and stressfree. The GA entrance spits you out right by the silent disco stage while the VIP guests enter through the all-inclusive Global VIP Village. Walking into this village has you feeling like a rock star or in this case a dj. This is not some small closed off corner of the festival with VIP streamers wrapped around it. This is a full-on village to explore, relax, and connect with media friends. This area has its own full 360-degree private bar, its own food truck, air-conditioned bathrooms, and of course the best part of it all were the bean bag chairs. Anyone who is working the event as media is also allowed in this village, which is something I respect. It is pretty common now for festivals too ignore media and to just treat them like any normal guest but this is not the case at all with Global Dance Festival.
The fact that Global Dance Festival sets up an environment for the media to interact and network with one another is totally reassuring. For example, it is how I finally got to connect with someone all the way from New York. Her name is Meagen Surowiecki and she is a gem. The VIP Village also has interactive art and plenty of places to take the perfect photo in front of. They mapped out the Global VIP Village to where it was its own world inside the festival and without a doubt, it is worth the extra money for the VIP amenities that are offered just within the village. 
Once you step foot into the festival where all the stages are it feels like you are like a little kid in a candy shop. There is so much to do, see, and taste that you can get overwhelmed at first, but this is a good overwhelming feeling. Dragonfly Art Park is the go-to spot where you can take a break to just take it all in, see the art, as well as meet up with new people. There are plenty of places to sit down including patches of grass to relax on. This is an area that comes to life at night with bright visuals lighting up the art and even an interactive shiny disco ball that releases out a fire that can be felt from a pretty good distance.
To the right of Dragonfly Art Park is the Vendor Village where there is an array of different vendors with an assortment of different items to purchase including festival merchandise. Once you walk past the vendor village the delicious smells from the Food Truck Marketplace linger ahead. Ice Cream, Mac and Noodles, and Sunshine Bowls were on the menu and everything was full of flavor and fresh. The array of options for food made it exciting to try something new each day of the festival. 
Now to talk about the music because what is a music festival without the music right? The Summit Stage was the main stage for the weekend. There were different viewing points for guests. VIP had its own viewing area that was at the front of the stage and clear from any distractions. (Again totally worth the money for this view.) Then the GA guests were in the crowd behind us, which had plenty of room and in the way back of GA is where you could see all of the stage and lights easily. I thought it was genius to include LED Boards on the sides that went back in the crowd instead of only just having one LED board on the main stage. There were also VIP cabanas where VIP ticket holders can reserve to get a more of a birds-eye view of the main stage. 
The top acts that played on this stage that I have never seen at a festival before were hands down JAI WOLF, TroyBoi, and GoldFish. JAI WOLF played an emotional uplifting set that was the perfect kickoff to the whole festival on day one. TroyBoi was mixing classics with groovy beats to help unify the crowd. GoldFish shared their talent for live instruments and gifted that to the crowd while having everyone sing all together as one. Deadmau5 also touched down with the magnificent and mesmerizing cube to close out the first night. I've personally seen the cube before but there was something quite different about this one. It was absolutely gigantic and breathtaking. It never mattered who was playing at this stage because it was always a guaranteed a good time. Not to mention this is where Illenium and Said The Sky had their beautiful B2B.
Right across from the Summit Stage was the Amazon Stage. This was by probably the best stage out of the four just because of all the house talent that played on the first day. The tent was decorated like an Amazon Jungle with flowers and vines dangling down from the ceilings. The lasers pointed directly into them which created a stellar look. This stage is where most of the house music was played at all weekend. MK, Claptone, Claude VonStroke, Destructo, Thomas Jack, Gorgon City, and etc. Hands down best performance all weekend at this stage was MK and Claude VonStroke. 
After guests are finish strolling through the Amazon, they can go lost in a state of trance at the Tundra Stage. This was a stage that dedicated its sounds of the weekend to trance lovers from around the world. BlackGummy, ARTY, Cosmic Gate, Darude, Breathe Carolina, and more all blessed the ears to all who showed up. The favorite new discovery at this stage was BlackGummy and then ARTY was next level and a treat since he doesn't play that many festivals anymore. This stage definitely needs more work with design and sound but for the most part, it created the perfect intimate close vibe for all who attended. If you looked close enough glitter was falling from the sky during some sets.
Directly across from the Tundra Stage was the bass stage for the weekend. The name of the stage was the Northen Lights Stage. The sound of this stage was top notch and echoed throughout the stage like a symphony. This was a stage that excelled at night. Colorful lights hanging from the left, right, and top combined into a new playground for the guests. StayLoose and T-Mass were both pleasant new discoveries. DJ 4B and Adventure Club really knew how to get the crowd to headbang and cry at the same time. The favorite moment from this stage was catching Savoy, an electronic rock band, who ended their set with an epic sing along.
The Silent Disco that was offered at the festival was the best silent disco I have ever been a part of. The silent disco was held underneath the stadium so the journey to the secret rave was magical and mysterious. There were three different artists playing so each guest got to pick from three different channels to rage to and the variety and talent that played were different and exhilarating. 
The people who attend this festival make the festival. It is all about finding your Global Family and creating new everlasting memories. This festival has been around for over a decade so they have their loyal fans along with the new generation of ravers. Both who attend this festival make it equally welcoming to all and there is no hate or disrespect. Even having the rappers there made the environment even better. All in all, it was a safe space from the moment you walked in until the sad moments before you left. Not to mention the ability to stage hop like a bunny rabbit was super convenient. I swear I saw more artists in the span of two days than when I attended Ultra and that festival is three days long. The lines for food, bathrooms, and drinks didn't ever take that long either.
Global Dance Festival is one of those festivals where everyone is ready to mingle while enjoying good music. The love and PLUR vibes could be smelled through the air. This is a festival where you can go into with your problems and then leave with all of your problems resolved. It is almost a spiritual awakening feeling once the festival is over. You feel refreshed and eager to continue forward. At the rate where they are headed they will need to expand the festival grounds again really shortly but lucky for them they have the rest of the stadium parking lot for that.
Denver and Global hold a special place in the heart and I would like to thank everyone who made my first Global Dance Festival one I will never forget. Thank you to the staff, medical personnel, police officers, festival security, promoters, and Denver for a spectacular weekend. The only thing I would change would be some fans or misters in the tent stages and even maybe consider having the festival from sunset to sunrise because this festival truly excels at night. If you are local do not sleep on this festival because it is truly one of a kind and needs to be appreciative by all. This is a festival where you can't complete everything in two days so it makes the build-up for next year grow even more each day. However, you can fit a lot in just those two days with how easy it is to move around inside. I am already counting down the days until next year. See you soon Global #GDF18
Connect with Global Dance Festival: