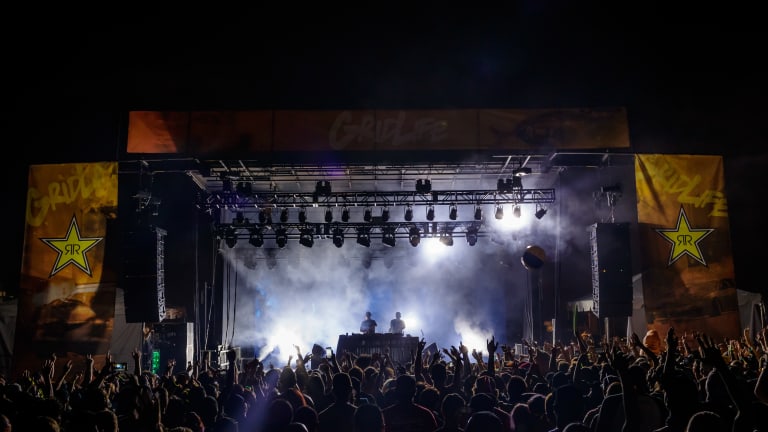 GridLife Pioneers Cross-Cultural Movement Between Music Festivals and Motorsport Events
GridLife is pioneering a cross-cultural movement by combining world-class festival production with an innovative and industry-leading motorsports experience.
In recent years, the rapid integration of EDM and music festivals into nearly every aspect of society has been staggering to say the least. With the meteoric rise of eSports came the almost simultaneous rise of gaming music, a movement in many ways driven by innovative record labels such as Monstercat and NoCopyrightSounds focusing on creating music and tools designed for the professional (and casual) gamer. This cross-cultural movement reached a fever pitch in 2018 with the release of Ninjawerks, a music compilation on Astralwerks centered around the world's most popular professional gamer, Tyler "Ninja" Blevins, and including songs from major international acts such as Tiësto, 3LAU, Alesso, Kaskade, Dillon Francis and NERO.
In much the same way, GridLife has been hard at work building a similar bridge between the worlds of motorsports and music festival culture, and they are constantly launching new events across the nation. Motorsport and car enthusiasts have been a staple of American youth culture for nearly a century, and while it has changed dramatically since the days of greasers and hot-rods, it's a thriving niche that is as "fast and furious" as ever before.
If you haven't heard of GridLife, you might be wondering what it means to have an event that combines a world-class music festival with an industry-leading car show and a massive array of high-octane, on-track events. With everything from a top-tier mix of drifting, high-performance driving, time-attack races, and two evenings full of great music, you might expect GridLife to be a confusing blend of otherwise unrelated hobbies. Rest assured, you couldn't be more wrong!
Although these seemingly disparate interests have rarely intersected in the past, the GridLife event brand has managed to pull off a unique cultural crossover in a way that is not only smooth and cohesive, but also spearheading a national movement to further unify these otherwise unrelated passions. In much the same way that Marshmello's now-legendary Fortnite performance cemented the momentous importance of eSports within the music world, GridLife is demonstrating to the world the inherent and heretofore unexplored congruency between musical festival culture and the world of motorsports.
The GridLife Mission:
While GridLife is without a doubt pioneering the intersection of music and car culture, the brand is about far more than simply putting two different cultural groups into a single venue and hoping for the best. Comprehensive and consistently on-brand, GridLife is about discovering synergies, stoking passions, and immersing oneself in a lifestyle of adrenaline and excitement.
Unlike many events, GridLife isn't simply a gathering of like-minded individuals getting together to celebrate something they already know and love; the #GRIDLIFE brand is about finding and attracting fans of music and motorsports alike and bringing them together in a transformational experience where casual hobbyists become hardcore enthusiasts. In the words of GridLife founder and director Chris Stewart, "I want to make that path both clear and easy for people. It's not about 'car shows and meets aren't cool, you should track your car instead,'" he explains. "We're more about 'hey, if you want to do this, we can help you—and there's a bunch of other groups that can help you.'"
The GridLife Question - Why Mix Motorsports With Music?
If you're a hardcore festivalgoer and can't wrap your head around why you'd want to see motorsports at a music festival, think of it this way:
You may not be deeply immersed in car culture, and you probably aren't a huge motorsports fanatic, but everyone at a festival loves to party and have a good time. At Electric Daisy Carnival, you can find entertainment like a Ferris Wheel, a carousel, and assorted other carnival-style games. Other festivals and dance events have a similar assortment of side-entertainment to occupy the time between your favorite artists.
Now, imagine if instead of a Ferris Wheel, you were able to hop in with a professional race car driver for a high-speed ridealong, a once-in-a-lifetime opportunity that is sure to pump you up for the excellent music lineup that takes place each night of the event.
Always wanted to brush up on your driving skills and feel like a pro while doing it? GridLife also offers an array of driving classes, as well as a whole host of awesome events that cater to both new and expert-level drivers across a wide variety of events.
The best thing off all? You get to cap off every day with some of the most exciting and high-energy dance music artists in the industry, and then start the fun all over the very next day.
One Ticket, Multiple Experiences:
This year, for the first time ever, GridLife is coming to Colorado Springs for the all-new GridLife Alpine Horizon Festival. For a price cheaper than nearly any one-day music festival, you can get tickets to attend all three days of the Colorado GridLife event for only $65.00.
The GA Ticket package includes three days full of exciting races, and two amazing summer nights (Friday and Saturday) of fabulous, on-brand musical festivities. From car shows to camping, from gaming with your favorite artists and drivers to participate in thrilling off-road and ride-along adventures, GridLife has it all, and the movement is only just beginning!
Get tickets to GridLife's Alpine Horizon Festival today.
FOLLOW GRIDLIFE:
Website: grid.life
Twitter: twitter.com/GRIDLIFEFest
Instagram: instagram.com/gridlifeofficial
FOLLOW ALPINE HORIZON FESTIVAL:
Website: alpinehorizonfestival.com