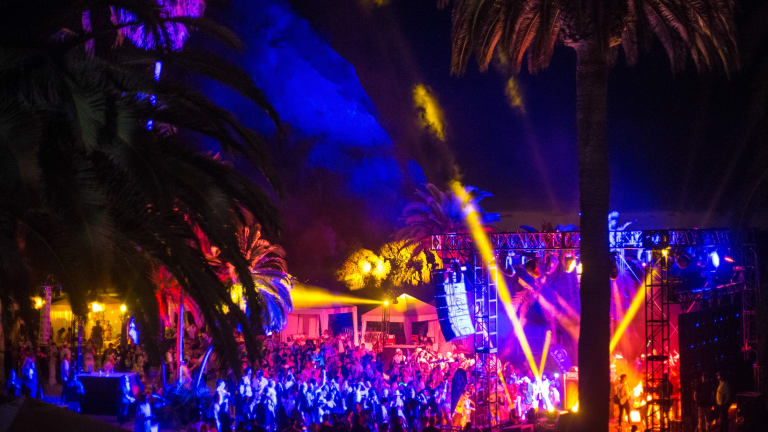 Groove Island Festival Transforms Catalina Island Into a Musical Paradise
Groove Island showed festivalgoers that a musical island paradise isn't just possible, it's a reality.
Touted as a fully immersive musical paradise taking place on California's gorgeous Catalina Island, Whet Travel's newest event, Groove Island, was naturally met with a great deal of skepticism. After the infamous and highly documented Fyre Festival disaster that took place in the Bahamas, fans and festivalgoers are naturally wary of repeat offenders, particularly when it comes to first-time events in previously untapped locations. 
All of that being said, Groove Island not only proved those critics wrong - it set a new standard for Island-destination festivals for years to come.
Unlike Fyre Festival, Whet Travel, the company behind Groove Island, has over a decade of experience organizing some of the most successful dance music cruises and island parties, all 43 of which gone off with hardly a hitch. Rather than attempting to build an entire islands worth of infrastructure and accommodations, Groove Island tapped into the already robust local economy of the city of Avalon. The local community was incredibly warm and welcoming, and the food and accommodations were excellent, to say the least.
"It's a fully immersive experience on Catalina... We rented the majority of the hotels, A‌i‌r‌b‌n‌b‌s, part of the campground, the [Descanso] Beach Club, the casino, the country club, plus ferries, helicopters, yachts and so forth to get people on the island," said Jason Beukema, the founder of Groove Island.
As guests arrived on the island by way of the Catalina Ferry, they were greeted with a view of the beautiful Avalon Bay and the city of Avalon - what would become their own personal paradise for the next three days. A popular tourist destination for well over a century, Avalon is home to a top-notch assortment of restaurants, beaches, spas, land and ocean adventures, as well as a whole slew of awesome recreational activities. Some of the most exciting opportunities (aside from the music, of course) included an escape room with Sam Feldt, soccer with Mark Knight, a zipline course with Dillon Nathaniel, and an ocean snorkeling adventure with Chus & Ceballos.
"Catalina Island was the perfect west coast location because everyone got to choose their own unique adventure," said Groove Island Headof Marketing Max Roseff.
In addition to these once-in-a-lifetime opportunities for fans to engage with their favorite artists in a more intimate setting, Groove Island offered attendees a truly spectacular lineup topped off with artists like Andrew Rayel, Tommie Sunshine, Chus & Ceballos, Oliver Heldens, Sam Feldt and Shiba San.
Daytime and evening events were primarily centered around the scenic Descanso Beach Club, an oceanside venue with warm sand, swaying palm trees, and a gorgeous view of Avalon Bay. Festival attendees were treated to a genuine VIP resort experience, complete with everything you could possibly want for an end-of-summer "tropical" getaway. Each night, the focus shifted to the iconic Catalina Casino, a towering, castle-like building that looks like something out of a James Bond villain's private fortress hideaway. From early each afternoon until well into the wee hours of the morning, the music never stopped and the fun kept on rolling. 
To make things even better, the Groove Island community was a far more mature and well-behaved demographic than that seen at most music festivals; there was no wall-climbing, fence-rushing, or altercations with security or event staff. If anything, the Avalon natives, as well as the local police, seemed genuinely thrilled to be part of such a unique experience. The Beach Club is tucked away nicely in a cove outside of the city itself, and little to no noise escaped to interfere with the local community. Local police were seen enjoying the music and talking with festival-goers, and the restaurant and hotel proprietors were nothing if not enthusiastic about the massive spike in business.
Perhaps most impressive aspect of all was how streamlined and well organized Groove Island was, especially considering that it was only the inaugural event. Food and drinks flowed through the weekend without a hitch, security points were smooth and seamless, accommodations were excellent and well prepared, and the beach and trails were absolutely spotless each morning.
"Coming of the heels of the Fyre fest documentry, everyone was skeptical," said Beukema, "but our team never doubted the project for a second."
Based on the success and incredibly warm reception of the inaugural Groove Island event, we have no doubt that this one-of-a-kind experience will return to Catalina Island for the second round of Island adventures. If you're looking for a laid-back weekend getaway complete with great music, good food, and a community of friendly music lovers, Groove Island is well worth checking out. We highly recommend the Platinum/VIP package, as it comes with stage-side access to the free/hosted bar, as well as a bunch of great additional accommodations and amenities. If you plan on drinking throughout the event, you'll likely end up saving a lot of money in the end.
FOLLOW GROOVE ISLAND
Facebook: facebook.com/GoGrooveIsland
Instagram: instagram.com/GoGrooveIsland
Twitter: twitter.com/GoGrooveIsland