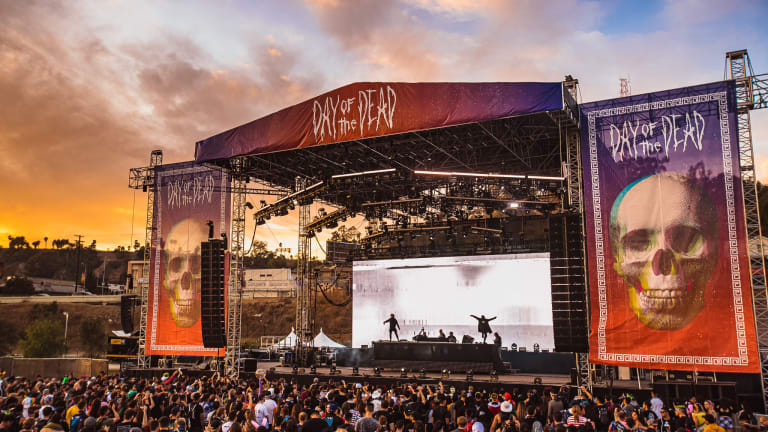 HARD Day of the Dead Closed Out the 2019 Spooky Season With A Bang
Who let the ghouls out?
Halloween in Los Angeles tends to be a month-long activity. Just because the holiday passed does not mean the party stopped. If you were one of many who wanted to keep the spooky season going straight into November, then HARD Day of the Dead was the perfect place to be. 
The beautiful Los Angeles State Historic Park was transformed into an homage of the traditional Mexican holiday of Día de los Muertos. Attendees were greeted to an array of spectacular sugar skulls and mariachis galore. The beauty of this event is the size. The one-day event was split into just two stages across the grassy, 34-acre grassy. The HARD Stage (A.K.A. the main stage) featured insane production and hosted the higher billed acts. DURO Stage returned as the hub for more of the deep house and techno acts. It was a much smaller and adorned to look like an old, creepy church. 
As for the music, this year's lineup was stacked. HARD Events curated the bill perfectly to match with the dark festive vibe. House, techno, and midtempo bass reigned supreme between the two stages. OWSLA veteran Josh Pan kicked things off with a special B2B performance with trap duo X&G which really set the tone for the rest of the evening. Melé rocked the DURO stage with a funky blend of tech and tribal house.
As the evening went on the crowd flood in for the main acts of the evening. TOKiMONSTA dropped a powerhouse of a set with amazing visuals to match. She leaned towards trap but also threw down a good number of house heaters. Performing at the same time was tech house superstar Justin Martin. He made the church chapel his own and even dropped in some surprising drum and bass mixes. 
BLACKLIZT, ZHU's deep house/techno project, was one of the top highlights of the festival. While onstage, he brought out a legion of white mannequins as he transformed the main stage into a full after-hours warehouse party. Every fan in sight was grooving as he dropped his most recent hit, "Came For The Low" with partywithray. 
The night ended with a jaw-dropping reunion from Dog Blood. Boys Noize and Skrillex's collaborative project turned the park blood red with pounding red lasers and high-octane tracks. Their chemistry could be felt from the back row as they dropped everything from grime to hard house to hip-hop.   
HARD DOTD yet again proved to be a small but mighty way to close out the Halloween season.  
FOLLOW HARD EVENTS:
Website: hardfest.com
Facebook: facebook.com/HARDFest
Instagram: instagram.com/HARDFEST
Twitter: twitter.com/HARDFEST