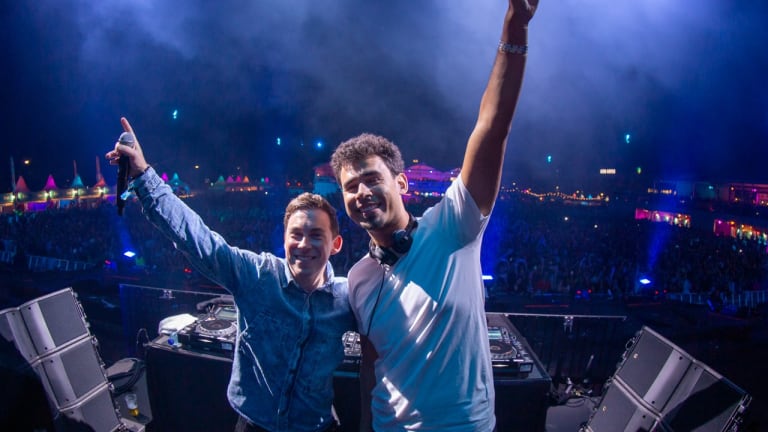 Hardwell Joins Afrojack Onstage at Breda Live in the Netherlands
Hardwell surprised Breda Live attendees by joining fellow Dutch artist Afrojack onstage for the last day of the event.
During his Saturday night performance at Breda Live in the Netherlands, Afrojack stunned fans by bringing out Hardwell as a surprise guest. 
The crowd erupted into cheers as the Dutch duo led by Hardwell (real name Robbert van de Corput) on the mic got the festival properly hyped before Afrojack (real name Nick van de Wall) cut into an upbeat progressive house track. 
Fans of Hardwell were ecstatic to see him take the stage again and many are speculating the stunt could be the beginning of his comeback since he ceased live performances to focus on his mental and physical well-being.
Earlier in the week, van de Corput teased an upcoming collaboration with Quintino "Reckless," to be released on July 19th. 
Afrojack has also stayed busy in recent times, as last month he released a wild music video for his track with PKCZ® and CL, "Cut It Up," which featured a fight scene similar to the Kill Bill movies. 
Breda Live took place July 5th and 6th in Breda, Netherlands and featured performances from a wide variety of Dutch artists and presenters.  
FOLLOW HARDWELL:
Twitter: twitter.com/HARDWELL
Facebook: facebook.com/djhardwell
Instagram: instagram.com/hardwell
SoundCloud: soundcloud.com/hardwell
FOLLOW AFROJACK:
Facebook: facebook.com/djafrojack
Twitter: twitter.com/afrojack
Instagram: instagram.com/afrojack
Soundcloud: soundcloud.com/afrojack