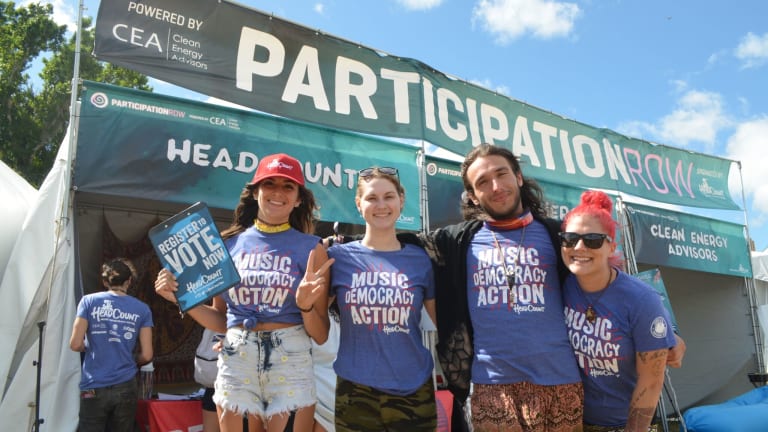 Music and Democracy Came Together Last Weekend With HeadCount at Okeechobee
This weekend Sunshine Grove was not only filled with music and fun, but also with an educational experience on the U.S. political system.
In the wake of the recent Douglas High School shooting, Okeechobee Music Festival decided to take activism into their own hands by teaming up with an organization called HeadCount.  
HeadCount is a national, non-partisan, non-profit organization that registers voters at concerts and music festivals all over the country.  Their goal is to "make it fun for music fans to do good" and they achieve this with the help of over 20,000 volunteers working around the United States.  Since founding the organization in 2004, HeadCount has successfully registered close to 500,000 festival attendees as official U.S. voters.
At this years Okeechobee Festival, guests exploring the grounds were able to enter an area called "Participation Row" to interact with the members of HeadCount.  This organization chose to expand the focus from just political outreach to work with members of the Okeechobee County government with issues such as health care, domestic abuse, and feeding the hungry.  Participation Row serves as an essential part to the unique vibe found at Okeechobee as it promotes love and hope for a better, more unified future.
CEO of Soundslinger, the company that throws OMF, Kevin Collinsworth commented saying "We're excited to continue our partnership with HeadCount as it allows us to bring back our local non-profit partners to Participation Row.  We love the opportunity to connect our attendees with the causes we care about and that affect our local community".  HeadCount had already worked with several artists on the OMF lineup including Bassnectar, Big Gigantic, STS9, Slightly Stoopid, Arcade Fire, and more and they were very excited to continue these partnerships into 2018.
Out of the number of festivals that HeadCount attends, Okeechobee remains as one of the top five festivals for most engagements.  After almost 3,000 voters registered between OMF 2016 and 2017, HeadCount is happy to announce that 2018 festival-goers took over 5,000 socially conscious actions on Participation Row.  They registered 275 voters and signed 1,124 people up for TurboVote local election alerts.
More information about HeadCount here.
More information about Okeechobee Music & Arts Festival here.