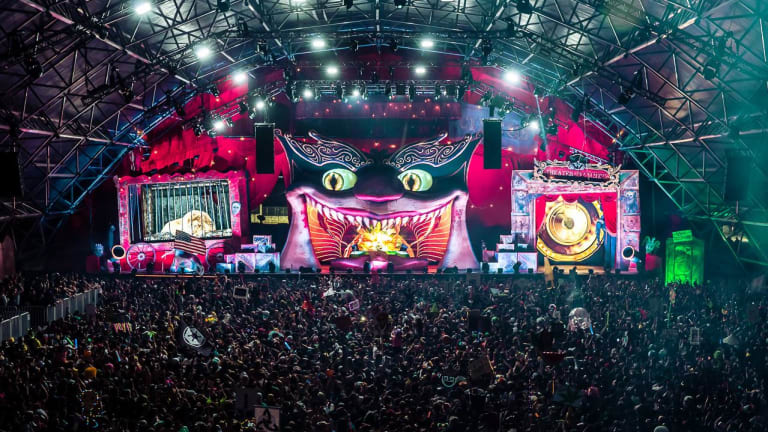 Insomniac Announces 2019 Debut of Escape: Psycho Circus Korea
Escape: Psycho Circus will expand to Seoul for the first time in 2019.
As the EDM boom has slowed down Stateside compared to a few years ago, East Asian festivals are the move. Insomniac will increase their presence on the continent by expanding their Halloween event brand, Escape: Psycho Circus, to Seoul, South Korea.
Escape: Psycho Circus Korea, as it's billed, will take place on October 25th and 26th at Seoul Grand Park. The headliners announced for the event thus far are Galantis, Jauz, Kaskade, Kungs, Marshmello, Seven Lions and Slushii.
The announcement follows that of the Beyond Wonderland Bogotá debut, which Insomniac Founder and CEO Pasquale Rotella recently announced will take place at Parque Salitre Mágico on November 9th.
"The ability to bring the Insomniac experience to a new city is an honor and a privilege," said Rotella in a statement. "We've been very fortunate to host EDCs across the world, and I can't wait to introduce Escape, Beyond Wonderland, and other Insomniac experiences to our friends in South America, Asia and soon across Europe. This is just the beginning." 
Rotella launched Insomniac in 1994 as a weekly Los Angeles party series that grew to include larger gatherings like Nocturnal Wonderland and Electric Daisy Carnival. The original incarnation of Escape: Psycho Circus was branded as Escape From Wonderland; every year except for 2013 it has taken place at the NOS Event Center in San Bernardino, California.
To purchase tickets or find more information on Escape: Psycho Circus Korea, visit the event website.
Follow Escape Psycho Circus Korea:
Facebook: facebook.com/EscapeHalloweenKorea
Twitter: twitter.com/escapekr
Instagram: instagram.com/escape.kr