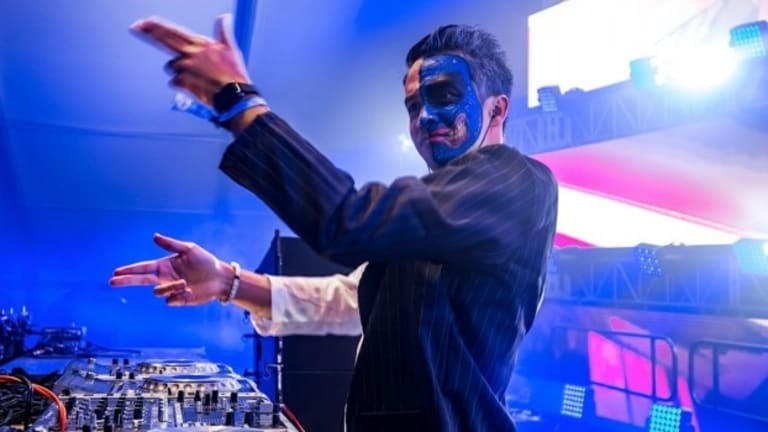 EDM.com & Goldenvoice team up to bring you a scary good lineup this Halloween!
It's gonna be a spooky good time!
While many of us are still in denial that Fall is (almost) officially upon us, that means that it's almost time for Halloween!

If you're one of those who has their next costume planned months in advance, you're good! But for the rest of us, this equates to itsy bitsy panic attacks on what/who we're going to be AND more so WHERE!
Well, we got part of that dilemma solved for you right here! EDM.com and Goldenvoice – The company behind Coachella, Panorama and all things awesome – have teamed with Super You&Me to give you the line-up of your dreams!
If you've ever been to one of these wild experiences, you know well enough that THIS combination right here is pretty much as ideal as it gets! Halloween + Super You&Me + Edm.com and Goldenvoice in San Francisco = one spooky celebration! For the unaware, Laidback Luke sums up their parties the best:
"all about saving civilisation from mediocrity through music and pioneering 'YOUnique' merrymaking mayhem around the globe!"
On October 27, a stellar lineup including Laidback Luke, Dyro, Ape Drums and Gladiator will take-over the Warfield Theater in San Francisco for some Halloween insanity! Read on to learn more about how each artist is leaving their stamp on the EDM scene!

Laidback Luke
From Sensation in India to Ultra Music Festival in Miami to Creamfields in the UK, Laidback Luke has performed all over the world cementing his spot in the music industry as not only a stellar DJ but a noteworthy producer and talent scout as well. He is always ahead of the curve when it comes to looking for the next big thing! His Super You&Me club nights gave early bookings to the likes of Skrillex, Zedd, Diplo, Hardwell and Avicii who made his worldwide DJ debut on one of the infamous Miami edition of a Super You&Me party! Whether we talk about his origins in the house and techno underground or through to his current more eclectic style, Laidback Luke has always been one step ahead!
Dyro
Dyro has been one of the key younger players in the EDM scene the past few years. Hardwell took him under his wing and also happened to be the one to release Dyro's debut EP on his Revealed Recordings imprint in 2011. He later went on to be pegged as one of the 'it' next-gen EDM producers as his sound exploded worldwide. Lately it's been his own WOLV Records label, launched in 2014, that's cemented his reputation as a main stage dark horse, allowing him to indulge the darker, more experimental side of his productions.
Ape Drums
Houston born, Miami based DJ and producer, Ape Drums, made his way onto the scene in 2014 bringing his unique blend of electronic and dancehall to the masses, and this pretty much blew up! 2016 saw him called upon to remix tracks by artists including AlunaGeorge, Sean Paul, Yellow Claw, and more along with release on major labels like Interscope and Mad Decent! In 2017, Ape Drums is continuing to push the envelope by taking the role of label head with the creation of VISION SOUND, bridging the gap between dancehall and electronic music with releases that fuse the sounds of both genres.

Gladiator
Born out of a passion for DJing, Gladiator was conceived in 2010 by Los Angeles natives Daniel Goodman and Ian Johnson. Known for their their unique genre-bending sets, the duo brings an irresistible sense of fun and passion to every show. After debuting with a series of self-released internet uploads and bootleg remixes, Gladiator joined the A-Trak led label Fool's Gold and released their first official EP in 2014. Following this release they found the opportunity to make official remixes for the likes of Skrillex's "Dirty Vibe" and singles such as "Cruise Control" and "Cute" with fellow Fool's Gold artists Sleepy Tom and Kittens.

While we canNOT wait for October 27 to get here already, we have a piece of news to tide over that wait and amp up that excitement. For all our loyal EDM.com subscribers, we will be releasing special 4-pack tickets for your and your squad! Use the code below and the ticket link to get your special discount!
CODE: SUPERLAIDBACK
GET YOUR TICKETS HERE