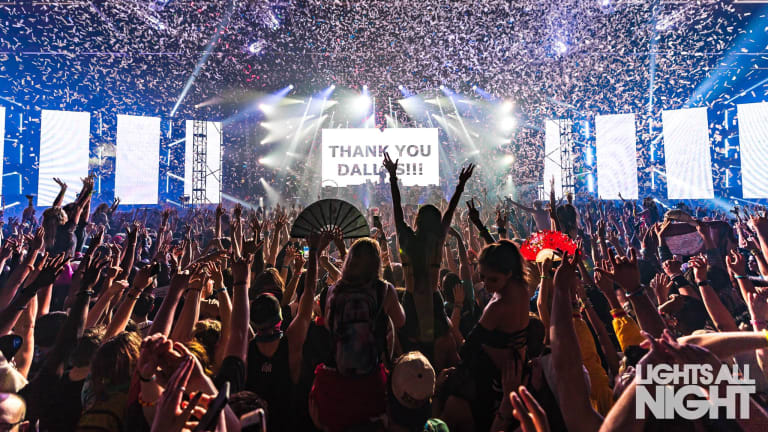 Lights All Night Announces 2018 Initial Phase One Lineup
The ninth annual music festival returns to Dallas, Texas on December 28-29 of New Year's Eve weekend.
It is never too early to start making those New Year's Eve plans. Hotels and flight prices tend to be the most expensive towards the end of the year so planning now will help your piggy bank. Lights All Night, one of the longest-running end-of-year music festivals in the country, is excited to officially announce Phase 1 of the music lineup for this year's two-day event, which is set to return to Dallas Market Hall in Dallas, Texas on Friday and Saturday, December 28 and 29 of New Year's Eve weekend. Two-day GA and VIP tickets are on sale now at www.lightsallnight.com.
Lights All Night (LAN) will once again welcome to its stages some of the world's most sought-after music acts for a truly memorable celebration to close out 2018. LAN will play host to perennial chart-topping producer Diplo, who released his new star-studded California EP this past March, and who continues to prep for the long-awaited release of his new collaborative disco album featuring Mark Ronson. Ronson, together with Diplo, form the super-DJ duo Silk City. Also hitting the stage will be Atlanta's most beloved trap-rapper and New York Times best-selling author Gucci Mane.
Additional headlining performers at LAN 2018 include one of the most successful DJ's of all time, the Grammy Award-winning and oft-labeled "Godfather of EDM" Tiësto, who released his latest effort, I Like It Loud (EP), this past March to rave reviews from fans and critics alike. Canadian-born Rezz will also be headlining the main stage this year in support of her most recent album, Certain Kind of Magic, released this August as a follow-up to her 2017 debut album Mass Manipulation, which won the highly-coveted "Best Electronic Album" at the 2018 Juno Awards.
Other notable phase one acts set to perform include What So Not, who just released his debut album, Not All the Beautiful Things, in March; Mr. Carmack, a musical pioneer hailing from the West Coast who fuses bouncing hip-hop beats with mellow, laid-back EDM; QUIX; Shiba San; and a very special collaborative performance featuring Eprom B2B (back-to-back) Bleep Bloop. Acts like 1788-L, Anti Up, Ekali; Funtcase; Hotel Garuda; Luca Lush; Oliver Tree; Charlesthefirst, Pat Lok, Church; and more round out phase one of the 2018 music lineup. 
Two-day GA and VIP tickets are on sale now at www.lightsallnight.com. Weekend GA passes are available for purchase for $109.95, while weekend VIP passes cost just $229.95. VIP ticket-holders will have access to the utmost festival-going experience with perks including the Lights All Night Pre-Party, preferred viewing areas at the festival, expedited entry, exclusive VIP bars, private restroom facilities, onsite event hosts, and more. 
In past years, LAN has hosted several huge dance music acts and have created memories for more than 30,000 fans. The festival organizers guarantee a top of the line festival production along with a safe space to welcome all dance music lovers from all around the world to come ring in the new year together. Without question, this is the New Year's Event to attend not only in all of Texas but within the United States. Make sure to assemble your festival squad and arrange travel plans early because tickets and hotels will sell out fast.  
Check out the after movie from 2017 and let the countdown for 2019 begin now. 
Connect with Lights All Night: