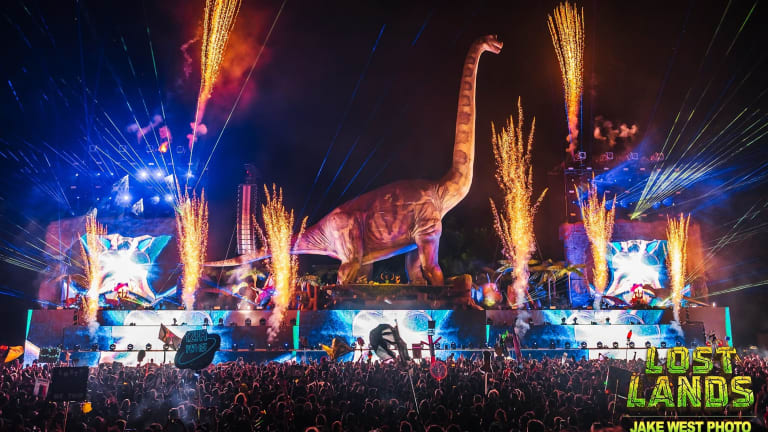 Excision Details Changes for the Third Annual Lost Lands Festival
Excision announced dozens of improvements to Lost Lands 2019.
Excision, the man behind the world's biggest bass music festival, Lost Lands, recently detailed changes coming to this year's edition of the prehistoric themed party. 
Excision (real name Jeff Abel) posted the changes to the recently announced festival to his Excision's Headbangers group on Facebook. Included in these changes are improvements to the camping, water stations, and overall layout of the festival grounds. 
Lost Lands 2019 features several different types of camping including everything from quiet camping to luxury camping packages. Abel went on to explain that they've implemented fail-safe measures to their wells that will prevent the loss of water availability in case of overly wet conditions.
A fan favorite addition to the annual festival was the late night sound camps. For those unfamiliar with Lost Lands, the sound camps were essentially a festival inside of a festival. Multiple stages (including Excision's Executioner stage) were set up inside the campgrounds and after the main festival came to an end, the sound camp mini-festival would begin. 
This year, the sound camp stages will be scattered throughout the main festival grounds which will allow fans to access the food and drink vendors in the festival grounds.
While you're preparing for this year's festivities, check out our review of Lost Lands 2018. Excision's full letter to fans is available in on the official Lost Lands website.
Lost Lands 2019 will be held September 27-29th at Legend Valley in Thornville, Ohio. Tickets to this year's festival are on sale now. You can purchase tickets here.
FOLLOW LOST LANDS:
Facebook: facebook.com/LostLandsMusicFestival
Twitter: twitter.com/lost_lands
Instagram: instagram.com/lostlandsfestival
FOLLOW EXCISION:
Facebook: facebook.com/Excision/
Instagram: instagram.com/excisionofficial/
SoundCloud: soundcloud.com/excision
Twitter: twitter.com/Excision