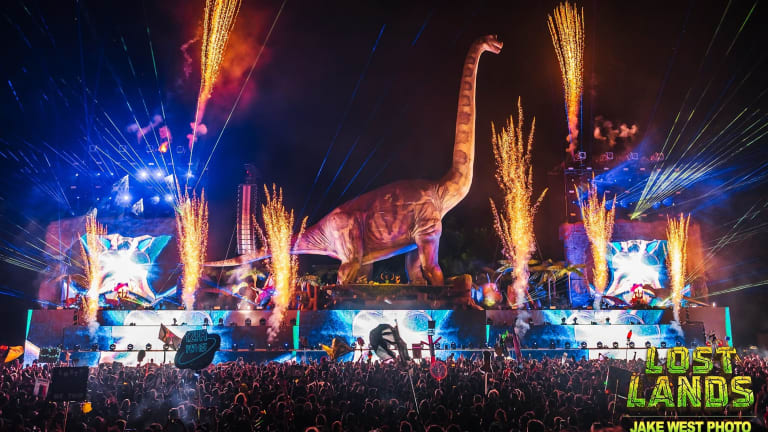 Lost Lands and Bass Canyon to Feature Android Jones' 360° Immersive Art Experience
Excision is bringing Android Jones' Samskara 360° art experience to both of his festivals this summer.
When we spoke with Excision last month, he teased a brand-new 360° art instillation but was unable to officially announce anything at the time. It has now been revealed that the massive addition to both Lost Lands and Bass Canyon will be Android Jones' Samskara exhibit. 
In a tweet, Excision (real name Jeff Abel) shared footage of the installation that he describes as "trippy" and "mind blowing." 
It's hard to comprehend the scale of this exhibit as it's truly a see-it-to-believe-it experience, but the description from the official Samskara Facebook page describes the project. In their own words:
"Created in collaboration with Android Jones and Full Dome Pro, SAMSKARA is a 3D immersive experience narrating the Vedic truths through the artwork of Android Jones."
Lost Lands takes place September 27th-29th at Legend Valley in Thornville, Ohio. It will feature performances from Illenium, Rusko, Zeds Dead and more.
One month prior, on the opposite side of the country is Bass Canyon, the West Coast celebration of all things bass music. The first of Excision's two festivals takes place August 23rd-25th at The Gorge Amphitheatre in George, Washington. Alongside Abel's special Spotlight Artists B2B, Bass Canyon will feature host Flux Pavilion, Snails, Zomboy, and more.
FOLLOW EXCISION:
Facebook: facebook.com/Excision
Instagram: instagram.com/excisionofficial
SoundCloud: soundcloud.com/excision
Twitter: twitter.com/Excision
FOLLOW LOST LANDS:
Website: lostlandsfestival.com
Facebook: facebook.com/LostLandsMusicFestival
Twitter: twitter.com/lost_lands
Instagram: instagram.com/lostlandsfestival
FOLLOW BASS CANYON:
Facebook: facebook.com/BassCanyon
Twitter: twitter.com/BassCanyon
Instagram: instagram.com/BassCanyon