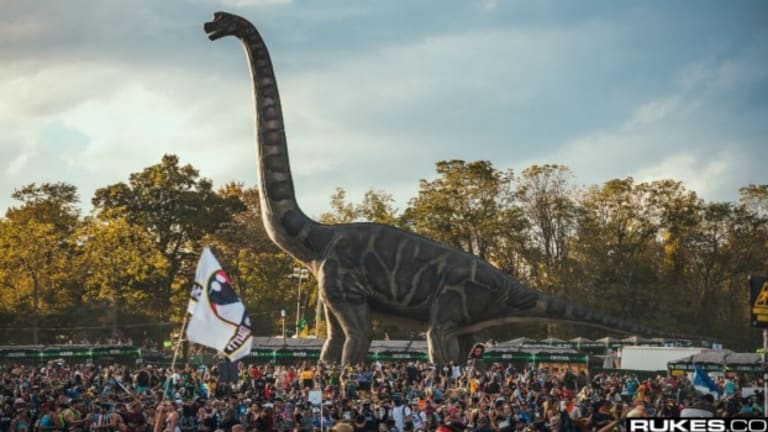 Excision Makes His Colossal Debut on the Festival Circuit with Lost Lands [EVENT REVIEW]
Things got prehistoric at Lost Lands!
Even the most casual dance music fans are familiar with Excision. Since the beginning of his music career, Excision has been known for his over-the-top production and overwhelming bass tracks. Since then he has rose to the top and has become a godlike figure in bass music. Artists of all genres constantly put his tunes in rotation due to their high production value and the fact that they almost instantaneously get the crowd hyped. It's safe to say that if you've been to a dance music show in the past two years, you've probably been exposed to an Excision track.

So what's next for someone who has accomplished so much and has become one of the most respected artists in his industry? It's not like he could throw a massive festival celebrating bass music with life-sized dinosaurs scattered throughout the festival grounds?
Enter Lost Lands Music Festival. From September 29th to October 1st, the world's greatest bass music artists descended upon Legend Valley in Thornville, Ohio to rock a crowd of roughly 25,000 bass enthusiasts. Let's just get this out of the way now. Lost Lands was one of, if not the best first year festival in a long, long time. Excision and the Lost Lands team executed an absolutely wonderful festival from start to finish and have left both festival goers and the performers eager for next year.
The first thing you'll notice about Lost Lands' lineup is that bass music is front and center. Unlike most festivals where pop music dominates the main stage, Lost Lands puts emphasis on the heavier side of the dance music spectrum. With everything from dubstep to trap to bass-house all the way to whatever you call the demon-music Rezz makes, all fans of bass music were satisfied.

The festival featured two stages of pure insanity. The "smaller" of the duo was the Cave of Souls. The Cave of Souls was an enclosed stage featuring 360 degrees of production. With stalagmites coming out of the celling and cave paintings projected on the walls, taking one step into the Cave of Souls made you feel like you've stepped back in time! Local heroes roeVy and Sean 2:16 helped us open up the Cave for international bass acts like Ephwurd, Dieselboy, Slander, Black Tiger Sex Machine, PhaseOne, and many more! Being fully immersed in the lights and sounds of the Cave of Souls really helped the music feel more personal, despite being in a crowd of thousands.
Then we have the Paradox...
Excision's very own Paradox stage has traveled the world and dominated the dance music. With crystal clear visuals and bass so loud you can feel it in your body, the Paradox is not just an ordinary stage. But since Excision is a madman he decided to take things a step further. For the first time ever he unleashed the Prehistoric Paradox! What exactly makes this stage different than the regular Paradox? Try two full size T-Rexes, dinosaur skulls, and two giant volcanoes that shoot flames out of the top! Excision was kind enough to make his signature stage the main stage for Lost Lands, and give the headliners a chance to play on this legendary rig.
Day one was headlined by the man behind the madness himself, in a special two hour set! (Yes, we definitely needed a neck-brace after that set) Alongside Excision's Jurassic set was a special ethereal set from Seven Lions. Joining these two were heavy-hitters like 12th Planet, Kill The Noise, Ghastly, and more!
If you survived the first days insanity you were in for a real treat on day 2. Headlining the main stage with an incredible set of both classic and new songs was bass music icons Zeds Dead. Listening to some classic Zeds Dead reminded the world why they've elevated to such great heights. Alongside Zeds Dead was an ensemble of bass music super stars including Funtcase, Cookie Monsta, Snails, and a rare performance by Excision's live bass music supergroup, Destroid. Featuring Excision, Downlink, KJ Sawka from Pendulum, Destroid rocked the crowd with their signature blend of instrumental bass music. You may have seen sensationalized reports of the stage catching on fire but realistically the small flame was shut down quickly. Maybe their set was just a little too lit? either way, Downlink says it best on his Facebook.
Surely there can't be anything bigger than Day 2's festivities right? I have news for you, Excision does things a little differently. The final day of Lost Lands gave us more bass than is healthy for the human body. Excision started the day off early with a special Detox Set. It featured some unusual and little-played tracks from the bass-god himself. He helped us recover a bit and prepare for the headliners. Leading up to our headliners were sets from bass music prodigy Dion Timmer, Space Jesus, and Liquid Stranger and more.
The first headliner of the night was one of the biggest names in dance music, Rezz. She absolutely mesmerized the crowd by taking us on a trip into the depths with her dark, bass-heavy sound. After Rezz was another one of dance music's rising stars. Illenium showcased his new album with a set filled with uplifting bass and awe-inspiring lyrics. He definitely made his case for why he is the next dance music superstar.
Finally we have the main event. Ask any old-school dubstep fan what their dream set would be. I promise you will hear Excision b2b Datsik a lot! Two of the most important names in North American dubstep played a rare b2b set, featuring some of the songs that helped put bass music on the map. To say that these two artists are legends is an understatement. Many festival goers shared that some of the first dubstep songs they got into were from Datsik or Excision.The crowd paid their tributes to the legends in full force and the set ended up being one of the loudest and most attended of the weekend. Needless to say, bass music fans left extremely satisfied and got to hear some of the best artists in the genre throw down on a stage just for them.
Alongside the amazing lineup was one of the coolest and most unique festival grounds in recent memory. Lost Lands had over 40 life-sized dinosaurs spread all over the festival ground to really take us back in time. The life-sized brontosaurus left everyone in awe when they caught their first glimpse of the massive beast overlooking the grounds.
Even the campsites were organized meticulously and featured beautiful campgrounds, an organized layout, and food so good I had to force myself to stop eating. Everyone I spoke to only had glowing things to say about this festival. Despite the reputation dance music festivals get, Excision was proud to announce that there were ZERO drug related medical transports! Needless to say, this crowd was perfect and the state of Ohio cannot wait for Lost Lands to return.

That sums up the prehistoric insanity that was Lost Lands Festival! I left a very happy camper (literally) and as I was leaving I saw only bittersweet smiles of fans sad that the show was over, but delighted at the memories they made. Excision and the Lost Lands team should be very proud of themselves, they put on one of the greatest first year festivals of all time, and have fans already begging for info on next years party! This festival certainly helped bring dubstep back into the spotlight, and show the world why bass music is here to stay!
Live it up Excision, you've earned it!