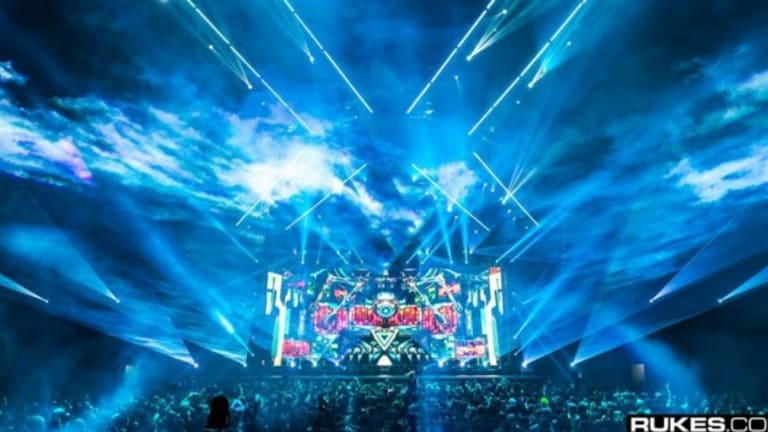 Get Ready For Lost Lands with Our Exclusive Look at the World's Heaviest Festival
Get those neck braces ready!
On September 29th, dinosaurs will once again roam the earth for the most colossal celebration of bass music this world has ever seen. The undisputed king of bass, Excision, gathered the best bass artists from all over the world to descend upon Legend Valley in Thornville, Ohio to help take us on a journey back to the Jurassic era.
To help you get ready for what is guaranteed to be one of the best new festivals of the modern era, we've recruited an insider to give us a behind the scenes look at Lost Lands Festival Music!
THE MUSIC
Who better to choose an all-bass lineup than Excision? What's there to say about this lineup? It's literally the all-star team of bass music. A special performance from Seven Lions is sure to captivate the crowd with his ethereal sound. Plus two of bass music's OGs Excision and Datsik will be playing a once in a lifetime back-to-back set! Oh yeah… and Excision is playing four sets!
This is not an event that just any old sound system can handle. Lost Lands is featuring a PK Sound System, one of the industry's finest sound systems. Originally the festival was planning on bringing 500,000 watts of bass, but they decided to turn it up to 11 and bring 750,000 watts of bone-crunching bass. (Don't worry, they're giving all of us earplugs at the gate!)
THE STAGE
Unless you've been frozen in ice for a few thousand years, you've definitely heard of Excision's iconic Paradox Stage. Featuring some of the most insane visuals in music, The Paradox has unleashed its ancient power all over the world. Excision decided Lost Lands needed something even bigger and is bringing the Prehistoric Paradox Stage to Lost Lands to serve as the main stage. This is the biggest and best Paradox Stage yet and our insider promises says to expect some surprises from the main stage.
Alongside the insane main stage, Lost Lands is featuring the Cave of Souls stage with 360 degrees of production. Who knows what kind of mayhem will go on in the Cave of Souls… be prepared for anything!
THE EXPERIENCE
Lost Lands is unlike any other festival we've seen. We've been told that there will be over 40 life-sized dinosaurs throughout the festival grounds. Yes, you read that correctly, 40 life-sized dinosaurs! Be on alert, they look hungry!
Legend Valley is the perfect venue for the madness that is Lost Lands. Paleontologists recently unearthed an entire mastodon skeleton a few miles from the festival. We will literally be partying where the dinosaurs roamed! Not only does it have prehistoric significance, this festival has hosted some legendary acts like The Grateful Dead, Willie Nelson, AC/DC and more!
Not only can we headbang on the beautiful festival grounds, we also get to camp out for the weekend and live with the dinos! There will be food vendors, general stores and showers available to the campers to truly elevate this experience. Not the camping type? That's okay! Legend Valley is only short ride to the state capital, Columbus. There will also be shuttles in the city to help get explorers to and from the festival grounds!
If you need a break from all the adventuring and bass music, production masters KJ Sawka & ill.Gates will be hosting Abelton workshops on the festival grounds!
In preparation for the biggest tribute to bass music this world has ever seen, the bass gods have sent down the Sacred Code of Lost Lands. These codes will help ensure everyone enjoys the show and respects the earth, staff, venue, and other headbangers! Be sure to check out the codes at the official Lost Lands website so you don't anger the bass gods!
We haven't been this excited for a new festival in ages! Who knows what kind of surprises we're in for at Lost Lands. Looks like there's only one way to find out! We'll see you September 29- October 1st at Legend Valley in Thornville, Ohio!